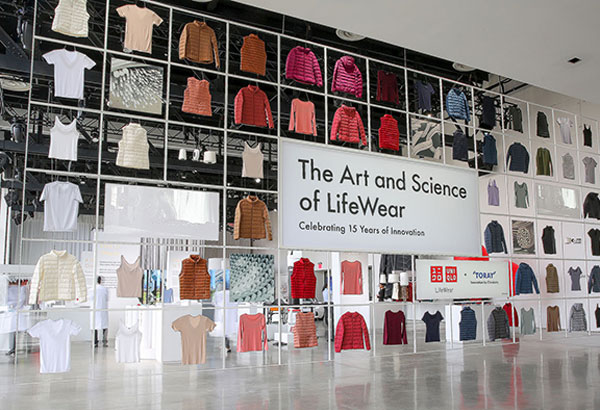 Uniqlo X Toray runs 15: The entrance to the exhibit "The Art and Science of Lifewear" at Spring Studios, New York. A first of its kind outside Japan. All products are available in Uniqlo Stores.
UNIQLO X toray marks 15 years
"Rather than being conscious of what technology goes into the making of our clothes, it is about Uniqlo having the best technology that has become a requirement in producing good products," said Tadashi Yanai, president and CEO of Uniqlo parent company, Fast Retailing, at the celebration of their 15th anniversary with Toray in New York recently. "Toray's revolutionary technologies have been vital in Uniqlo's quest to create LifeWear clothing, which makes everyday life better and more comfortable for people everywhere."
The cool weather had just started to make its presence felt when we arrived in New York for the Uniqlo X Toray's "The Art and Science of LifeWear," a large-scale global expo, which marked the 15th anniversary of Uniqlo's fabric technology partner, Toray.
"Our corporate philosophy is about contributing to society through the creation of new value with innovative ideas, technologies and products," said Akihiro Nikkaku, president of Toray Industries. "As an integrated chemical company, we engage in research and development from long-term perspectives in the conviction that materials can change our lives. I hope the exhibition of HeatTech and other technological fruits of joint development with Uniqlo will give a solid understanding of why this partnership can keep delivering new value in the years ahead."
The partnership between Uniqlo and Toray has resulted in clothes that make Uniqlo unique – and one the of the most sought-after brands when looking for clothes that are cool to look at, yet provide the warmth that is needed during the cool months here in the Philippines – or in the travels to cold countries that Filipinos are so fond of.
It was in 2003 that Uniqlo first introduced HeatTech, its first collaboration with Toray.
The Art and Science of LifeWear was a showcase of how the two unique companies work together to produce quality clothes. I was amazed at how an unconventional partnership can also be highly complementary and oh-so-techie.
As I walked around the exhibit hall, I liked the clothes that I saw as much as I was in awe of how in one room Uniqlo and Toray put together clothes and the technology that goes into making each fabric exact in the function that it performs. It was like entering a science lab and seeing how beautiful things are made much better because of the technology that goes behind each strand of yarn that makes each shirt, dress, pants, jackets, and undergarments.
It is this collaboration that has underpinned the advancement of Uniqlo LifeWear and has made it the world's most responsive, relevant apparel for the human experience today.
Wash, Wash and Wash
"Because of the work with Toray we are able to deliver very unique products," said Yanai. "Our products are more durable as the colors do not fade and the sewing quality is much superior. Because of good fabric, no matter how frequently one washes their clothes the quality remains intact."
For Uniqlo, Toray's technology has helped the brand put itself in a unique position. "In the fashion industry, going after a certain fashion and style has become a common practice. But with Toray, what we focus on is creating products that are not just fashionable but better and wearable, too."
Experimental and revelatory in nature, the exhibit was a first of its kind for Uniqlo and Toray outside of Japan. It put the spotlight on the inner workings of the fabric technologies they co-develop to make the world a better place for millions of people globally – cooler, warmer, more comfortable. The science clearly puts one over models walking the runway.
As I walked through the exhibition hall filled with a series of large-scale installations and live experiential displays, I got a better understanding of just how important Uniqlo technologies in AIRism, Kando Pants and Dry-EX truly are.
The deconstruction of the HeatTech technology exhibit allowed me to see a molecular-level perspective of the fabric and its special heat-retention properties, and a special experiment to discover the absolute minimum volume to which Uniqlo's Ultra Light Down can be compressed.
"Now that we have a partnership with Toray we have become aware of what kind of yarn is made and what kind of fiber is needed to make our clothes better, last longer," added Yanai. "The first product we did with Toray was to put together a fleece clothing line. It was then that we realized we needed to rely on Toray because, when we went in search of a different supplier, the product was completely different from what we needed or wanted. It is the technological advancement of Toray that develops the fabrics we need and use at Uniqlo."
This explains why the collaboration between Uniqlo and Toray remains strong after 15 years. Uniqlo is able to share with Toray what it needs and wants to accomplish in its clothing lines. Together they are able to make the products that Uniqlo calls LifeWear – clothes that people need and want and are wearable, fashionable, too.
"If we want a specific product to last, we ask Toray what could be the right technology that could produce such a product," quipped Yanai. "I encourage people to attend this exhibition to see the innovations stemming from this partnership that have enabled us to deliver new value by combining unparalleled functionality and comfort with contemporary styling."
But there is a need to also stay current and remain true to who Uniqlo is.
"Being true to who we are is, for us, not to care about what's happening in fast fashion," quipped John Jay, president of Global Creative, Fast Retailing Co. Ltd.
"The biggest trend in fashion is self-respect. It is about respecting the consumer – we try to make clothes to enable them to express who they are."
Uniqlo makes sure that its clothes are really about life because they want their customers to wear their clothes every day.
"There is so much that goes into making our clothes," added Jay. "LifeWear is such an important word for us. Uniqlo is growing – and that growth comes with responsibility."
Indeed.
I did not lose sight of the Japanese values that go into every product produced by Uniqlo X Toray – simplicity, quality and longevity – this is essentially what LifeWear is about.
LifeWear is made from what Uniqlo's customers want – and then the company builds on these concepts to produce individual styles.
Every Uniqlo X Toray collaboration is about developing not just a shirt, but to make every shirt perfect. From a simple design, Uniqlo endeavors to incorporate thoughtful and modern details in all its clothes; the best in fit and fabric made to be affordable and accessible to all.
As Uniqlo puts it: "LifeWear is clothing that is constantly being innovated, bringing more warmth, more lightness, better design, and better comfort to people's lives."
Oh, and yes, not to be missed that day were Toray technologies from the world's most innovative fields: aircraft, racecars, rockets. The concept car was a winner for me – I wished, as I sat in its cockpit, that it was not just a concept car.
AIRISM: Comfort unlimited
AIRism is functional innerwear that embodies Uniqlo's LifeWear concept. Jointly developed with Toray, AIRism keeps its clothes cool and comfortable in any kind of weather. Employing a specially engineered fiber to breathe and wick-away trapped sweat, the innerwear accommodates the specific needs of men, women, children, and babies to ensure comfort for all. AIRism is light, thin and smooth; designed to feel like silk on the skin. Wearing it as an additional layer under usual clothing helps the body adapt and cope with heat and perspiration.
What's the tech?
Inspired by the body's mechanism of cooling itself with sweat and taking heat with it when evaporating, AIRism breathes and adjusts the air inside your clothing to make you more comfortable.
Men's AIRism features superior sweat absorption and fast-drying properties utilizing micro-polyester fiber engineered by Toray Industries. The smooth and quick-to-dry fabric wicks perspiration off the skin and moves it through open channels within the AIRism yarn. It also features an anti-odor function.
Women's AIRism focuses on superior absorption and desorption properties that prevent sweaty chills. The Cupro fiber used in Women's AIRism is made from regenerated cotton linters. Due to Cupro's natural properties, AIRism is able to absorb and release moisture, which in effect, diffuses heat away from the body.
It is made in a variety of sleeve lengths and necklines from V-neck and scoop-neck T-shirts to sleeveless tops or camisoles. It is also available in seamless versions to reduce bulk and the appearance of lines, or with mesh fabrication that enhances AIRism's breathability. Women's AIRism is also available in Bra Top – soft, comfortable tops with built in support.
HEATTECH: An innovation to change the way we dress
HeatTech is innerwear that offers a smooth, fine feel to the skin and provides incredible comfort. The HeatTech material comprises four distinct yarns that optimize comfort by absorbing the body's moisture and converting it to heat that is trapped within the air pockets of the fibers.
Four distinct yarns make up HeatTech, and when knit together they work in unison to provide optimum warmth and comfort. At the same time, they retain moisture and minimize static electricity.
What's the tech?
HeatTech uses moisture released from the body to generate heat. When water molecules vaporize, they move about in the air, so when sweat and moisture are released from the body as steam, the water molecules move rapidly between the skin and the HeatTech material. The water molecules are absorbed by rayon, and as they try to move, their energy becomes thermal energy, generating heat.
HeatTech has evolved far beyond its original intention as an inner layer, as Uniqlo applies its basic engineering to a variety of garments and designs. The HeatTech line today includes everything from camisoles and 9/10-sleeve shirts to tights, jeans and socks.
KANDO PANTS: Exceptional moisture absorption
Kando Pants were co-developed with professional golfer Adam Scott, leveraging his insight as a world-class athlete to deliver the ultimate in lightness, stretch and dryness. They have become a very popular item for the office and for on the green.
What's the tech?
The 100-percent polyester fabric inside Kando Pants has been jointly developed and features a cotton-like natural texture, with exceptional moisture absorption and quick-drying properties, greatly reducing discomfort from perspiration to ensure you feel great all day.
Kando Pants also feature special "Airdots" inside pockets. These are holes created using a special process and made from material that improves breathability inside pockets for a quick-dry function, while also helping to make the pants more lightweight.
What Is DRY-EX: Quick drying
Dry EX is a high-performance material jointly developed with Toray Industries, and Uniqlo's global brand ambassadors.
What's the tech?
It is a highly functional fabric that employs a special arched structure to provide faster drying than ordinary dry function material. This works to wick away moisture quickly for total comfort against the surface of the skin, ensuring you always feel great, even as you perspire.
Superior ease of movement and coolness means Dry EX is especially useful for sports and everyday leisure activities. Dry EX is found in Uniqlo items where performance or dry comfort are important, including polo shirts, casual shorts and pants and in the global brand ambassadors' replica game wear.
ULTRA LIGHT DOWN: Lightness, warmth and comfort
Ultra Light Down is a lightweight, portable item that overturns the conventional concept of a down jacket. It brings warmth and comfort, while fitting in a bag or briefcase. It can be worn year-round, either as an inner layer or as outwear. Ultra Light Down is a contemporary take on traditional quilting techniques, utilizing an ultra-fine nylon shell. Featuring designs for men and women, this product travels extremely well.
What's the tech?
Uniqlo uses specially selected, premium down with a fill power of at least 640 in all of its Ultra Light Down items, generating a surprising level of warmth for its lightness. Fill power is a measure of insulation, and fill power above 550 is commonly accepted as high-quality down. The fabric is made from an ultra-fine, durable, lightweight nylon yarn that is softer than cotton or polyester. About 1/10 the thickness of a single strand of human hair, this yarn is the reason for the incredible lightweight quality of Ultra Light Down.
A conventional down jacket comprises outer shells and down packets, to prevent down from escaping through gaps in the fabric. Uniqlo specially treats Ultra Light Down shells to seal spaces between the fibers, thus eliminating the need for the down packets and reducing weight.