Microsoft showcases first AI supercomputer in action
ATLANTA — Microsoft is betting big on Artificial Intelligence (AI) and it looks like its investment in Field Programmable Gate Arrays (FPGAs) or programmable computer chips is paying off.
At the opening of Microsoft Ignite's conference for IT professionals here, Microsoft CEO Satya Nadella boasted of the power of a hyperscale AI supercomputer embedded in the Microsoft Cloud.
Doug Burger, a distinguished engineer at Microsoft Research, demonstrated how a single 30-watt Microsoft-designed FPGA-board on a server of Azure, Microsoft's enterprise-grade cloud computing platform, can classify images faster than a cloud-based server running only on CPUs.
"This single board turbo charges the server, allowing it to recognize the images significantly faster. It gives the server a huge boost for AI tasks," he said.
Throw in four boards and a more sophisticated neural network to translate languages on the same FPG-enabled server using 24 high-end CPU cores. It can translate Leo Tolstoy's 1,440-page novel "War and Peace" from Russian to English in two and a half seconds.
"The deep neural network (DNN)-based approach we are using here is computationally much harder, it requires much more compute but it's achieving record-setting accuracy in language translation," Burger explained.
The Microsoft engineer is confident that the new architecture Microsoft has built, which effectively embeds an FPGA-based AI supercomputers into the company's global hyperscale cloud, will change what's possible for AI. "We get custom speed, scale and engineering," he explained.
By definition, FPGA is an integrated circuit designed to be configured by a designer after manufacturing. Thus, Burger says it provides the efficiency of hardware but also gives you flexibility because you can change the functionality on the fly.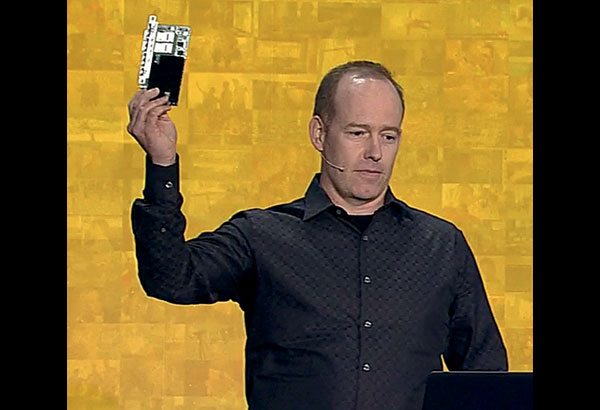 Microsoft engineer Doug Burger proudly shows the Microsoft-designed programmable computer chip that powers its AI supercomputer.
He disclosed that over the past two years, Microsoft has quietly deployed FPGA in its global hyperscale data centers in 15 countries spanning five continents. This deployment is expected to bring Microsoft customers some of the world's fastest, most intelligent and productive services from the Microsoft Cloud.
While customers cannot directly access Microsoft's FPGA deployment at this time, they can interface with the technology through the endpoints of Microsoft Cloud services that leverage its FPGA deployment.
So what if the supercomputer is asked to translate all five million articles (over three billion words) written in English on Wikipedia? If printed on paper, Burger said it would be a stack of a quarter of a mile high.
"Of course we have this fabric which is global at hyperscale so we can easily throw 50 nodes at FPGA boards, which would take us to about 100 trillion operations per second. We can translate five billion words into another language in less than a 10th of a second," Burger claimed, adding that the company has 10 times the AI capability of the world's largest existing supercomputer.
The same set of FPGA nodes on the fabric could also translate the Library of Congress, about 38 million books, in 76 seconds – about the time it takes people to walk and get a cup of coffee at work.
"It allows us to do things at a scale that hasn't been seen before. We can solve problems with AI that haven't been solved before, the things that weren't even possible a few years ago," Burger said.
Nadella's highly anticipated innovation keynote before an audience of approximately 23,000 IT professionals at the jampacked Philips Arena has touched major points on AI. He said the future of technology resides in the notion of intelligence. Thus, Microsoft is seeking to "democratize AI" or make it accessible for all.
"We're building the world's most powerful AI supercomputer and making it available to anyone, via the cloud, to enable all to harness its power and tackle AI challenges, large and small," he said.
The plan calls for infusing every application that people and organizations interact with on any device at any point in time with intelligence, and make these same intelligent capabilities that are infused in the apps available to every application developer in the world.
"As we infuse intelligence into everything, whether it's your keyboard, your camera, or business applications, we are essentially teaching applications to see, to hear, to predict, to learn and take action," Nadella said.
He cautioned though that Microsoft is not pushing AI to beat humans. "We are pushing AI so that we can empower every person and every institution so that they can go on to solve the most pressing problems of our economy and our society," he concluded.