Quick Take: Norway's sovereign wealth fund bleeds and 4 more market updates
February 2, 2023 | 8:46am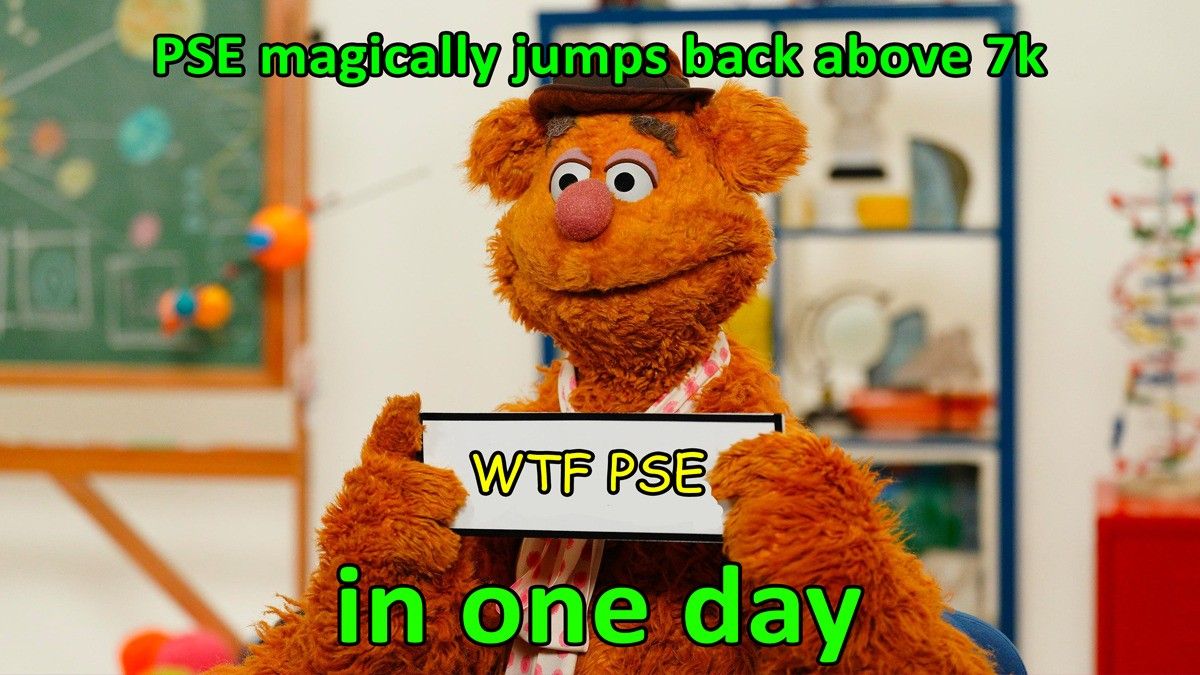 COL Financial [COL 3.1] [link] provided a 2023 Outlook presentation, which featured talks from COL employees on the macroeconomic environment, projections for the PSE, recommendations for how to approach trading the PSE, and specific stock picks. In terms of performance, COL said that it expects the PSE to "consolidate", then reach up to 7,500 to 8.250 before the end of the year. COL said that the next few months of trading will be "volatile", but that traders should consider significant pullbacks as opportunities to load up for higher highs. COL also said that an "Aggressive" portfolio allocation for H1/23 would see 60% in fixed-income and 40% in equities, while a "Conservative" portfolio would be 80% fixed-income and 20% equities.
MB Quick Take: I suspect that there are huge parts of the "port snap" crowd that would look at those recommended portfolio allocations and laugh. It can be a little shocking to see how important fixed-income can be for navigating through uncertain conditions. I was once young, and I too once thought that I could stock-pick my way to index-beating returns "just because". It only takes a few cycles to realize that defense wins championships. You can't win in 2023 if your port blew up in 2022. Those boring bonds and preferred shares come in handy when the rest of your portfolio is lying face-down on the floor. Yeah, that chonky allocation might look a little bit like an anchor when the equities portion of your portfolio is jumping up in a pump, but I've come around to the importance of "not losing big" as a primary strategy when it comes to investing for my future. And fixed income is a big part of that.

Norway's Government Pension Fund Global (GPFG) [link], that country's sovereign wealth fund, reported losing 14.1% last year due to the negative impact on stocks from high inflation and rising interest rates. The GPFG said that its losses last year amounted to USD $164 billion, which is a record loss for the fund, which is one of the largest investors in the world. The GPFG said that its losses were caused by the negative impact of inflation and high interest rates on both the equity and bond markets at the same time, which it referred to as "very unusual". The GPFG was established in 1990 with surpluses from Norway's oil and gas sector.
MB Quick Take: Norway's sovereign wealth fund is often held up as the gold standard of sovereign wealth funds, as it was established with natural resource wealth as a way of diversifying Norway's investment risk by reducing its over-concentration and reliance on the energy markets for its income. It is one of the most sophisticated and well-run funds in the world, but despite its enormous resources, factors beyond its control caused it to lose nearly 15% of its fund in one year. That's a massive loss. The point here is not to point at Norway and laugh, but instead, to point at our own yearning for a sovereign wealth fund to recognize the risks that the market can pose to even the most well-prepared of investors. There is no world where returns are guaranteed. Even the successful are significantly exposed to risk. As we in the financial field always say, "don't invest what you can't afford to lose." This story is a great example of why that advice applies to countries as well as individual investors.

International Monetary Fund (IMF) [link] maintained its economic growth forecast for the Philippines over the next two years, with 5% GDP growth in 2023, and 6% GDP growth in 2024. IMF said that these projections were made before the surprise 2022 GDP growth figures were released (7.6%), and that the 2023 results would be mainly suppressed by tighter policy (interest rate) and financial (spending) conditions. The IMF has conditioned its growth target for 2024 on the Philippines accelerating certain "structural reforms" in infrastructure and agriculture. Specifically, that our government should "raise productivity, reduce infrastructure and education gaps, strengthen existing social protection schemes, and harness benefits from the digital economy".
MB Quick Take: This year is going to be tainted by the "higher for longer" interest rate environment needed to control inflation, but I'm more interested in the IMF's 2024 projection and how critical those "structural reforms" are to us hitting that 6% growth target. That's a lot to do in one year. While the IMF doesn't provide any goalposts that we could use to evaluate their prediction as the estimates convert to actuals, keep this in mind as the year comes to a close. Have we made any headway in these areas? If not, the IMF's 2024 projection might not be on-target.

Ovialand [OLI pre-SEC] [link] said that it's started the prep work for a 2023 IPO. The mass housing developer said that its FY22 revenues were up 62% y/y to P1.35 billion, driven by a 40% increase in house and lot unit turnover. OLI said that it secured a P600 million loan from Security Bank [SECB 92.3 0.3%] to fund future expansion, and that they "aim for 2023 to be a period where Ovialand will mark grand, new chapters in its history."
MB Quick Take: We've been documenting the path to market for OLI for nearly two years. Objectively, the PSE is better for every new company that lists, and subjectively, I think that investors could do with more diversity in the real estate sector. OLI would be a dedicated mass market housing play.

Share buy-backs [link] disclosures were spamming the PSE's EDGE disclosure server yesterday morning, as PSE companies with established buy-back funds took the opportunity provided by the PSE's two-day plunge to grab some shares from shareholders. Nine companies disclosed buy-back activity from January 31st, including: Robinsons Land [RLC 15.6 2.1%], Metro Retail Stores Group [MRSGI 1.4], Robinsons Retail Holdings [RRHI 58.9 1.2%], SFA Semicon [SSP 1.5 3.8%], Alliance Global [AGI 12.5], Cosco Capital [COSCO 4.8 2.4%], Megaworld [MEG 2.2 4.3%], and Ayala Land [ALI 30.5 4.1%].
MB Quick Take: Making bets on the future on behalf of shareholders, or using shareholder money to protect management's bags? Why not both?
--
Merkado Barkada's opinions are provided for informational purposes only, and should not be considered a recommendation to buy or sell any particular stock. These daily articles are not updated with new information, so each investor must do his or her own due diligence before trading, as the facts and figures in each particular article may have changed.