Global Ferronickel buys 20% stake in directors' China-based company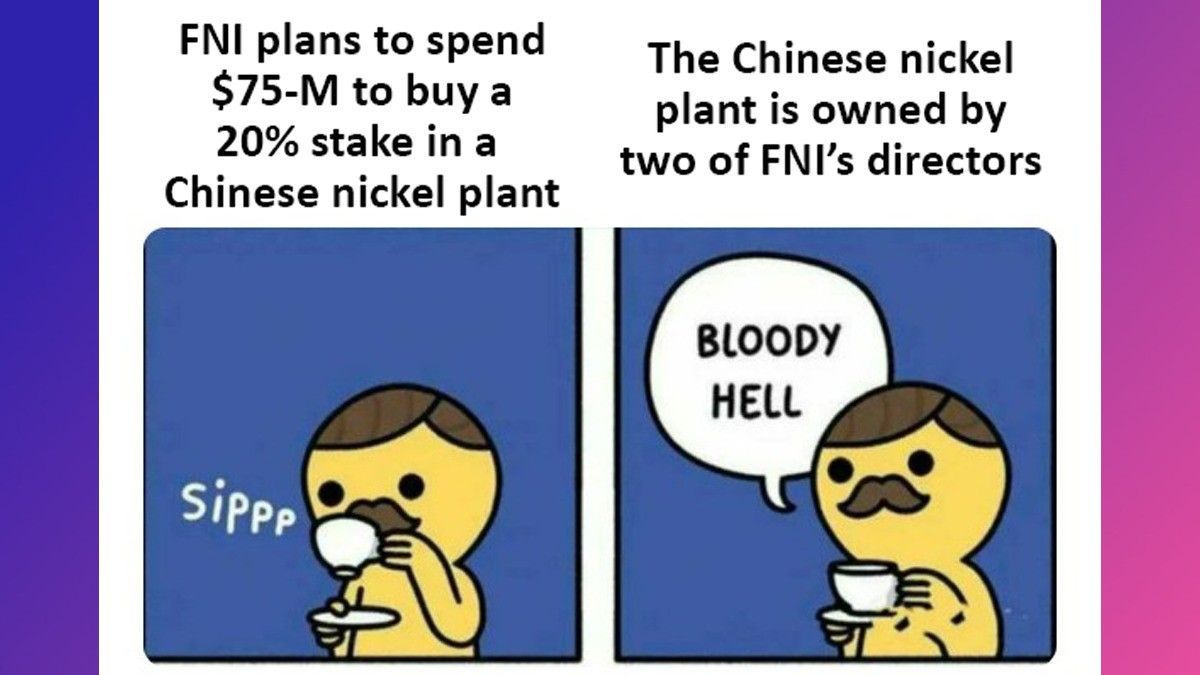 Global Ferronickel [FNI 2.22 4.31%] [link] was halted briefly under the PSE's Rule on Substantial Acquisitions after it disclosed the purchase of a 22.22% stake in GHGC Holdings Ltd (GHGC), which is a British Virgin Islands-registered holding company that owns a 90% stake in Guangdong Century Tsingshan Nickel Industry Co., Ltd. (GCTN), a China-based nickel alloy smelter that converts nickel ore into pure nickel.
FNI's stake in GHGC gives it a 20% interest in GCTN.
FNI paid US $75 million for the stake, which it will pay by first forgiving roughly $23 million in receivables, and then making annual $10 million payments until the rest of the ~$52 million is paid-off. GHGC is owned by Joseph C. Sy and Gu Zhifang, who both serve as directors of FNI.

MB BOTTOM-LINE
Ok, so on the one hand, FNI is just ripping raw ore out of the ground and shipping it to China, which is a pretty profitable business right now thanks to the meteoric rise in the price of nickel, but it's still basically at the bottom of the value chain of nickel.
An investment like this, in a company that takes the raw ore and does something valuable to it (convert it into pure nickel) is a good vertical integration for FNI.
Like Semirara [SCC 38.75 0.64%] mining coal and then using that coal in its power plants to convert the coal to electricity that can be sold.
It climbs FNI one rung higher on the value chain ladder, exposing FNI to higher profits and better opportunities.
On the other hand, though, this is basically another of those "using shareholder cash to buy property from the owners" moves that we just saw with Lucio Co, when he caused The Keepers [KEEPR 1.03 2.83%] to buy his personal stake in a Spanish liquor manufacturer.
Windfall for Lucio, on the shareholder's peso. Is there a similar windfall for Joseph C. Sy and Gu Zhifang? Hard to say outright, as the disclosures didn't say whether the shares in GHGC were primary (new) or secondary (from Joseph C. Sy and Gu Zhifang).
If they were secondary, yeah, there might have been a windfall there. Doesn't mean the move was a bad one.
Strategically, it might make sense. It's just another of those self-dealing moves that gives off a little bit of a smell.
--
Merkado Barkada's opinions are provided for informational purposes only, and should not be considered a recommendation to buy or sell any particular stock. These daily articles are not updated with new information, so each investor must do his or her own due diligence before trading, as the facts and figures in each particular article may have changed.