Citicore Energy REIT plans P10.1-B IPO on December 13
November 22, 2021 | 8:55am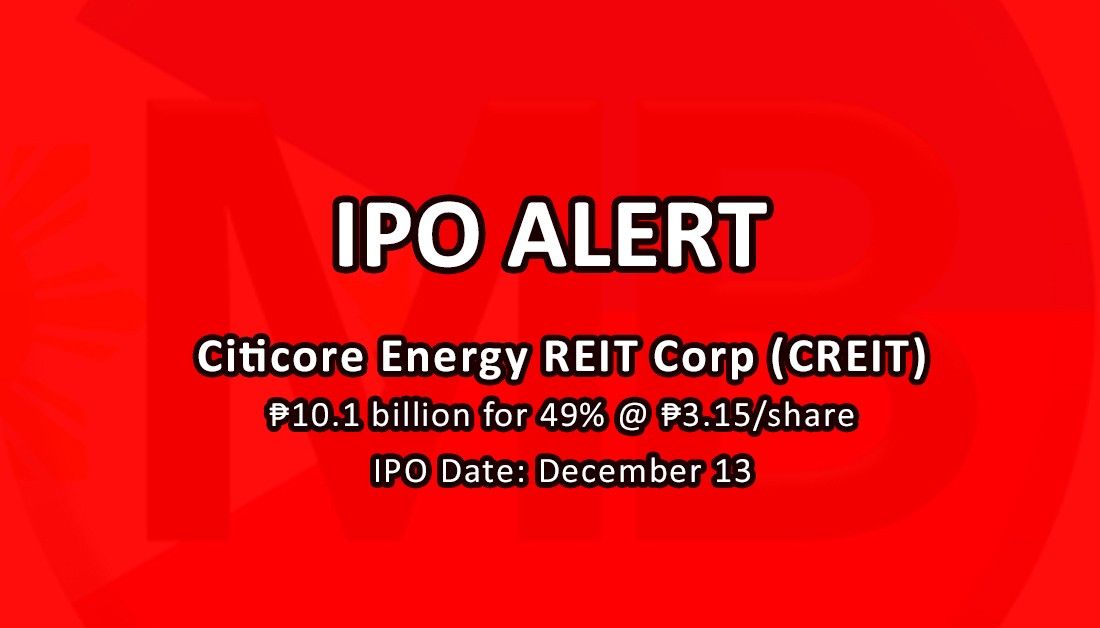 Citicore Energy REIT Corp [CREIT 3.15 pre-IPO], the country's 6th REIT owned by the same ownership group as Megawide [MWIDE 6.01 0.83%], plans to sell ~1 billion primary common shares and ~1.7 billion secondary common shares, plus ~0.4 billion secondary common shares for an over-allotment option, for a total of just over 3.2 billion shares at P3.15/share. The public will own 49% of the company after the IPO (assuming full exercise of the over-allotment option). Check out Citicore's website for its Preliminary REIT Plan prospectus.

♦ IPO deal dates: CREIT will be priced today, which means I expect that we'll hear about CREIT's final price sometime tomorrow. The offer period will run from November 26 to December 3, with an IPO listing on December 13.

♦ Primary/secondary split: This is basically a 33/67 split, with just one-third of the proceeds from the sale going to CREIT. Barkadans will know that this kind of split would normally have me running for my pitchfork, but in a REIT, it's very common for the proportion of secondary shares in an IPO to be much higher, if not even the entire deal. The AREIT [AREIT 47.75 unch] IPO had a primary offer component of about 10%, but that's because it had a post-IPO acquisition planned and basically ready-to-go. DDMP [DDMPR 1.84 0.54%] was 100% secondary, mostly because it had no post-transaction plans (and still doesn't).

♦ Use of proceeds: All of the primary proceeds raised by CREIT will be spent on acquiring property. The first, in Bulacan, is 253,880 sq.m. and will cost P2.2 billion; CREIT will lease this property to Citicore Bulacan for 25 years for the operation of the solar plant located there that's already been operating since 2016. The second, in South Cotabato, is 79,997 sq.m. and will cost P1.0 billion; CREIT will lease this property to Citicore South Cotabato for 25 years, under a similar arrangement there for an already-operating solar power plant.

♦ Projected dividend yield: Based on the P3.15/share offer price, CREIT projects that its 2022 yield will be 5.7%, and that its 2023 yield would be 6.0%. CREIT says that it "expects" to provide "regular and stable" dividend distribution, with "long term dividend yield growth".

♦ Where are the office buildings!? There are none! CREIT leases its land to solar power plants that are owned by Citicore-affiliated companies. This is an exciting moment for the PH REIT sector, as it's our first non-office building REIT. Here, CREIT already owns five properties (with plans to acquire two additional properties, detailed above) that are leased out. CREIT earns a base lease rate, plus a variable lease rate that is equal to "50% of the incremental gross revenue earned by the Lessee from any excess of its actual energy generation for the current fiscal year over its base revenue."
MB BOTTOM-LINE
Love to see the REIT sector expand beyond just BPO leasing. Hopefully, REITing these assets will demonstrate to others that there's a market for this kind of product, and this will provide a great deal of capital back to renewable energy developers that can be put back to use generating income (by generating electricity) in the sector.
The primary/secondary split doesn't matter to me at all, since CREIT's plan calls for 100% of the money that it raises through the primary offer to go directly to acquiring the land under two other existing and operating power plants that CREIT will get lease revenue for once the acquisitions complete. If I had to name my biggest concern, it would be the MWIDE ownership group's political problems with the current administration. CREIT's ultimate beneficial owner, Edgar Saavedra, is currently under indictment for violations of the Anti-Dummy Act in relation to MWIDE's involvement in the Cebu-Mactan International Airport. MWIDE's bid for the rehabilitation of NAIA was also questioned and ultimately cancelled under strange circumstances that seemed to imply the workings of some behind-the-scenes influence to prevent MWIDE from obtaining that contract. So, is this political weather restricted to just Saavedra's airport-related interests, or will the increased scrutiny from different departments of government follow Mr. Saavedra into his other publicly-traded interests, like perhaps this new CREIT company? I honestly have no idea. I don't have any insider information, nor have I heard any compelling theories for why Mr. Saavedra's luck seems to have turned so quickly, so it's difficult to say (from this perspective) whether any parts of the CREIT risk profile could be easily weaponized against it, and as an extension, against CREIT shareholders.
CREIT's lease clients operate under Department of Energy permits, and benefit from certain solar power tax holidays implemented by Congress, so while the attack surface is limited (there aren't any gong-show franchise renewals through the House), it's definitely not zero.
--
Merkado Barkada's opinions are provided for informational purposes only, and should not be considered a recommendation to buy or sell any particular stock. These daily articles are not updated with new information, so each investor must do his or her own due diligence before trading, as the facts and figures in each particular article may have changed.