How regenerative agriculture is helping build resilience of Filipino coffee farmers
February 6, 2023 | 1:40pm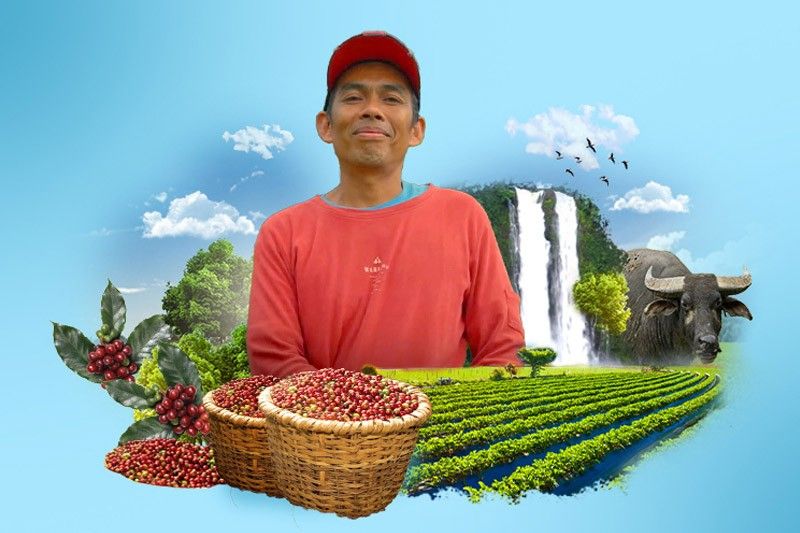 MANILA, Philippines — "Meron pa bang agrikultura kung ang lupa mismo patay na? Ni damo hindi na tutubo? Wala na (Will there still be agriculture if the soil is dead? When even grass will not grow? No more)."
This pressing concern was recently articulated by Arnold Abear, a longtime coffee farmer from Bukidnon province in Mindanao. Such a dire scenario could become a reality for him and his fellow farmers in the future. Worse, some may already be experiencing it—adversely impacting harvests, and ultimately, livelihoods that provide for the welfare of their families.
Fortunately, this bleak outcome can be avoided by practicing regenerative agriculture, an approach that focuses on working with soil, water resources and biodiversity. In particular, healthier soils are more resistant to the effects of climate change caused by global warming, and can produce bigger yields for better livelihoods.
Abear, under Nestlé's NESCAFÉ Plan, was introduced to regenerative agriculture practices as early as 2018. Since then, he has seen his farm increasing its output and becoming more able to withstand climate change as seen in higher temperatures, increasingly variable weather, invasive plants and pests, and more frequent extreme weather disturbances.
Just like Abear, more Filipino coffee farmers can reap the benefits of regenerative agriculture.
How did it start?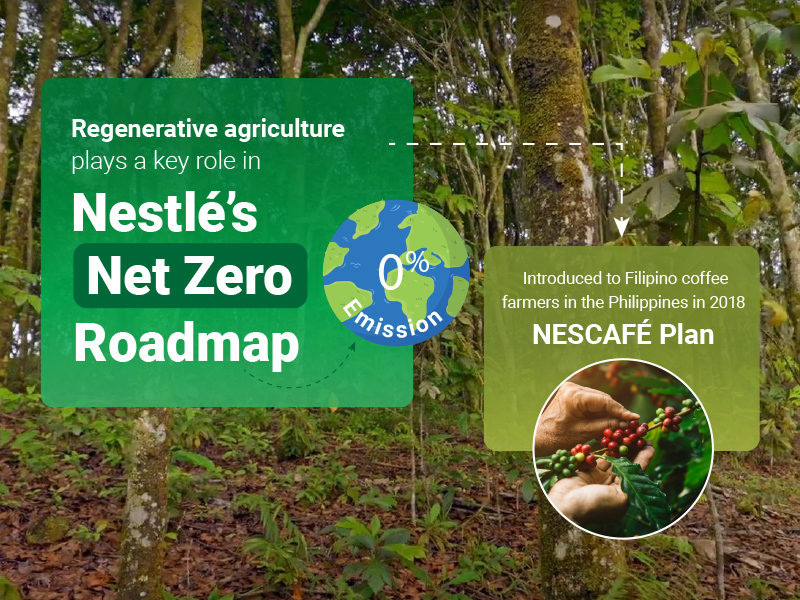 Globally, for over 20 years, Nestlé through its Sustainable Agriculture Initiative has enabled and supported hundreds of thousands of farmers to improve their productivity by propagating sustainable farming practices.
However, with unprecedented population growth, greater agricultural production is contributing to the overexploitation of natural resources, as well as greenhouse gas (GHG) emissions. According to the World Bank, agriculture is a major component of the climate problem, currently generating 19-29% of GHG emissions worldwide.
With the goal of mitigating the impacts of agriculture on the environment and helping ensure food security, Nestlé is adhering to a global Net Zero Roadmap that targets sourcing 20% of key ingredients from regenerative agriculture methods by 2025, and 50% by 2030.
In the Philippines, teaching regenerative agriculture practices is integral to the NESCAFÉ Plan, which for over a decade has worked with smallholder Robusta coffee farmers and communities to help them increase yields, earnings and quality of life, and grow production volumes to eventually match local demand.
What is regenerative agriculture?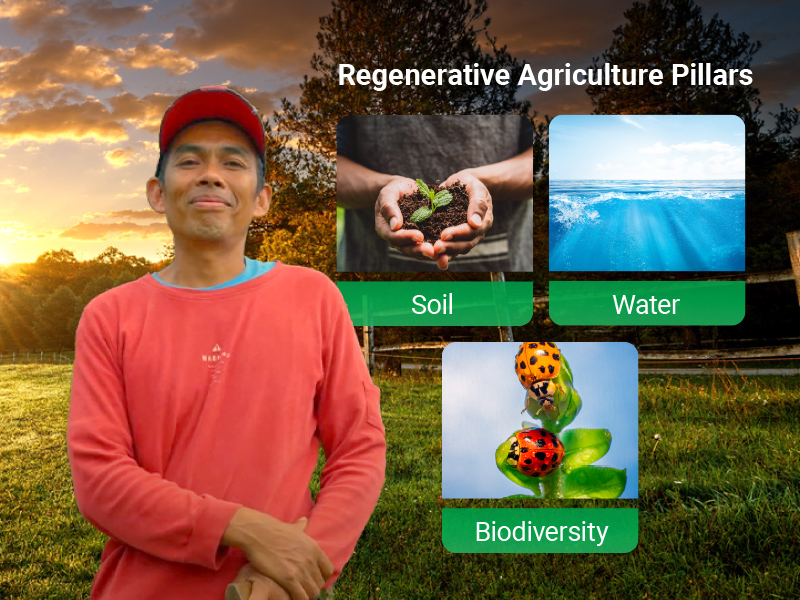 "Every time a farmer raises a crop, the plants absorb important nutrients from the soil. If we don't put these back, allow them to regenerate, this will affect the next harvest," Donnel Tiedra, an agronomist at Nestlé Philippines Government and Industry Affairs, explained.
"Regenerative agriculture is a farming system that seeks to rehabilitate and enrich the soil, protect water resources, and increase plant and animal biodiversity," he explains, which in turn "captures higher levels of carbon in soils and plant biomass."
Most importantly, regenerative agriculture strengthens resilience against climate change, while increasing harvests and helping improve farm incomes.
Effective practices for coffee farming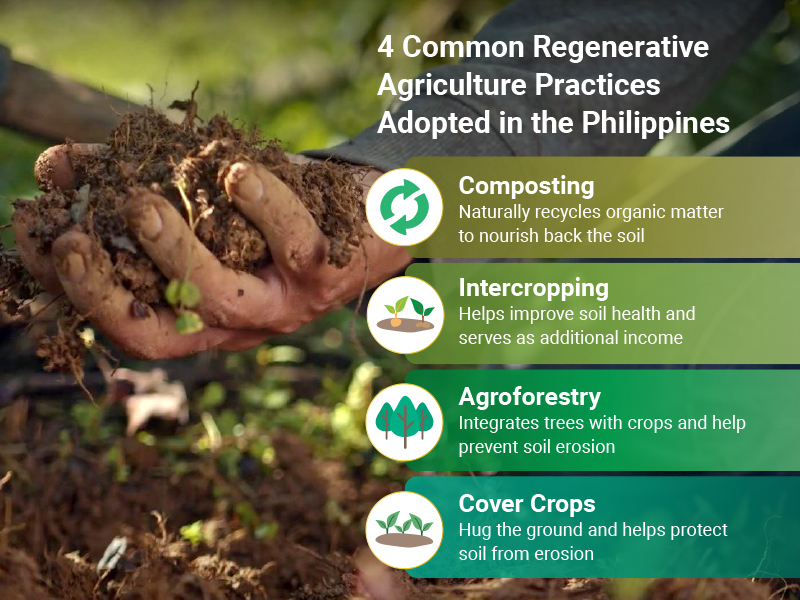 Through the NESCAFÉ Plan, Nestlé Philippines pursues its role as Kasambuhay for Good, helping to empower local coffee farmers, sharing knowledge with them on the best available technologies and techniques so that their harvests will improve in quality, quantity, and returns.
This knowledge includes four common regenerative practices, namely: composting, intercropping, agroforestry and planting cover crops.
In composting, Abear sprays an effective microorganism solution directly on dry leaves on the soil, which enhances the growth of roots. For his intercropping setup, he plants coffee along with abaca which he can harvest year-round, while coffee is harvested only once a year.
Agroforestry and cover crops have the same function of protecting his main crops, with the former working vertically through tall trees, and the latter horizontally with ground-crawling plants.
In numbers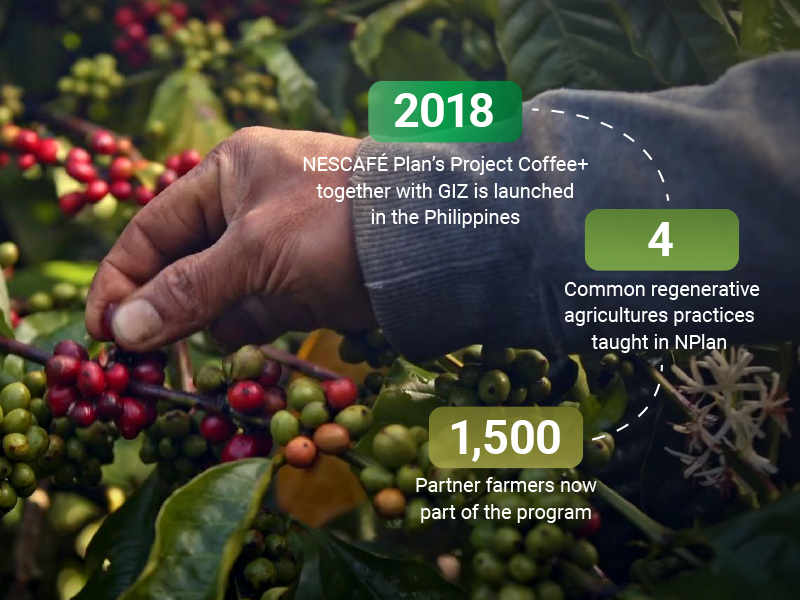 Abear is one of the 1,500 partner farmers in Mindanao in a multi-year project of the NESCAFÉ Plan, with the objective of bringing coffee farmers on board to help them and their communities build economic and environmental resilience. They have undergone extensive training to become "agripreneurs" who practice farming as a business, not a subsistence activity.
He is setting an example. With his successful coffee and other crop harvests, he has been able to build a house, expand his farmland, and send his four children to school.
"May panahon pa para maiwasan natin mawalan ng malusog na lupa na pwedeng pagtaniman ng mga anak natin, at sa mga susunod pa nating henerasyon. Sana sa mga kapwa ko magsasaka, alagaan natin ang ating mga lupa para alagaan din tayo nito (We still have time to avoid losing healthy soil, with which our children can cultivate their future and that of coming generations. I hope my fellow farmers will do the same. If we take care of our soil, it will take care of us)," Abear said.
Overall, as more farmers adopt regenerative practices, the country's agriculture sector can only become stronger, toward ensuring food security.