NASA launches spacecraft to kick an asteroid off course
November 24, 2021 | 7:35am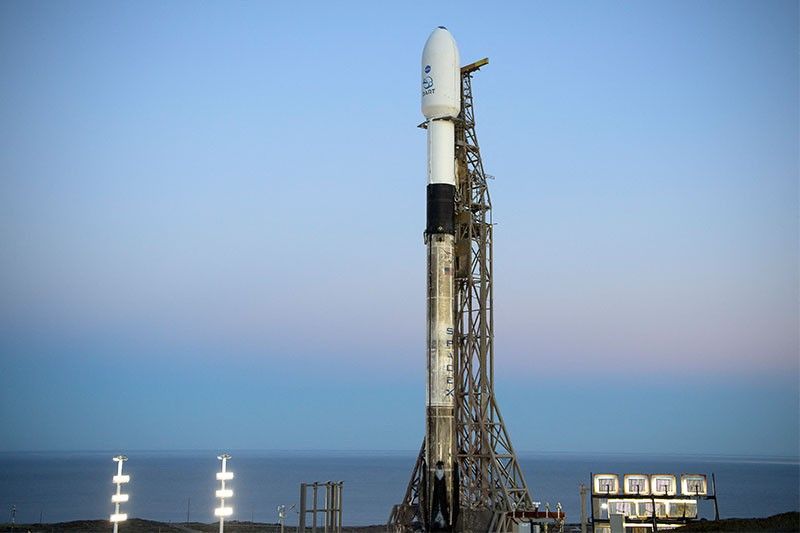 WASHINGTON, United States — NASA is preparing a mission to deliberately smash a spacecraft into an asteroid — a test run should humanity ever need to stop a giant space rock from wiping out life on Earth.
It may sound like the stuff of science fiction, but the DART (Double Asteroid Redirection Test) is a real proof-of-concept experiment, blasting off at 10:21 pm Pacific Time Tuesday (0621 GMT Wednesday) aboard a SpaceX rocket from Vandenberg Space Force Base in California.
"All systems and weather are looking good for tonight's Falcon 9 launch," Elon Musk's company tweeted.
The goal is to slightly alter the trajectory of Dimorphos, a "moonlet" around 525 feet (160 meters, or two Statues of Liberty) wide that circles a much larger asteroid called Didymos (2,500 feet in diameter). The pair orbit the Sun together.
Impact should take place in the fall of 2022, when the binary asteroid system is 6.8 million miles (11 million kilometers) from Earth, almost the nearest point they ever get.
"What we're trying to learn is how to deflect a threat," NASA's top scientist Thomas Zuburchen said of the $330 million project, the first of its kind.
To be clear, the asteroids in question pose no threat to our planet.
But they belong to a class of bodies known as Near-Earth Objects (NEOs) — asteroids and comets that approach our planet within 30 million miles.
NASA's Planetary Defense Coordination Office is most interested in those larger than 460 feet in size, which have the potential to level entire cities or regions with many times the energy of average nuclear bombs.
There are 10,000 known near-Earth asteroids 460 feet in size or greater, but none has a significant chance to hit in the next 100 years. One major caveat: only about 40 percent of those asteroids have been found to date.
15,000 mph kick
Planetary scientists can create miniature impacts in labs and use the results to create sophisticated models about how to divert an asteroid — but models are always inferior to real world tests.
Scientists say the Didymos-Dimorphos system is an "ideal natural laboratory," because Earth-based telescopes can easily measure the brightness variation of the pair and judge the time it takes the moonlet to orbit its big brother.
Since the current orbit period is known, the difference will reveal the effect of the impact, scheduled to occur between September 26 and October 1, 2022.
What's more, since the asteroids' orbit never intersects our planet, they are thought safer to study.
The DART probe, which is a box the size of a large fridge with limousine-sized solar panels on either side, will slam into Dimorphos at just over 15,000 miles an hour.
Andy Rivkin, DART investigation team lead, said that the current orbital period is 11 hours and 55 minutes, and the team expects the kick will shave around 10 minutes off that time.
There is some uncertainty about how much energy will be transferred by the impact, because the moonlet's internal composition and porosity are not known.
The more debris that's generated, the more push will be imparted on Dimorphos.
"Every time we show up at an asteroid, we find stuff we don't expect," said Rivkin.
The DART spacecraft also contains sophisticated instruments for navigation and imaging, including the Italian Space Agency's Light Italian CubeSat for Imaging of Asteroids (LICIACube) to watch the crash and its after-effects.
Nuclear blasts
The so-called "kinetic impactor" method isn't the only way to divert an asteroid, but it is the technique that is the most ready with current technology.
Others that have been hypothesized include flying a spacecraft close by to impart a small gravitational force.
Another is detonating a nuclear blast close by — but not on the object itself, as in the films Armageddon and Deep Impact — which would probably create many more perilous objects.
Scientists estimate 460-foot asteroids strike once every 20,000 years.
Asteroids that are six miles or wider — such as the one that struck 66 million years ago and led to the extinction of most life on Earth, including the dinosaurs — occur around every 100-200 million years.
As It Happens
LATEST UPDATE: June 5, 2022 - 10:52am
Monitor major developments on space explorations and the status of missions.
June 5, 2022 - 10:52am
State broadcaster CCTV says China launched a rocket carrying three astronauts on a mission to complete the construction of its new space station, the latest milestone in Beijing's drive to become a major space power.
The trio blasted off in a Long March-2F rocket at (0244 GMT) from the Jiuquan launch center in northwestern China's Gobi desert, with the team expected to spend six months expanding the Tiangong space station. — AFP
May 13, 2022 - 10:54am
That's one small pot of soil, one giant leap for man's knowledge of space agriculture: scientists have for the first time grown plants in lunar soil brought back by astronauts in the Apollo program.
The ground-breaking experiment, detailed in the journal Communications Biology on Thursday, has given researchers hope that it may be possible to one day grow plants directly on the Moon.
That would save future space missions much hassle and expense, facilitating longer and farther trips.
However, according to the study's University of Florida authors, much remains to be studied on the topic, and they intend to leave no stone unturned. -- AFP
May 6, 2022 - 2:42pm
NASA's Crew-3 mission returns home to Earth on Friday after six months aboard the International Space Station.
The SpaceX Dragon Endurance spacecraft with NASA astronauts Kayla Barron, Raja Chari and Tom Marshburn, as well as European Space Agency astronaut Matthias Maurer, undocked from the orbital laboratory a day earlier.
Their 23.5 hour journey back saw them splash down off the coast of Florida at 12:43 am (0443 GMT).
"On behalf of the entire SpaceX team, welcome home," a SpaceX official said to the crew moments after the capsule splashed down. — AFP
April 25, 2022 - 10:03am
The crew of the first fully private mission to the International Space Station departed the orbiting laboratory on Monday to head back to Earth.
The three businessmen and a former NASA astronaut had spent more than two weeks on the station on a history-making mission organized by startup company Axiom Space.
The SpaceX capsule undocked from the ISS at 0110 GMT for the return trip and was scheduled to land in the ocean off the coast of Florida at around 1:00 pm local time (1700 GMT). — AFP
April 16, 2022 - 10:27am
State broadcaster CCTV says three Chinese astronauts landed in northern China on Saturday after 183 days in space, ending the country's longest crewed space mission to date.
The Shenzhou-13 spacecraft is the latest mission in Beijing's drive to become a major space power rivalling the US, after landing a rover on Mars and sending probes to the Moon.
The two men and one woman -- Zhai Zhigang, Ye Guangfu and Wang Yaping -- landed in a small capsule shortly before 10 am Beijing time, after six months aboard the Tianhe core module of China's Tiangong space station. — AFP