Asteroid dust collected by Japan probe arrives on Earth
December 6, 2020 | 11:46am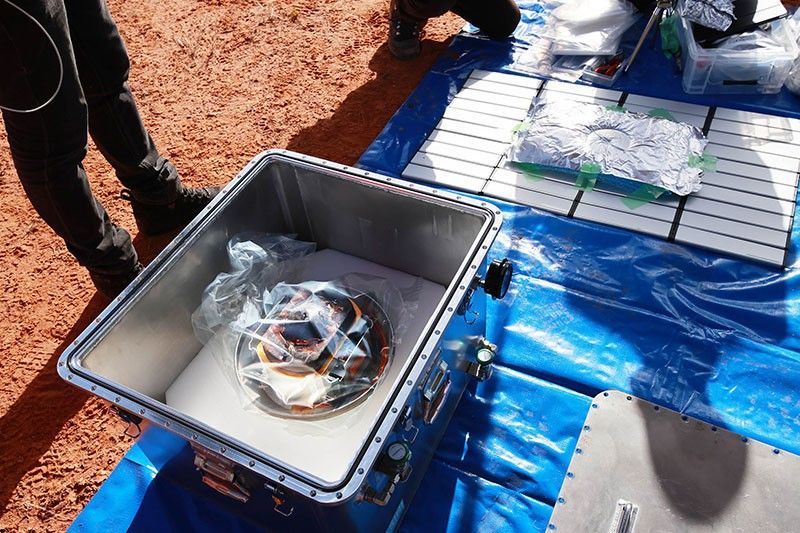 TOKYO, Japan — In a streak of light across the night sky, samples collected from a distant asteroid arrived on Earth Sunday after being dropped off by Japanese space probe Hayabusa-2.
Scientists hope the precious samples, which are expected to amount to no more than 0.1 grams of material, could help shed light on the origin of life and the formation of the universe.
The capsule carrying samples entered the atmosphere just before 2:30 am Japan time (1730 GMT Saturday), creating a shooting-star-like fireball as it entered Earth's atmosphere en route to a landing site in Australia.
"Six years and it has finally come back to Earth," an official narrating a live broadcast of the arrival said, as images showed officials from Japan's space agency JAXA cheering and pumping their fists in excitement.
A few hours later, JAXA confirmed the samples had been recovered, with help from beacons emitted by the capsule as it plummeted to Earth after separating from Hayabusa-2 on Saturday, while the fridge-sized probe was some 220,000 kilometres (137,000 miles) away.
"We found the capsule! Together with the parachute! Wow!" the mission's Twitter account announced.
People who had gathered at a public viewing site near JAXA's office in suburban Tokyo — despite the event taking place a few hours after midnight — also erupted with cheers.
"I'm extremely happy because the capsule has returned home safely, Hayabusa-2 did a great job," a primary school boy said.
The capsule was recovered in the southern Australian desert, and will now be in the hands of scientists performing initial, non-invasive analysis including checking for any gas emissions.
It will then be sent to Japan.
Samples with organic material?
The samples were collected by Hayabusa-2, which launched in 2014, from the asteroid Ryugu, some 300 million kilometres from Earth.
The probe collected both surface dust and pristine material from below the surface that was stirred up by firing an "impactor" into the asteroid.
The material is believed to be unchanged since the time the universe was formed.
Larger celestial bodies like Earth went through radical changes including heating and solidifying, changing the composition of the materials on their surface and below.
But "when it comes to smaller planets or smaller asteroids, these substances were not melted, and therefore it is believed that substances from 4.6 billion years ago are still there," Hayabusa-2 mission manager Makoto Yoshikawa told reporters before the capsule arrived.
Scientists are especially keen to discover whether the samples contain organic matter, which could have helped seed life on Earth.
"We still don't know the origin of life on Earth and through this Hayabusa-2 mission, if we are able to study and understand these organic materials from Ryugu, it could be that these organic materials were the source of life on Earth," Yoshikawa said.
"We've never had materials like this before... water and organic matters will be subject to research, so this is a very valuable opportunity," said Motoo Ito, senior researcher at the Japan Agency for Marine-Earth Science and Technology.
Half of Hayabusa-2's samples will be shared between JAXA, US space agency NASA and other international organisations, and the rest kept for future study as advances are made in analytic technology.
More tasks for Hayabusa-2
The work is not over for Hayabusa-2, which will now begin an extended mission targeting two new asteroids.
It will complete a series of orbits around the sun for around six years before approaching the first of the asteroids — named 2001 CC21 — in July 2026.
The probe will not get as close as it did to Ryugu, but scientists hope it will be able to photograph CC21 and that the fly-by will help develop knowledge about how to protect Earth against asteroid impact.
Hayabusa-2 will then head towards its main target, 1998 KY26, a ball-shaped asteroid with a diameter of just 30 metres.
When the probe arrives at the asteroid in July 2031, it will be approximately 300 million kilometres from Earth.
It will observe and photograph the asteroid, no easy task given that it is spinning rapidly, rotating on its axis about every 10 minutes.
But Hayabusa-2 is unlikely to land and collect samples, as it probably would not have enough fuel to return them to Earth.
As It Happens
LATEST UPDATE: June 28, 2022 - 7:35pm
Monitor major developments on space explorations and the status of missions.
June 28, 2022 - 7:35pm
NASA blasted a nanosatellite barely bigger than a microwave oven into outer space Tuesday, part of a landmark mission to return humans to the Moon.
A rocket carrying the tiny CAPSTONE module successfully launched from New Zealand's eastern Mahia Peninsula to a deafening blast and a wash of fiery propulsion.
All being well, in four months CAPSTONE will be in a position to begin an innovative surfboard-shaped "near rectilinear halo orbits" around the Moon.
Weighing about as much as a suitcase, the satellite is trail running an orbit for NASA's "Gateway" space station -- which will travel around the Moon and serve as a jumping off point for lunar exploration.
The orbit passes within 1,600 kilometers of the Moon at its closest point, before catapulting to 70,000 kilometers away at the furthest.
Scientists hope the orbit will be super-efficient, using the pull of both the Moon and the Earth to minimise fuel use. — AFP
June 5, 2022 - 10:52am
State broadcaster CCTV says China launched a rocket carrying three astronauts on a mission to complete the construction of its new space station, the latest milestone in Beijing's drive to become a major space power.
The trio blasted off in a Long March-2F rocket at (0244 GMT) from the Jiuquan launch center in northwestern China's Gobi desert, with the team expected to spend six months expanding the Tiangong space station. — AFP
May 13, 2022 - 10:54am
That's one small pot of soil, one giant leap for man's knowledge of space agriculture: scientists have for the first time grown plants in lunar soil brought back by astronauts in the Apollo program.
The ground-breaking experiment, detailed in the journal Communications Biology on Thursday, has given researchers hope that it may be possible to one day grow plants directly on the Moon.
That would save future space missions much hassle and expense, facilitating longer and farther trips.
However, according to the study's University of Florida authors, much remains to be studied on the topic, and they intend to leave no stone unturned. -- AFP
May 6, 2022 - 2:42pm
NASA's Crew-3 mission returns home to Earth on Friday after six months aboard the International Space Station.
The SpaceX Dragon Endurance spacecraft with NASA astronauts Kayla Barron, Raja Chari and Tom Marshburn, as well as European Space Agency astronaut Matthias Maurer, undocked from the orbital laboratory a day earlier.
Their 23.5 hour journey back saw them splash down off the coast of Florida at 12:43 am (0443 GMT).
"On behalf of the entire SpaceX team, welcome home," a SpaceX official said to the crew moments after the capsule splashed down. — AFP
April 25, 2022 - 10:03am
The crew of the first fully private mission to the International Space Station departed the orbiting laboratory on Monday to head back to Earth.
The three businessmen and a former NASA astronaut had spent more than two weeks on the station on a history-making mission organized by startup company Axiom Space.
The SpaceX capsule undocked from the ISS at 0110 GMT for the return trip and was scheduled to land in the ocean off the coast of Florida at around 1:00 pm local time (1700 GMT). — AFP