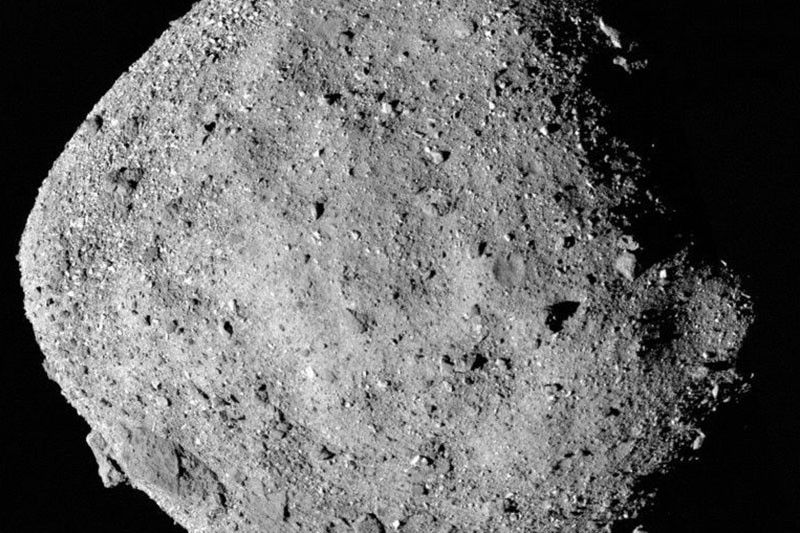 The asteroid Bennu, as photographed by OSIRIS-REx, on Dec. 2, 2018.
AFP/HO NASA/Goddard/University of Arizona
US probe to touch down on asteroid Bennu on October 20
(Agence France-Presse) - September 25, 2020 - 7:58am
WASHINGTON, United States — After a four-year journey, NASA's robotic spacecraft OSIRIS-REx will descend to asteroid Bennu's boulder-strewn surface on October 20, touching down for a few seconds to collect rock and dust samples, the agency said Thursday.
Scientists hope the mission will help deepen our understanding of how planets formed and life began and provide insight on asteroids that could impact Earth.
"Years of planning and hard work by this team are essentially coming down to putting the TAGSAM (Touch-And-Go Sample Acquisition Mechanism) into contact with the surface for just five to 10 seconds," said Mike Moreau, OSIRIS-REx deputy project manager.
NASA has chosen a site called Nightingale, a rocky area 52 feet (16 meters) in diameter, for the spacecraft's robotic arm to attempt to collect a sample, because it holds the greatest amount of unobstructed fine-grained material.
The spacecraft, about the size of a large van, will need to touch down in an area about the size of a few parking spots, taking care to avoid surrounding boulders.
Because the spacecraft and Bennu will be approximately 207 million miles (334 million kilometers) from Earth, it will take about 18.5 minutes for signals to travel between them.
This prevents the live commanding of flight activities, so the spacecraft will need to perform the sequence autonomously.
OSIRIS-REx is supposed to collect at least 2 ounces (57 grams) of Bennu's rocky material to bring back to Earth–- the largest sample return from space since the Apollo program.
It will deliver its payload to Earth on September 24, 2023.
As It Happens
LATEST UPDATE: November 16, 2020 - 12:53pm
Monitor major developments on space explorations and the status of missions.
November 16, 2020 - 12:53pm
A SpaceX rocket successfully lifts off from Kennedy Space Center in Florida on Sunday with four astronauts on board, bound for the International Space Station.
It is the second manned flight by SpaceX, a private company founded by entrepreneur Elon Musk that will now carry NASA astronauts into space after nine years of American dependence on Russian Soyuz rockets. — AFP
September 22, 2020 - 10:26am
NASA reveals its latest plan to return astronauts to the Moon in 2024, and estimated the cost of meeting that deadline at $28 billion, $16 billion of which would be spent on the lunar landing module.
US Congress, which faces elections on November 3, will have to sign off on the financing for a project that has been set by President Donald Trump as a top priority. The $28 billion would cover the budgetary years of 2021-25.
In a phone briefing with journalists Monday on the Artemis mission to return human beings to the Moon, NASA administrator Jim Bridenstine notes that "political risks" were often the biggest threat to NASA's work, especially before such a crucial election. — AFP
August 3, 2020 - 7:28am
SpaceX Crew Dragon Endeavour splashed down in the Gulf of Mexico Sunday afternoon on time after re-entering the Earth's atmosphere and deploying its parachutes without any glitches.
Pilot Doug Hurley, one of the two astronauts on board, said: "It's truly our honor and privilege" as radio communications became choppy and cut out.
It was the first water landing for a US spacecraft since the Apollo-Soyuz mission of 1975. — AFP
July 31, 2020 - 8:35am
NASA's latest rover Perseverance launched for Mars on Thursday, blasting off from Cape Canaveral, Florida on a United Launch Alliance Atlas V rocket on schedule.
The first stage of rocket separation took place a few minutes later for the second stage Centaur rocket to take over, boosting it into orbit.
Perseverance is now preparing for a second burn that will put it on a trajectory toward Mars, a trip that will take around seven months and cover 300 million miles (480 million kilometers). — AFP
July 20, 2020 - 7:30am
The first Arab space mission to Mars blasts off Monday aboard a rocket from Japan, after weather delays set back the launch of the probe dubbed "Hope."
A live feed of the launch showed the rocket carrying the unmanned probe, known as "Al-Amal" in Arabic, lifting off from the Tanegashima Space Centre in southern Japan.
"We have launched the H-IIA Launch Vehicle No. 42 (H-IIA F42) carrying aboard the Emirates Mars Mission's (EMM) HOPE spacecraft... at 6:58:14 (JST) (2158GMT)," rocket manufacturer Mitsubishi Heavy Industries said in a statement shortly after the launch. — AFP