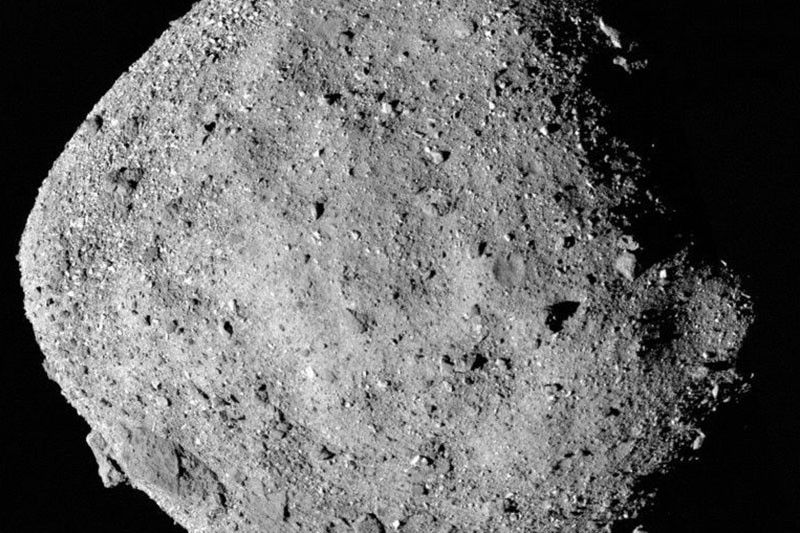 The asteroid Bennu, as photographed by OSIRIS-REx, on Dec. 2, 2018.
AFP/HO NASA/Goddard/University of Arizona
US probe to touch down on asteroid Bennu on October 20
(Agence France-Presse) - September 25, 2020 - 7:58am
WASHINGTON, United States — After a four-year journey, NASA's robotic spacecraft OSIRIS-REx will descend to asteroid Bennu's boulder-strewn surface on October 20, touching down for a few seconds to collect rock and dust samples, the agency said Thursday.
Scientists hope the mission will help deepen our understanding of how planets formed and life began and provide insight on asteroids that could impact Earth.
"Years of planning and hard work by this team are essentially coming down to putting the TAGSAM (Touch-And-Go Sample Acquisition Mechanism) into contact with the surface for just five to 10 seconds," said Mike Moreau, OSIRIS-REx deputy project manager.
NASA has chosen a site called Nightingale, a rocky area 52 feet (16 meters) in diameter, for the spacecraft's robotic arm to attempt to collect a sample, because it holds the greatest amount of unobstructed fine-grained material.
The spacecraft, about the size of a large van, will need to touch down in an area about the size of a few parking spots, taking care to avoid surrounding boulders.
Because the spacecraft and Bennu will be approximately 207 million miles (334 million kilometers) from Earth, it will take about 18.5 minutes for signals to travel between them.
This prevents the live commanding of flight activities, so the spacecraft will need to perform the sequence autonomously.
OSIRIS-REx is supposed to collect at least 2 ounces (57 grams) of Bennu's rocky material to bring back to Earth–- the largest sample return from space since the Apollo program.
It will deliver its payload to Earth on September 24, 2023.
As It Happens
LATEST UPDATE: June 15, 2021 - 10:35am
Monitor major developments on space explorations and the status of missions.
June 15, 2021 - 10:35am
The first crew for China's new space station prepared to blast off this week for the latest step in Beijing's ambitious programme to establish itself as a space power.
The mission is China's first crewed spaceflight in nearly five years, and a matter of prestige for the government as it prepares to mark the 100th birthday of the ruling Communist Party on July 1 with a propaganda blitz.
A Long March-2F rocket carrying three astronauts in the Shenzhou-12 spacecraft is slated to lift off from a base in northwest China's Gobi desert on Thursday, according to experts with knowledge of the matter.
They plan to spend three months on the Tiangong station, China's longest crewed space mission to date, with spacewalks among their tasks.
The astronauts will aim to "get their new home in space kitted out and ready to use," said Jonathan McDowell, an astronomer at the Harvard Smithsonian Center for Astrophysics. — AFP
June 13, 2021 - 9:12am
An unnamed bidder pays $28 million at auction Saturday for a seat on board the first crewed spaceflight of Jeff Bezos' company Blue Origin on July 20, as one of four passengers including the Amazon founder himself.
The winner, whose identity will be disclosed in coming weeks, beat out some 20 participants in an auction launched in late May, and wrapped up with a 10-minute online bidding frenzy, livecast by Blue Origin. — AFP
May 11, 2021 - 8:52am
The US space probe Osiris-Rex on Monday left the orbit of the asteroid Bennu, from which it collected dust samples last year, to begin its long journey back to Earth.
The probe still has a vast distance to cover before it lands in the Utah desert on September 24, 2023.
Osiris-Rex is "now moving away over 600 miles an hour from Bennu, on its way home," Dante Lauretta, head of the mission, said on NASA's video broadcast of the event.
The spacecraft's thrusters were engaged without incident for seven minutes to put the probe on the correct trajectory home, a journey of 1.4 billion miles (2.3 billion kiometers).
It is carrying more than 60 grams of dust and fragments from the asteroid, the largest sample collected by NASA since the Moon rocks brought back by the Apollo missions. — AFP
May 10, 2021 - 8:32am
SpaceX will launch a satellite to the Moon next year funded entirely with the cryptocurrency Dogecoin, Canadian company Geometric Energy Corporation, which will lead the lunar mission, announced Sunday.
The satellite, dubbed DOGE-1, will be launched aboard a SpaceX Falcon 9 rocket in the first quarter of 2022, the Calgary-based company said in a statement.
The cubic satellite, weighing 88 pounds (40 kilograms), will aim to obtain "lunar-spatial intelligence from sensors and cameras on-board," according to the statement.
The "DOGE-1 Mission to the Moon" will be "the first-ever commercial lunar payload in history paid entirely with" Dogecoin, Geometric Energy Corporation said, without specifying how much the project cost.
"We're excited to launch DOGE-1 to the Moon!" Tom Ochinero, SpaceX vice president of commercial sales, said in the statement. — AFP
May 9, 2021 - 2:23pm
A large segment of a Chinese rocket re-entered the Earth's atmosphere and disintegrated over the Indian Ocean on Sunday, the Chinese space agency said, following fevered speculation over where the 18-tonne object would come down.
Officials in Beijing had said there was little risk from the freefalling segment of the Long March-5B rocket, which had launched the first module of China's new space station into Earth orbit on April 29.
"After monitoring and analysis, at 10:24 (0224 GMT) on May 9, 2021, the last-stage wreckage of the Long March 5B Yao-2 launch vehicle has reentered the atmosphere," the China Manned Space Engineering Office said in a statement, providing coordinates for a point in the Indian Ocean near the Maldives. — AFP