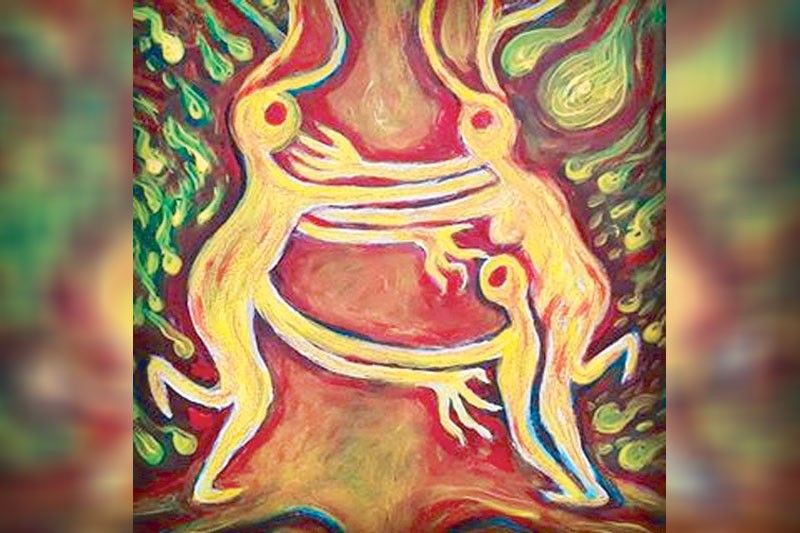 Alien tree huggers-acrylic on canvas by Roxlee.
'Water comes from forests, not dams'?
MANILA, Philippines — Amid ongoing debates over the controversial Kaliwa Dam, an environmental group said the solution to the water crisis is the restoration of Philippine forests.?
Haribon Foundation emphasized that the water issue should be understood from the ridge-to-reef perspective that begins with asking where water comes from.??
"Water comes from forests, not from dams. Forests absorb water through their roots, release it from their leaves through transpiration, which then turn into rainwater together with water evaporated from oceans and other water bodies," the group said.?
The foundation noted that the Environmental Impact Statement submitted by the Metropolitan Waterworks and Sewerage System (MWSS) has also recognized the significant role of forests in the global carbon cycle as carbon sinks of the land ecosystem, absorbing carbon dioxide, and storing carbon in soils.?
"Forests have an indispensable biodiversity value – not only do they supply goods for trade and subsistence, they also contribute to water cycle and groundwater withdrawal," said Haribon.Based on the government reforestation costing – particularly the national greening program (NGP) – restoring one hectare of forest costs P16,450 for three years.
According to Haribon, this shows that only around P2.48 billion is needed to restore 150,000 hectares of forests in the country compared to the P12.2 billion loan from China that puts the Philippines at risk of environmental chaos and a debt trap.
Meanwhile, the province of Bulacan has the biggest agroforest plantations in Central Luzon, with fruit-bearing trees planted under the NGP of the
Department of Environment and Natural Resources, according to the DENR information officer of the region.
Don Guevarra said the region has a total of 9,187.84 hectares of agroforest plantations in its seven provinces, with Bulacan having 2,313.04 hectares planted with fruit-bearing trees like guyabano, cacao and coffee.
This is followed by Zambales with 1,767.84 hectares; Tarlac, 1,466.88; Bataan, 1,013.86; Aurora, 1,006.28; Pampanga, 914.23, and Nueva Ecija, 705.02 hectares.
Emelita Lingat, DENR's provincial officer in Bulacan, told The STAR that the NGP's agroforest plantations started in 2011 as an alternative livelihood program for the slash-and-burn (kaingin) farmers, charcoal makers and illegal loggers.
Bulacan has two community environment and natural resources offices (CENRO) – in Guiguinto and Baliuag – that are responsible for the implementation of DENR policies, programs, projects and activities and the enforcement of laws and regulations at the community level.
CENRO Baliuag has jurisdiction over the northern part of Bulacan that includes the towns of Baliuag, San Rafael, San Ildefonso, San Miguel and Donya
Remedios Trinidad. The rest of the province is under the jurisdiction of CENRO Guiguinto.