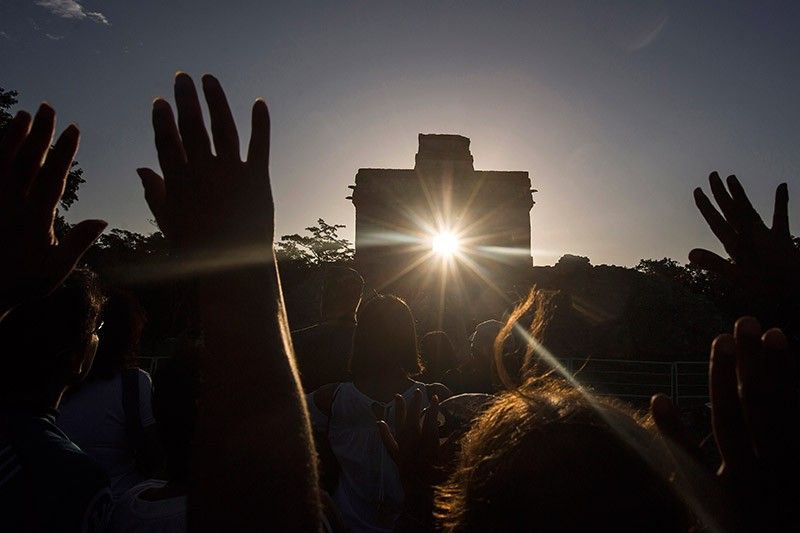 The sun is seen through the door of the Seven Dolls Temple, in the Maya archaeological site of Dzibilchaltun, in Yucatan State, Mexico, as it rises on September 21, 2019, two days ahead of the Autumn Equinox. September 23 will mark this year's Spring and Autumn equinoxes, in the southern and northern hemispheres respectively.
AFP/Hugo Borges
Longer nights in the Philippines: An equinox that's not so equal
(Philstar.com) - September 23, 2019 - 12:02pm
MANILA, Philippines — On Monday, Sept. 23, daylight and darkness will be in near-perfect harmony both in the Northern and Southern Hemispheres.
The occurrence called autumnal equinox marks the beginning of fall for those living in the Northern Hemisphere. It's the beginning of spring for those living in the south of the equator.
Equinoxes—one in March and one in September—happen when the solar terminator or the line separating day from night is perpendicular to the equator.
According to a Vox report, most places on Earth will experience approximately 12 hours of daylight and 12 hours of darkness.
Autumnal equinox will fall on 3:50 p.m. of September 23 (Philippine time), based on PAGASA's astronomical diary.
The state weather bureau said that after the autumnal equinox, nights in the Philippines will be longer "as the sun moves below the celestial equator toward the southern hemisphere."
Not really equal
Equinox means "equal night" in Latin. While this definition is widely accepted, it is not entirely true—the daylight and darkness are not exactly in perfect balance.
In equinoxes, the sun will be up for slightly more than 12 hours on Sept. 23 in any place on Earth.
In Manila, sunrise is at 5:45 a.m. and sunset is at 5:51 p.m., giving Filipinos 12 hours and seven minutes of daylight. Meanwhile, the sun in Seoul, South Korea will be up for 12 hours and nine minutes.
"This not-so-equal daylight happens for two reasons: one is that Earth's atmosphere refracts, or bends, light, which causes the sun to appear higher in the sky than it is. The other is how we define the length of the day," The Washington Post said in a report. — Gaea Katreena Cabico