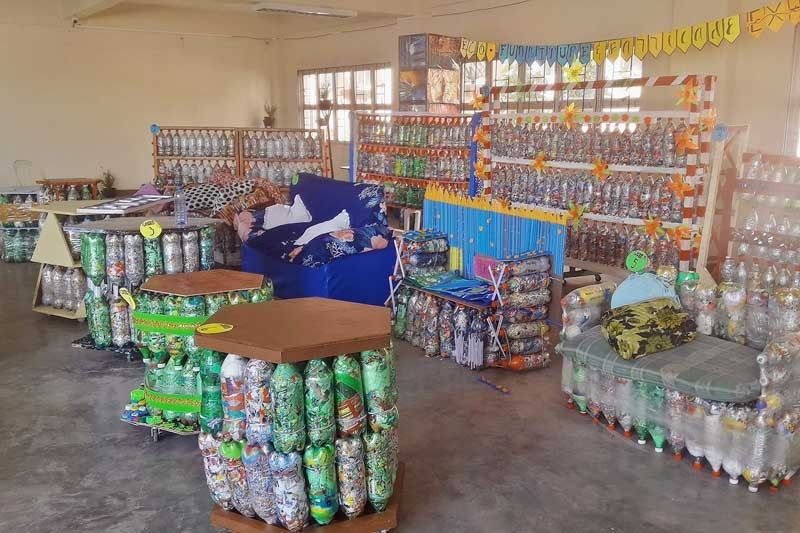 A showcase of eco-furniture is presented by high school students in Valenzuela City, in a project making use of single-use plastic.
Marc Jayson Cayabyab
Valenzuela students make school furniture using trash
MANILA, Philippines — Students of Lingunan National High School inserted some 1,156 kilos of shredded plastic into bottles to make over 40 pieces of furniture, in their bid to make something out of single-use plastic.
The "ecobrick" furniture were among those showcased in the "May Balik sa Plastic" program organized by the Valenzuela City government and Nestlé Philippines at the People's Park last Monday.
Jai Eugenio, the high school students' science teacher, said the project started last year when the Department of Environment and Natural Resources posted on Facebook the idea of making ecobricks out of plastic bottles and materials like straws and sachets.
Since November 2018, his students have made 19 chairs, eight tables, seven couches, five barricades, two fences and a Christmas tree, using over 1,700 ecobricks sealed together with silicone.
The furniture were distributed in student lounges, corridors, guidance councilor's office and library, furnished with glass tops and foam to make them look presentable, according to school principal Domingo Lozande.
"To make up for our lack of chairs, the students made the furniture with ecobricks, so we don't need to buy monoblocs," Lozande told The STAR.
They chose not to paint over the ecobricks so that fellow students can see that it is possible to make something out of trash, said Emie Sabado, a Grade 10 student.
Nestlé Philippines chairman and CEO Kais Marzouki said the partnership with Valenzuela City is its pilot test in addressing the plastic pollution contributed by single-use plastic in the Philippines.
In a report by the Global Alliance for Incinerator Alternatives (GAIA), Nestlé and Unilever were identified as the top sources of plastic pollution in the Philippines, where 164 million pieces of sachets are used daily, or 59.7 billion sachets yearly.
The Filipino uses an average of 591 pieces of sachets, 174 shopping bags and 163 plastic labo bags yearly, the report said.
"We are increasing our efforts to find solutions to the plastic challenge. We are trying to develop the packaging of the future by reducing or removing our packaging and finding alternatives," Marzouki said.
The company also promised to raffle off gift certificates in exchange for sachets and beverage cartons to be collected by public school students in Valenzuela.