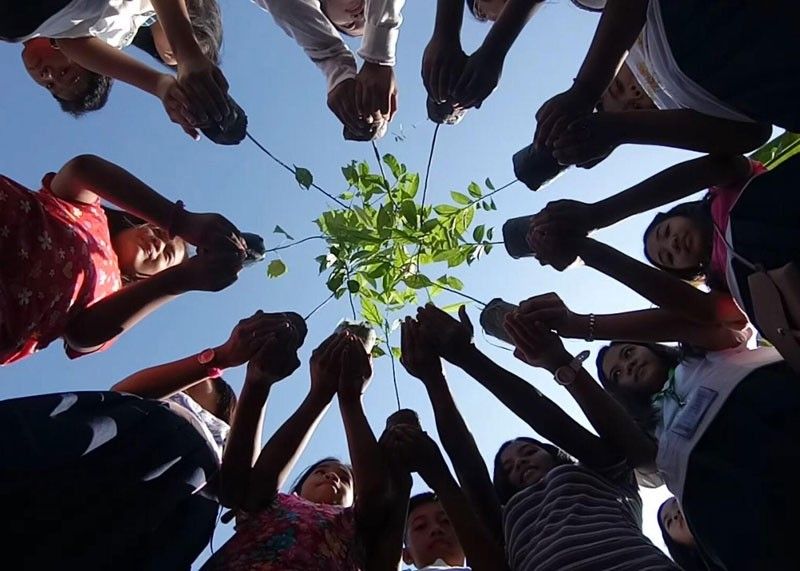 Students in public schools in San Carlos City, Pangasinan plant a tree before graduation to help Mother Nature.
Contributed photo
Elementary, high school students plant trees and move up
Eva Visperas
(The Philippine Star) - April 4, 2019 - 12:00am
SAN CARLOS CITY, Philippines — About 10,000 elementary and high school students in public schools in this Pangasinan city each planted a fruit-bearing seedling prior to their graduation to help the environment and as their legacy to school and community.??
San Carlos City Schools Division Superintendent Sheila Marie Primicias told The STAR this is one way of instilling in the students a love for nature especially when people are reeling from the effects of climate change.??
Primicias said the students were taught how to properly plant the seedlings, which they either brought, grew, bought or got from their school campus or neighbor. Others coordinated with the City Agriculture Office, got their seedlings in their backyard, or in schools with the Gulayan sa Paaralan project with fruit-bearing trees like calamansi, guapple and mango.??
In the entire country, only San Carlos Schools Division is implementing this project, she said.
"If all students in all areas in the Philippines will plant a tree, what we are experiencing will be eased and flooding would also be eliminated," she said,?lamenting that students seem to have forgotten the simple joys of planting saplings.
Students in her division were told to plant in any vacant space, with the permission of the lot owner, if they do not have available space in their backyard.??
What's heartening is even the Parents-Teachers Association (PTA) and barangay councils have adopted the project "Aksyon Pangkalikasan," Primicias said, adding that she intends to convince private schools to emulate and adopt the project.??
The planting of fruit-bearing trees started last week in time for graduation ceremonies on April 1.?? Primicias said a Department of Education order mandates that students must plant trees, but this is not always followed.??
"So we make it mandatory and explained to other students in lower years to take care of these plants," she said.??
Tree planting was done across San Carlos City, where teachers will validate if indeed the student already planted a tree, she said.??
"Their teachers know who planted because they accompanied their students in planting," Primicias said.
She said to ensure compliance of students, their teachers send a video to Primicias' social media account in Messenger for her to verify the report.??
"That way, it's also paperless and it will again save time and help as well the environment," she added.??
Several projects have been launched under the Save Mother Earth program like Aksyong Pangkalikasan, Pangkalinisan, Pangkalusugan and Pangkagandahan, ensuring a sustainable program that involves the community. A memorandum of agreement with the barangay is inked with the councils to ensure that the saplings will be protected and fully grown.?