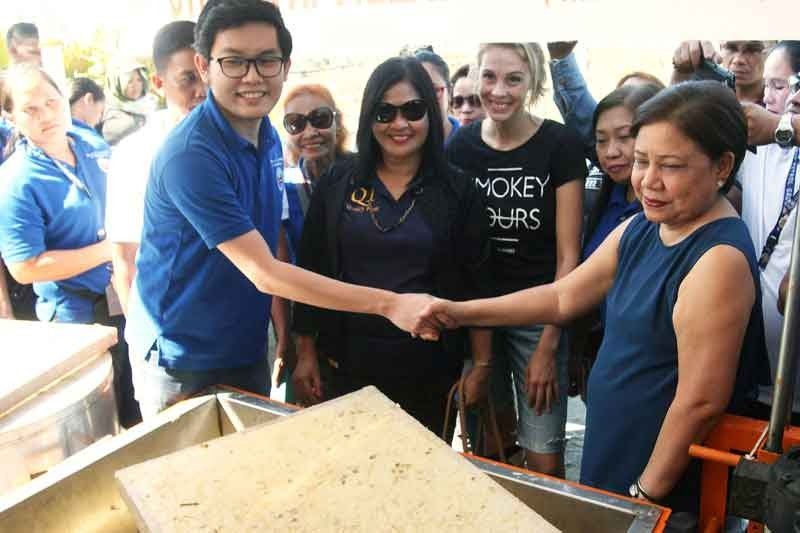 Sen. Cynthia Villar presides over the turnover of equipment and materials for the production of paper handmade out of garlic waste to George dela Rama of the Pasig River Rehabilitation Commission last Tuesday to provide Baseco residents with livelihood opportunities.
Joven Cagande
In Tondo, garlic peel is turned into handmade paper
Paolo Romero
(The Philippine Star) - April 26, 2018 - 12:00am
MANILA, Philippines — Sen. Cynthia Villar turned over machines that can produce specialty paper made from garlic waste to poor residents in Tondo, Manila in encouraging them to turn their garbage into useful materials.
"There is money in garbage. Let us work together in finding ways to recycle our waste materials, which will not only help in protecting our environment but at the same time augment your incomes," Villar said Tuesday.
The senator turned over handmade paper machines to the Pasig River Rehabilitation Commission, which residents in the impoverished Baseco compound can use to make specialty handmade paper products.
She said converting garbage into useful materials could be the poor residents' contribution to global efforts to preserve and protect the world's natural resources.
Villar said one of the livelihood activities of residents of Gasangan Street in Baseco is garlic peeling. In making specialty papers, they will use garlic waste as primary material.
"We will spare our environment from waste pollutants by recycling what otherwise is already considered as garbage or trash. By using materials other than our trees, we also spare our forests from being denuded," she said.
Aside from the turnover, there was also a clean-up drive and mangrove planting in the area. The Bureau of Food and Aquatic Resources and tollway operator Cavitex each gave 200 seedlings.