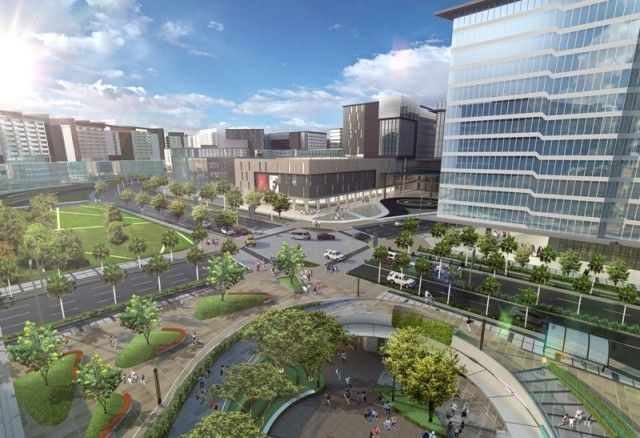 Artist perspective of the Arca South estate
Photo Release
First movers reap increased property values at Ayala Land estate
(The Philippine Star) - July 17, 2020 - 12:00pm
MANILA, Philippines — Over the years, Taguig has become a booming, urbanized city boasting of numerous infrastructure and property developments. Over 800,000 in population, the city is one of the leading urban centers in the country, with a dynamic business district that is home to some of the world's leading international and local companies, institutions, commercial and retail destinations and vibrant residential communities.
Ayala Land Inc. (ALI), one of the largest and diverse property developers in the country, has deepened its foothold in the metro with Arca South.
A 74-hectare master-planned sustainable estate, the mixed-use development is a highly networked central business and lifestyle community combining efficient and innovative urban planning, green spaces and a multi-linked transport system, integrating the best estate practices in large-scale property development.
Open for business
Arca's commercial district is set to be the address of businesses that value efficiency and accessibility. It is located within reach of residential enclaves and near key locators such as Ayala Malls, Arca South Corporate Center, Seda Hotel and other complementary institutions.
Green spaces and walkable streetscapes are also seamlessly integrated throughout the whole district. Since its launch in 2014, the estate has so far sold 37 commercial lots and started to welcome new locators to build and be part of the accelerating progress in the area.
The commercial spaces allow investors the flexibility to build and develop a variety of uses—from office buildings, hotels, residential buildings, healthcare and retail facilities. Aware of the potentials of the burgeoning area, first movers are beginning to construct their buildings having seen about 300% growth in property values in the last seven years.
Office development projects situated within the commercial district have started to set their roots to their new home. From Makati Development Corporation's 12-storey headquarters, to commercial and office towers such as Alveo Land's Tryne Enterprise Plaza, AVA's Z2 Tower, Arthaland's Savya Financial Center, Ever Bilena's Bamberton Center and Daiichi Properties' Fifty Six Central.
The brisk sales take up of residential properties in Arca South, catering to a full range of markets from luxury residences to starter family homes is also a strong indication of the demand in the area. Early residential property buyers have enjoyed a 69-80% growth in property values.
"We have always known and believed in the potential of the area to be a new business district. We envision a pedestrian-centric commercial hub that has a relaxed environment with linear park that cuts across the development and a lot of open spaces for a conducive work environment," shared Stephen Comia, Arca South Estate Development head.
At Arca South, the potential for growth comes with the synchronized integration of urban developments, complementary uses, open spaces and efficient mobility for a progressive way of life.
Seamless integration of uses
All demands of contemporary city living are coordinated, synchronized and integrated here. Parks, open spaces, a transport system, retail, leisure, residential and commercial developments allow the community to flourish within the estate.
At full build out, Arca South will offer 11.8 hectares of prime location for commercial development and cater to 25,000 residents with ALI's residential portfolio. For its first phase, the estate is projected to introduce 62,000sqm of gross leasable space through Ayala Malls and a 265-room Seda Hotel. With the increasing economic activity, it aims to generate an estimated 140,000 jobs.
Highly connected
Situated in Western Bicutan in Taguig, and highly accessible via SLEX and C5, Arca South stands as a main gateway to the metro through the upcoming government infrastructure projects such as the Mega Manila Subway FTI Taguig Station and the Taguig City Integrated Terminal Exchange.
Currently about 5km to 7km away from the Ninoy Aquino International Airport, BGC and Makati CBDs, and with the future connection to the Southeast Metro Manila Expressway, the estate is expected to be one of the most connected business and lifestyle district in the metro.
As one of ALI's largest mixed-use projects in Metro Manila, Arca South is poised to become as dynamic as the Makati CBD and BGC, with anticipated infrastructure and transit-oriented features to make it a distinctly modern business district.
"For the people who will choose to live and work here, they can expect a lifestyle of convenience with many opportunities for enterprise and growth," added Comia.