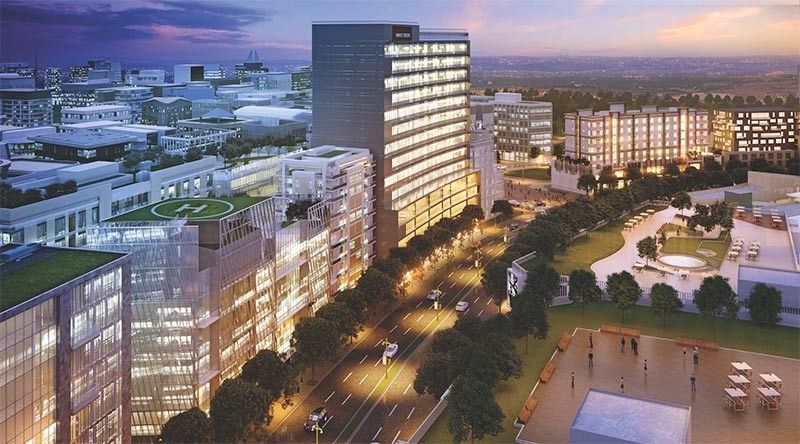 Poised as the "Green City of the South," Maple Grove offers an array of environment-friendly features that will will be prominently integrated into its design.
Photo Release
Businesses that are best suited to Cavite's green township
(Philstar.com) - April 23, 2019 - 1:00pm
From startups to established enterprises, businesses are poised to grow tenfold in Megaworld's Maple Grove
MANILA, Philippines — Getting stuck in the unforgiving Metro Manila traffic is an enduring sacrifice and a constant reality that a lot of entrepreneurs have learned to accept. But for people who are constantly grinding out to further their endeavors, subjecting themselves—and their businesses—to this problem day in and day out is not exactly the way to success.
Location, after all, can define any business' potential to grow. This factor dictates a lot of the things business owners should never take for granted: accessibility, sustainability, and their employees' wellbeing.
South of Metro Manila, approximately 30 to 45 minutes away from the Makati Central Business District and Fort Bonifacio, is the rising "green CBD" of Cavite.
The 140-hectare Maple Grove township by real estate giant Megaworld is out to make a big difference in highlighting accessibility and sustainability as the keys of every business to achieving economic progress.
This first-class urban township in General Trias, Cavite—which belongs to the Calabarzon (Cavite, Laguna, Batangas, Rizal and Quezon) region, the second largest contributor to the Philippines' GDP—has everything that both an emerging and a successful business need.
With a 35-hectare Makati-inspired commercial district hosting 363 prime office lots, a lifestyle mall, environmentally-sustainable residential and office towers, wide roads and avenues, a dedicated transport hub, as well as green parks and open spaces, Maple Grove definitely checks all the boxes for elements that businesses need to thrive.
At the heart of Maple Grove CBD is the 17-storey, 93-unit One Corporate Place office tower. This development's features and amenities make it tailored-fit for a variety of businesses from several categories including the following:
Health and wellness
When the working environment perfectly complements the business, the outcome is definitely something to be excited about!
An office space in One Corporate Place is not only designed to uplift business profiles, but also make sure that the wellbeing of employees and consumers alike are not being taken for granted through better air quality and overall healthier community.
Tech and innovation
Tech startups abound in the city, but how cool would it be when there's ample space to think of new ideas without having to put up with the same tiring views as everyone else?
When viewed from a different perspective, there's a bunch of whole new discoveries just waiting to be unraveled.
Who knows, maybe the green spaces of Maple Grove commercial district, just a quick walk away from One Corporate Place, might be all you need to get inspired and develop that game-changing tech innovation, right?
Corporate offices
For employees clocking in and out, a walk to the township's "Central Park," dubbed as the green jewel of the township, might just reinvigorate the daily routine. Studies show that communing with nature boosts productivity and efficiency.
Banking and finance
Security and mobility are two of the things any financial business needs in order to thrive. Businesses at Maple Grove can fully focus on achieving their financial targets as they can enjoy access to a host of One Corporate Place's top-notch facilities.
These include a 24-hour Security and Fire Command Center, its own Building Management System (BMS), Seismic Detection and Monitoring System, standby generators for 100% back-up power, fire security system, water reservoir with separate fire reserve water tanks, and a 24-hour CCTV monitoring system, among others.
Advertising/media agencies
Creativity is at the forefront of these kinds of businesses. According to a research published in British Journal of Sports Medicine, a 25-minute walk in a park or any green space is enough to get that much-needed jump of creativity.
Featuring a contemporary design married with elements of sustainability—as seen from its roof deck garden, energy-saving LED lights in common areas, dual-flush type water closets for common toilets, and its own Material Recovery Facility (MRF)—One Corporate Place in its entirety definitely makes one look forward to enjoying a day at work.
Business Process Outsourcing
Whether you're working the night shift or the early morning schedule, accessibility won't be a problem if your businesses is in One Corporate Place as transportation convenience is always a priority in any Megaworld township.
"Maple Grove's rising business district in this side of Cavite allows companies to thrive and grow their businesses in a green and sustainable community where everything is integrated and within reach. The entire development itself, as in any other townships that we've already built, will be walkable from one office tower to another, or to the mall, residential towers and parks that we will build around the community," says Rachelle Peñaflorida, vice president for sales and marketing, Megaworld.
In October, Megaworld launched the 10-storey The Verdin at Maple Grove, its first residential condominium tower in the township. Maple Grove is easily accessible from Metro Manila via the Coastal Road and CAVITEX.