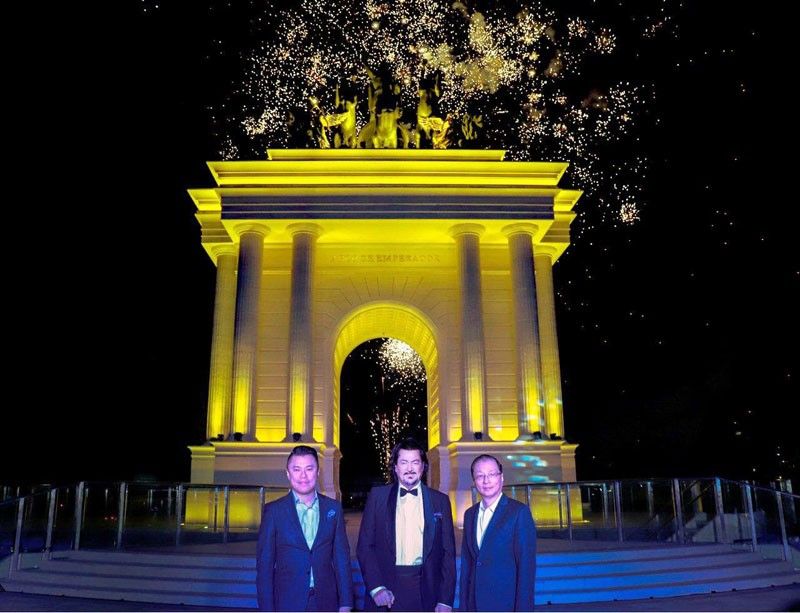 The 19-meter tall Arco de Emperador dazzles Arcovia City visitors at night as it illuminates in colors. In photo during its unveiling are (from left) Megaworld EVP Kevin Tan, sculptor Gines Serran Pagan and Megaworld Resort Estates managing director William Co.
Arco de Emperador rises at Arcovia City along C-5
Iris Gonzales
(The Philippine Star) - February 15, 2019 - 12:00am
MANILA, Philippines — Somewhere along the C-5 corridor, one will find an imposing and grand monument that can rival the best in the world.
Standing 19 meters tall, Megaworld's Arco de Emperador in its Arcovia City township along C-5 in Pasig is an iconic arch monument envisioned to put the Philippines on the global map of countries with similar structures.
Crafted by award-winning Spanish sculptor Gines Serran Pagan, Arco de Emperador is touted to be at par with Madrid's Arco de la Victoria and Paris' Arc de Triomphe.
But more than the monument's grandeur, Megaworld chief strategy officer Kevin Tan said Arco de Emperador is really a testament to Filipinos' potential for greatness and success.
"The message is how hard work, passion and perseverance can create a self- made successful man. This is how an emperador is made," said Tan, the eldest son of tycoon Andrew Tan, the founder of Megaworld.
Kevin said his father is a testament to that and how the founding chairman of Megaworld became a self-made man through hard work and perseverance.
The listed property giant unveiled the monument in a ceremony on Tuesday night led by the younger Tan.
Pagan said in crafting the masterpiece, that was indeed his inspiration – that everyone can be an emperador.
"The idea behind the sculpture practically celebrates the triumph of personal achievement. It's a symbol that everyone can make it in life and this is the philosophy of Dr. Andrew Tan, founder of Megaworld. He wanted to fulfil the message of effort and hard work and achievement and that everyone can truly be an emperador," Pagan said.
Artistry and greatness take the spotlight through Pagan's nine massive sculptures standing proudly side by side atop the arch.
It is composed of a a victorious emperor, three horses pulling his chariot, two lions named Pride and Passion, and two trumpeting angels coated in 24-karat gold.
The monument took six years to complete. It was first designed in 2013 but the actual work on the bronze sculpture began in 2015 and ended a year after. The last pieces – the two golden angels were only completed late last year and installed just a few days ago.
The arch monument will also be highlighted by cascading waterfalls leading to the water feature at the basement area where the future museum will be built. It will also be surrounded by a landscaped plaza with benches.
At night, the monument will be illuminated in colors, making it a vibrant centerpiece of Arcovia City as seen along C-5 Road.
"We have crafted this as a tourism landmark in Metro Manila," Tan said.
Tan said Arcovia City seeks to ignite the passion of the young generation to commit themselves to work hard and to nurture their passions.
"This thrust will be brought to life through the installations and attractions that will inspire people to cultivate passions and celebrate their milestones," Tan said.
Indeed, a new monument is standing tall in Metro Manila, but it's no ordinary monument. It's a symbol of strength, passion and life itself.