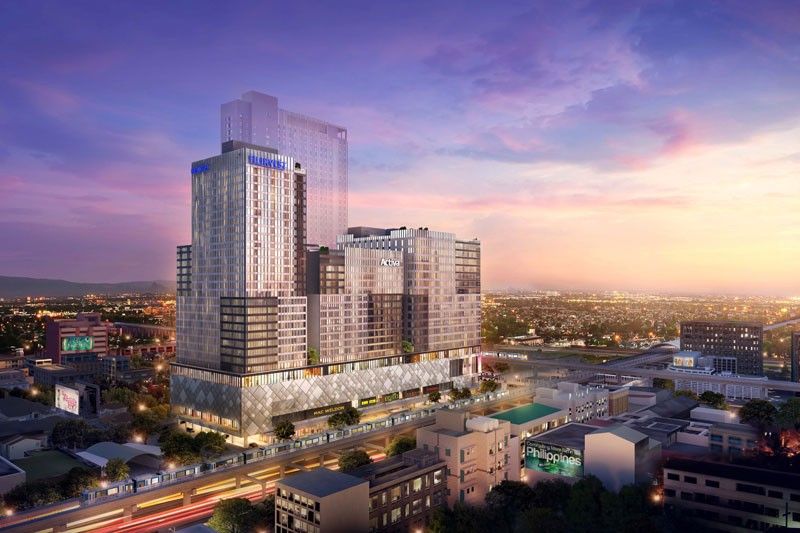 Artist's perspective of the Activa towers in Cubao.
Filinvest revitalizes Cubao property scene with Activa
MANILA, Philippines — Gotianun-led Filinvest Land Inc. is set to give one of the country's oldest business districts a refreshing transformation as it builds a mixed-use development in Cubao, Quezon City.
The one-hectare Activa looks to offer a holistic live-work-play lifestyle as it integrates a lifestyle mall, offices and BPOs, hotel and residential condos in one development.
"Activa is envisioned to spur district transformation with its dynamic, refreshing and chic concept that will entice property seekers in the metro," Filinvest said.
"This development's wide variety of components, complemented by a slew of well-appointed amenities for both business and residential buildings, make Activa an ideal place where one can thrive," it added.
The project, located at the corner of EDSA and Aurora Blvd in Cubao, offers a strategic location as it is conveniently connected to the north and south of Metro Manila via EDSA, while the east and west is easily reachable via Aurora Blvd.
"Activa's enviable location provides close proximity to various central business districts, commercial centers, health and wellness hubs, educational institutions, places of worship, and other office developments in the metro," Filinvest said.
It added that the project is seen to contribute a new face to the continually-changing atmosphere of Cubao.
"Filinvest foresees an upsurge in Activa's project investment value when new infrastructure and businesses are in place a few years from now," the company said.
The mixed-use development will house two office buildings namely, Activa Flex and Activa Office Tower.
Activa Flex, a 24-story office building which offers various types of office space to cater to a wide-range of tenants with its 40 compound office units, 112 regular office units and 168 versatile small office – home office (SoHo) units.
"With unit size ranging from 20 sqm to 240 sqm, Activa Flex provides the much-needed space for flexibility and functionality," Filinvest said.
The office building also seeks to cater to startups or medium-sized firms with its SoHo units.
"Ideal for startups to medium-sized firms, Activa Flex's units with small office home office spaces grant forward-looking entrepreneurs the flexibility and convenience of living and working in one place, all within a master-planned cityscape," Filinvest said.
Meanwhile, the 14-story Activa Office Tower is another key component in this development which will cater to business process outsourcing (BPO) firms and knowledge-based companies.
Filinvest said the building is currently in the process of acquiring a Gold LEED pre-certification, a rating system that aims to accelerate the development and implementation of "green" building practices.
Apart from its office buildings, Activa is also set to feature a residential component as a premium 32-story residential condominium is in the pipeline, targeting young professionals, newly married couples and startup families.
Moreover, the mixed-use development will also feature a hotel and a mall.
Activa Hotel will feature 11 premium floors with 200 well-appointed rooms, all-day dining, function rooms and rooftop amenities such as, an infinity pool, sunset bar, fitness center and a themed café.
Activa Mall, on the other hand, is a five-level shopping and leisure complex with a retail podium, specialty retail establishments, al fresco area, food hall, cinema, supermarket, wellness hubs, fashion boutiques and digital establishments.
Filinvest emphasized that aside from Activa's strategic location, it is also a transit-oriented development, being accessible to various city and provincial bus stations and to the two main train lines— MRT and LRT.
It is also commuter friendly with the planned bus lay-by, taxi stands, vehicle pick-up points and pedestrian link to the train stations.
"This connectivity strategically positions Activa for strong business growth and development," Filinvest said.
"Activa expands Filinvest's footprint in developing vertical mixed-used projects with state-of-the-art office buildings and BPO hubs such as 100 West in Makati and Studio 7 in Quezon City bearing the company's brand of quality and excellence found in all of its real estate developments," the company added.