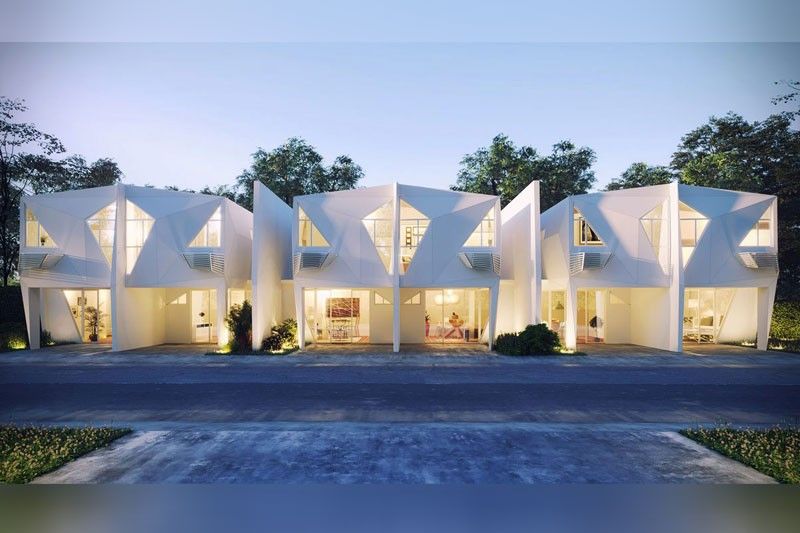 Architect Ed Calma designed these polygon rowhouses for the Cluster Village.
A piece of art for everyone
MANILA, Philippines — Various types of residential offerings have emerged in the local property market in recent years, as developers aim to offer one-of-a-kind projects to gain their fair share of the growing real estate market.
Century Properties Group Inc. (CPG) is no stranger to offering unique residential developments as it continues to diversify its project portfolio, bringing designer branded homes within the reach of property buyers.
CPG recently launched the second phase of its Batulao Artscapes project in Nasugbu, Batangas, which it dubbed as the "World's First Livable Artpark"
CPG recently held the Artventure Bike Trails at Batulao Artscapes in a bid to showcase the vast 142-hectare property to potential buyers.
"So we get people on the site, get people back talking. They really don't care if it looks pretty because the location is good," Century Properties Leisure and Hospitality Inc. (CPLHI) president Tim Hallett said.
"It shows the popularity of the destination and we are launching the second phase, which is significantly bigger," he added.
Hallett said the first phase of the project is already about 86 percent sold, just a few months after its launch last December.
CPG managing director Robbie Antonio earlier said the project generated better-than-expected interest as it has pre-sold P1.7 billion worth of residential units.
"We are really encouraged by the great market response," Hallett added.
CPG has dubbed the project as an "artventure" community that boasts of designer homes and world class amenities.
It has four villages: Cluster, Commune, Collection and Curated. The project is primarily positioned for active retirees and established families looking for design-driven homes outside Metro Manila.
Filipino names lead the roster for Batulao Artscapes' first three villages: architect Ed Calma's Polygonal Successions for the Cluster Village, designer Kenneth Cobonpue's Hedera Homes for the Commune Village, and Budji+Royal Architecture+Design of Budji Layug and Royal Pineda for the Collection Village featuring their Tranche and Facet Homes.
The fourth section, called the Curated Village, features one-of-a-kind homes by international architects and designers. The first Curated Village within Batulao Artscapes features David Salle + AA Studio's "Billboard Home", Marcel Wanders' "Eden", Marmol Radziner & Kravitz Design's "Instrumental Home", Philip Johnson Alan Ritchie Architects' "Modular Glass House", Elizabeth de Portzamparc's "Butterfly Home", AFGH for Wallpaper's "We Home", Studio Libeskind Design's "Adaptation II", Daphne Guinness' "Daphne Skin Home", Pelli Clarke Pelli's "Cabin/Stack/Prefab and PMR+Metro's "Modular Living."
All units in the project will be supplied by Antonio's own Revolution Precrafted, a global manufacturer of design-driven, limited edition, homes, pavilions, furniture, retail spaces and soon, office blocks.
Following the better-than-expected take-up of the first phase of the project, Hallett said the company is about to start pre-selling the second phase of Batulao Artscapes.
CPG said the second phase of the project is expected to generate P13 billion in sales as it offers approximately 1,700 residential units.
"This inventory represents the biggest bulk of the project and we expect the sales to be brisk due to the overwhelming demand for the project," Hallett said.
Hallett said the company has already received interest from potential buyers of the units.
Staying true to the concept of the project being an "artventure," CPG is also incorporating lifestyle investment properties into the Batulao project by means of a 500-room art-inspired condominium inside the 2.5-hectare Batulao Artscapes Art Park.
The condominium will feature the designs of select artists in the building's façade and exterior walls.
CPG is also building some 30 art-inspired resort villas to complement the art condominium.
"We are making sure that the Batulao Art Park will reflect the original vision of creating an artventure community built on the foundation of good design, art and architecture," Hallett said.
Hallett said the project initially targeted the retirement community given its location.
"The initial position was that it's a potential retirement community, but we see that growing and evolving as the destination begins to develop," Hallett said.
"It's like anything, we are very young and we will grow," he added, noting that the project has so much more room to grow given the majority of the property is still undeveloped.
As the project offers a wide range of units priced from as low as P4.5 million to as much as P20 million, Hallett said this gives the project a broad market to tap.
He added that the project has a mix of buyer profiles ranging from second home buyers to OFW families.
"A lot of second home buyers, people looking to invest in a lifestyle destination, somewhere they can spend their family time, their leisure time. We also had a lot of Flipino OFWs still buying," Hallett said.
"It's quite interesting. I think it's driven by the mix of homes that we have. So therefore you get an interest mix of diversified buyers, which is what we want to create. We don't want to create a destination which is all about family and lifestyle, across all areas. it's not about high end, it's something for everybody," he added.
CPG targets to complete the development of the first two phases of the project, which accounts for around 41 hectares of the entire property, in three to four years.
The entire project is expected to generate P55 billion worth of sales.