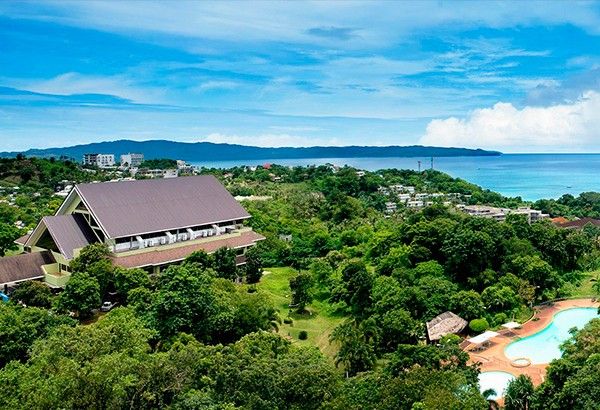 Panoramic view of Costa Vista Boracay.
Villar expands footprint in Boracay: New residential community offers 'slice of paradise'
MANILA, Philippines - Vista Land & Landscapes Inc. has unveiled Costa Vista Boracay, envisioned as a sanctuary sitting perfectly between the island's emerald blue sea and clear skies.
Vista Residences president and managing director Elizabeth Kalaw said in a recent briefing residential owners would have Boracay's "pristine white sand as their front lawn."
Costa Vista Boracay will have six residential towers, private villas, hotel, a pavilion with viewing deck, pool, convention center and a commercial quarter.
The prime development expands the Villar Group's presence in Boracay after acquiring the 54-room Boracay Sands Hotel last year.
It's the perfect place or those looking for an investment in Boracay, to lease out to visitors, or simply to have one's own villa, Kalaw said.
As an investment, Kalaw said property prices are expected to continue rising given the growing number of tourists visiting the Philippines, including Boracay.
After all, Boracay has been named by Travel & Leisure magazine as the "World's Best Island" for two years in a row.
Each year, according to the Department of Tourism, the number of foreign visitors to our country increases by over 30 percent, bringing in two million tourists in 2016.
The DOT expects that number to reach to close to four million by 2020.
Last year, 28 percent of the country's visitors headed for Boracay.
At least 44,000 of returning overseas Filipinos or balikba-yans also visit the island each year.
Officials said eventually, the expansion of the Caticlan Airport would allow international flights to fly directly to the province, growing tourist access to Boracay even more.
"There is no peak season. Tourists come year round. Now who wouldn't want a piece of it? "Vista Residences head of sales, marketing and residential leasing Nova Noval pointed out in the same briefing.
There are many things to see and do in the island, whether one wants to party, satisfy their gastronomic cravings, swim, do water sports or to simply go away from the hustle and bustle of the city.
Boracay's main lure is four stunning kilometers of the finest, whitest sand fringing a gradual beach slope into a glassy cerulean sea, and a series of the most dramatic sunsets and sunrises.
In Costa Vista Boracay, there is also something for different investors.
For instance, the mid-rise towers will offer studio to two-bedroom luxuriously appointed units.
There will be 24/7 state-of- the-art security and safety protocols – including a CCTV system in all the common areas, Wi-Fi, smoke and fire warning and sprinkler systems.
Concierge, receptionists, and security guards will address the needs of the tenants.
While access to Boracay's prime spots is easy, this village of six to eight-story towers is at the same time nested in the quieter side of this paradise.
Yet, it is close to everything that is exciting in Boracay.
Costa Vista Boracay will sit on Punta Bunga beach at the island's northwestern tip, atop one of the highest points of the island fronting a beach that is both isolated and select. Surrounded by the finest hotels of the world's top chains, it is the only property in the area with direct access to the beach.
Vista Land chairman Manuel B. Villar Jr. said: "Costa Vista Boracay is another strategic step in expanding our presence in Boracay Island, bringing Vista Residences' expertise in one of the most popular world beach destinations. We are taking advantage of the increasing number of tourist arrivals and the favorable macroeconomic condition of the Philippines. This will be attractive for both end users and investors who are looking for either a home or a source of rental income."