Roxaco channels Anya into an int'l resort brand
MANILA, Philippines - Roxaco Land Corp., a partner in the development of the successful Punta Fuego and Terrazas at Punta Fuego communities, is positioning its latest high-end development, Anya Resort and Residences in Tagaytay, into a world-class resort brand.
According to the company's executive vice president Santiago R. Elizalde, Anya will be more than just an ordinary resort community. The promise of this unique way of living can be seen in the enthusiastic take-up of the community's Phase 1 development, with all open lots in the inventory sold out.
"With many Filipinos already being well-travelled, they've seen the best of what the world can offer, encountered the unparalleled kind of service from their fellow Filipinos in the service industry, and they wonder, 'Why don't we have these at home?' So we're taking that need for a retreat, that degree of sophistication, as well as that iconic world-class service and hospitality Filipinos are known for, and we bring it together for a winning formula with Anya," he said.
Warming up to his theme of bringing back home the unique brand of service as Filipinos only can provide, Elizalde notes how well-entrenched our countrymen have become in the service sector. "We've practically put our stamp on this segment; plus, the Philippines is recognized as the backbone of the leisure industry, but we still don't have our own resort chain brand that can be truly considered world-class. If there is a time to establish our own brand, now's the time to do it, hence, Anya."
The hotel component of the Anya development is set to open a year from now, in December 2015. This will give potential investors an early window upon which they can study this unique investment opportunity, as only Anya can provide them the chance to recoup their equity investments immediately starting early 2016, unlike condo developments where development can take up to five years before turnover and is only when earnings can begin to kick in.
Their investment program offers 100 percent security, flexibility and control for the investors. Each unit comes with a certified condominium title and revenues are shared across the entire inventory, according to square meter ownership. These units form part of the core inventory of the resort, and as revenues are generated, the earnings are split 45 percent to the investor and 55 percent to the hotel owner. Also, under Anya's unique investment plan, investors are guaranteed an average annual net cash yield of 7.4 percent which does not include the capital appreciation of their Anya unit during the initial five years.
Roxaco is the property development arm of publicly-listed Roxas and Co. Inc., the investment holding company of the Roxas Group helmed by Pedro Roxas as its chairman and president. Its main holdings are raw real estate located in Nasugbu, Batangas, sugar-related assets and businesses held through Roxas Holdings Inc.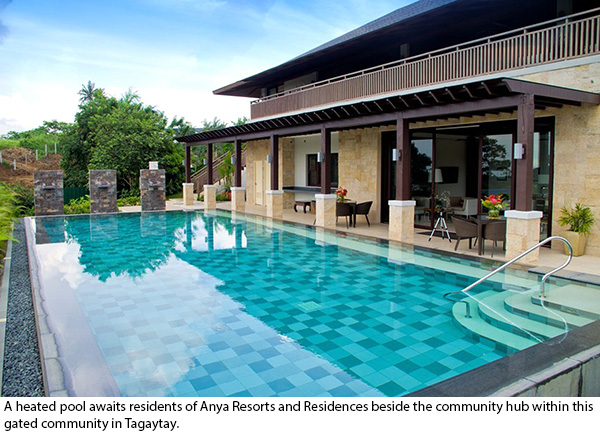 To learn more about Anya as an investment vehicle or as a possible second home, visit www.anyainvestments.com and www.anyaresidences.com or call +63 917 888 ANYA (2692).