Aruga by Rockwell: Filipino hospitality at its finest
Iris Gonzales
(The Philippine Star) - November 28, 2014 - 12:00am
MANILA, Philippines - Inside the sprawling Rockwell Center in Makati, by one of its edges and just across the Power Plant Mall, stands a new tower that seemingly looks like most other buildings inside the center.
Everything changes, however, when a visitor steps inside.
It's called Aruga, Rockwell Land's serviced apartments and its first venture into the hospitality business.
True to its name, which is the Filipino term for care and nurture, Aruga by Rockwell offers a very warm welcome, as soon as one drives by the entrance.
The staff will open the car doors for you, take your luggage and comfortably lead you to the reception desk. There's no fake hospitality, just sincere smiles that put you easily at home.
Indeed, Aruga offers "warm, personal service harmonized with exceptional amenities and lodgings in utmost comfort."
Aruga's serviced apartments are at the Edades Tower and Garden Villas. In all, Aruga has 114 rooms ranging from studio units, one-bedroom and two-bedroom suites that are designed in Asian contemporary style and fitted with Rockwell's standard of premium finishes.
The facilities also offer all kinds of travelers – from businessmen to ordinary tourists – whatever they may need.
There is an e-lounge for business needs for wellness and play, a fitness gym and a swimming pool, a fresh start to their day, a breakfast lounge for their peace of mind, a babysitting service for their convenience and a grocery delivery service.
And then of course, there's the concierge and reception, which are dedicated to serve and entertain guests at any time of the day.
But then again the rooms are so comfortable one would not want to step out. No kidding.
Inside the two-bedroom suite, the biggest room at 107 square meters, for instance, there is a well-equipped kitchen with an electric oven, an oven toaster, a microwave, a refrigerator and complete utensils for a family of at least four people.
There are three flat screen television sets, one in each room and one in the living room/dining area, which is very spacious.
There are three bathrooms including the one in the laundry area. Yes, there is a laundry area complete with a washing machine, drier and a flat iron.
The place has an elegant contemporary design but is not intimidating. It is even kid-friendly.
"There are a lot of hiding places if you want to play hide and seek," said 10-year Bowi Aznar, a guest in one of the two-bedroom suites.
He said the air-conditioning units are "controllable" and can easily be put on comfortable levels. It's also nice that there are television sets in the rooms, he added.
Isabel Longid, seven years old and a visitor of Aruga, also said the bedroom is cozy and comfortable.
"The pillows are very soft and cuddly," she said, adding that the bed itself is so soft that one can do "bed swimming."
The company said it is banking on the Filipino hospitality instead of global concepts for its service.
"Exuding the true meaning of its name, meaning "nurture" in Tagalog, Aruga by Rockwell exceeds the ordinary by treating clients as more than guests, but as family. While most hotel and leisure brands draw from global concepts, Aruga works with Filipinos at its helm, staying true to the nature of homegrown hospitality," it said.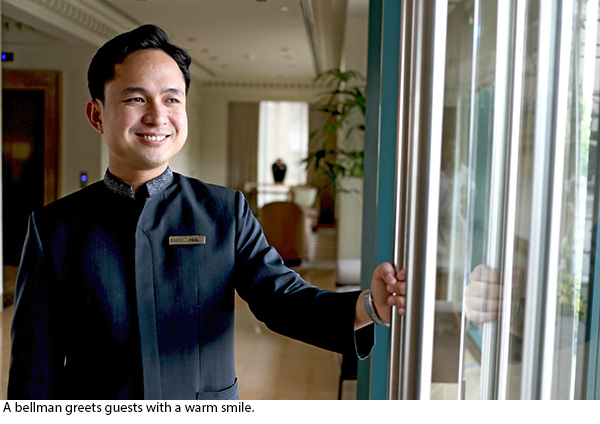 For bookings and inquiries, call 818-0000 or visit www.arugabyrockwell.com.