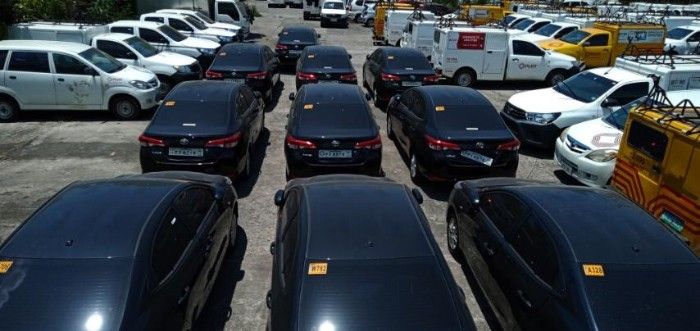 Toyota Vios units the group of companies of tycoon Manuel V. Pangilinan donated to the Philippine military as seen in this April 9, 2020 photo.
MVP Group Media Bureau
MVP Group donates road fleet for military's COVID-19 response efforts
(Philstar.com) - April 11, 2020 - 8:12am
MANILA, Philippines — The military was the latest beneficiary of a slew of vehicle donations from tycoon Manuel V. Pangilinan whose group of companies include leading telcos PLDT and Smart Communications Inc.
Pangilinan sent the Armed Forces of the Philippines 30 units of Toyota Vios sedans and cargo vans, according to Mike Toledo, managing director of the MVP Group of Companies' media bureau.
The Philippine Army also received 10 buses from Pangilinan, who is also chief executive of Metro Pacific Investments Corp. and Philex Mining Corp.
The vehicles were the most recent of the MVP Group's assistance to the Philippine government as it responds to the local outbreak of the global novel coronavirus pandemic.
Earlier this month, Pangilinan extended help to health frontliners through Tulong Kapatid, the corporate social responsibility consortium of the group of companies and foundations he leads.
The sizeable relief package included 14,000 liters of ethyl alcohol for government hospitals and health workers, personal protective equipment for leading state hospitals and thousands of cooked food servings for the Philippine Marines Corps.
"We are fully committed to supporting our frontline health workers who are working tirelessly to save lives and to combat this pandemic," Pangilinan said.