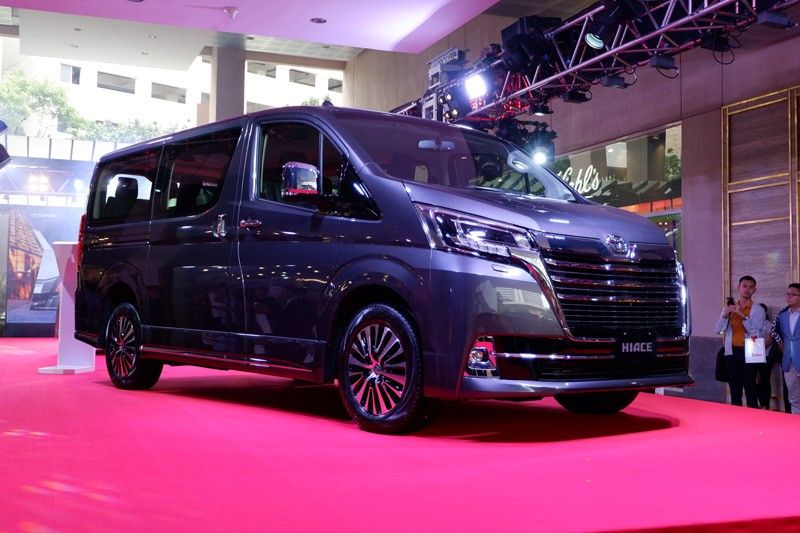 The all-new Toyota Hiace Super Grandia is built to provide a higher level of luxury.
Photo Release
How comfort, safety and luxury define the all-new Hiace Super Grandia
MANILA, Philippines — Toyota's well-loved and most-trusted utility van shifts to a higher gear. Unveiled last August 19 at Greenbelt 5 in Makati City is the all-new Toyota Hiace Super Grandia.
First launched globally 15 years ago, the Hiace Super Grandia is in its sixth generation. Today, the Super Grandia gets a facelift and an altogether high-end upgrade to satisfy loyal customers and entice new ones. In this vehicle, comfort, style, and safety apart from luxury all work together to provide a well-rounded driving experience.
Under this Hiace variant line up, the Super Grandia Elite is the newest addition. It is equipped with advanced new features that take your driving experience to a higher level of luxury.
"We are proud to introduce to you the all-new Toyota Hiace Super Grandia. We are pleased by the excellent reception that this model has been receiving based on its striking looks and commanding presence, but later on, during the presentation, you'll discover how the Super Grandia is so much more," said Satoru Suzuki, TMP president.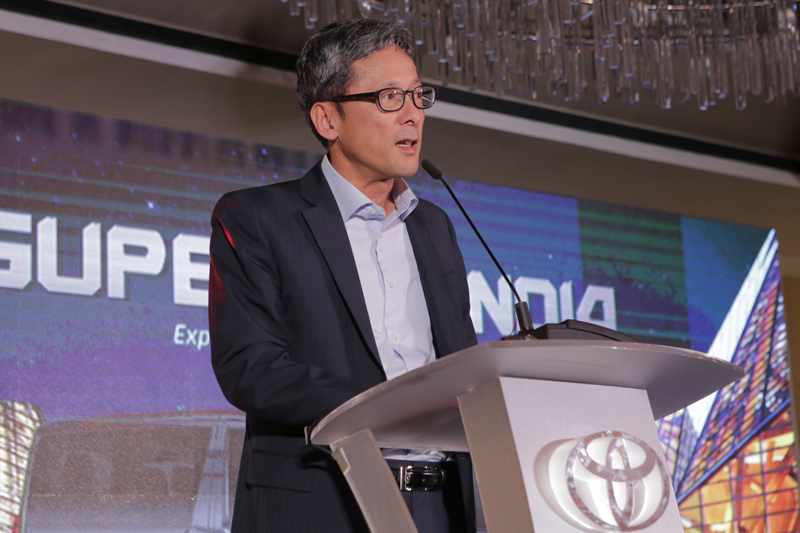 Satoru Suzuki, president of Toyota Motor Philippines, delivers the opening remarks. Photo Release
"Now, we are taking it a notch higher, sharing the joys of driving and riding a Toyota with a higher level of luxury. Experience ever-better cars and ever better lives with the all-new Super Grandia," he added.
Targeting more well-to-do families and businesses like luxury hotels, restaurants, and resorts, the newest Toyota shuttle is poised to impress.
"Since 1994, the Hiace has been a dominant leader in the utility van segment. Customers have trusted the Hiace badge from its humble beginnings as a reliable people mover, to a luxurious and comfortable travel buddy. With its outstanding new design and luxurious features, we are confident that this will be appreciated by our customers," said Elijah Sue Marcial, vice president for Marketing Services at TMP.
Safety at its finest
With the new Hiace Super Grandia, you can weave through metro thoroughfares and rural roads with peace of mind.
At the core of its latest update is the Toyota Safety Sense (TSS), which backs your driving with state-of-the-art safety features. TSS is capable of intuitively eliminating risk factors so you're assured of a sound journey.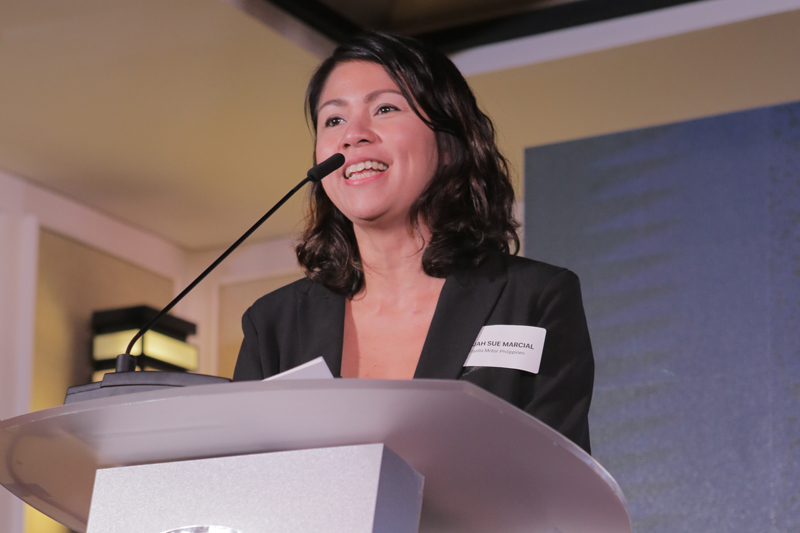 Elija Sue Marcial, vice president for Marketing Services at TMP, discusses the Toyota Hiace lineup's lead in the market. Photo Release
"This is the first model in the Toyota lineup with the Toyota Safety Sense. As our flagship model, we think that this is a good avenue for us to introduce these features," said Anica Rios, product planning and research specialist at TMP, in an exclusive interview with Philstar.com.
While Toyota Safety Sense results to a higher price point, Rios underscored the more important aspect: providing safety to Filipinos and their families on the road.
Built for luxury, inside and out
Given its elegant design, precise accents and unique color variations—Luxury Pearl Toning, Black, White Pearl, and the new Gray Metallic—the all-new Hiace Super Grandia's exterior alone is an attractive sight in transit. Be ready to give off a strong impression as it sports a premium, luxury make.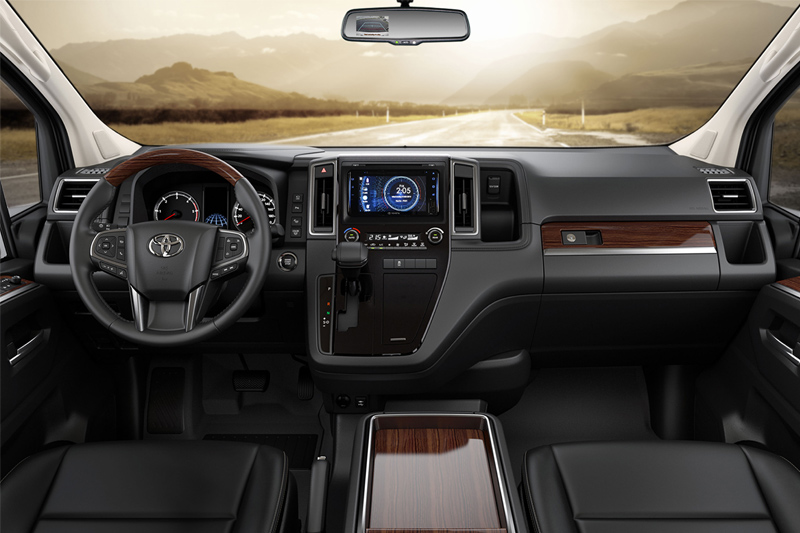 The all-new Toyota Hiace Super Grandia is packed with multiple upgraded safety features, most notably the Toyota Safety Sense (TSS). Photo Release
Inside, you are greeted with a rich and roomy cabin for more personal control of your space. There is also a customizable illumination feature that's easy on the eyes, as well as an automatic climate control feature to make sure that it maintains the manually set desired temperature inside the vehicle.
For the Elite variant, the Nano-E technology lets you breathe in a sanitized atmosphere throughout the drive.
Powerful yet comfy, plus omotenashi
Going for a long drive for your weekend or holiday destination? No problem!
It's easy-breezy with the Hiace Super Grandia as it resembles first-class travel. It has features under the hood that, while powerful and efficient, is also low on the vibration and has reduced cabin noise so that your joy ride is smooth and quiet.
This level of ease and comfort is a nod to Japanese omotenashi, or hospitality, that Toyota thoughtfully factored in revamping the Super Grandia.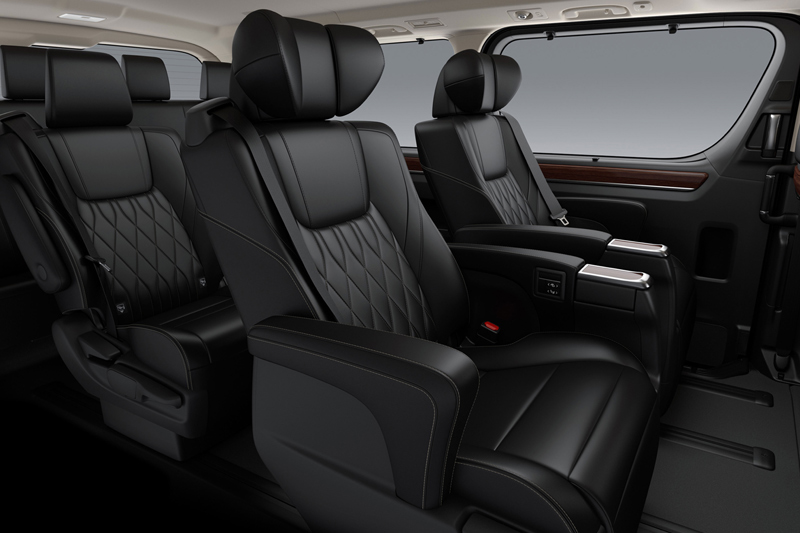 The Hiace Super Grandia is roomy and comfortable, designed with the Japanese 'omotenashi' in mind. Photo Release
The All-New Hiace Super Grandia is now out in the market, priced from P2.4 to P2.8 million.
For more information about the Hiace Super Grandia, visit TMP's official website at www.toyota.com.ph, and follow our official pages at ToyotaMotorPhilippines (Facebook and Instagram) and @ToyotaMotorPH (Twitter). Also, visit any of Toyota's 70 dealerships nationwide.