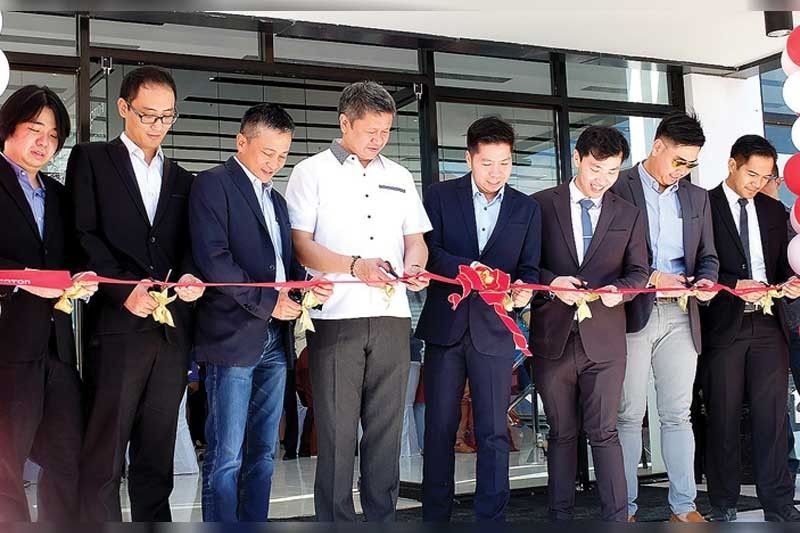 Foton executives led by United Asia Automotive Group, Inc. (UAAGI) and Foton Philippines president Rommel Sytin (third from left) and dealer principal Absolute Advantage Inc. (AAI) president Adrian Gabriel Go (fifth from left) cut the ribbon for the opening of Foton La Union.
Photos by Angel Rivero
Foton offers full vehicle lineup in new La Union dealership
Angel Rivero
(The Philippine Star) - November 14, 2018 - 12:00am
MANILA, Philippines — Last Thursday, Foton opened its latest dealership along MacArthur Highway, Baccuit Sur, Bauang, La Union. The extensive dealership sits on a 4,400-sqm property with a 2,300-sqm covered area and 500-sqm showroom. This particular dealership is a milestone for the Chinese brand, being the first in the Philippines that now offers the complete line of passenger vehicles, lights trucks and heavy-duty trucks and equipment.
"The town of Bauang is not new to me," remarked United Asia Automotive Group, Inc. (UAAGI) and Foton Philippines president Rommel Sytin during his remarks at the dealership opening ceremony last Nov. 10. He explained how he would visit the town a lot in his childhood, because his father was into the tobacco industry, and how he is fascinated now with how much it has changed.
"After 11 years in the (local) market, we now rank ninth in the industry," he proudly pointed out, while explaining how their strengths lie in the diversity of their products, and in the durability and impressive fuel consumption figures of their vehicles.
Foton has already upgraded its engines from Euro 2 to Euro 4, and shares that they will upgrade them further to a Euro 5 emission standard in about one more year.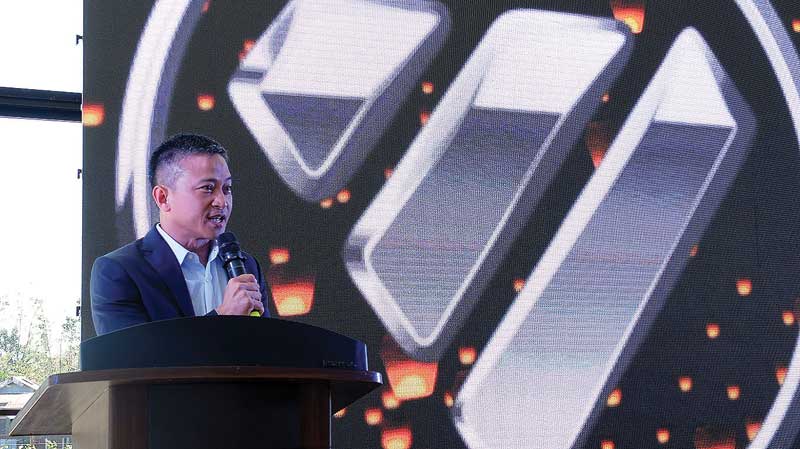 UAAGI and Foton Philippines president Rommel Sytin.
The dealer principal of the great-looking La Union branch is Absolute Advantage Inc. (AAI), headed by its president Adrian Gabriel Go. The dealership boasts of a modern, all-glass facade and no longer displays any tarps within the showroom but instead employs TV screens to loop ads about their various products. There is also a beautifully laid matrix of long, wooden pieces that comprise an organic backdrop to the Foton brand at the reception.
AAI is comprised of a group of Rotarian friends from the area who came together to brainstorm on a possible new venture. They stand out as being among Foton's youngest entrepreneurs, with the age range of its members falling between their 20s to their early 30s.
When asked about their competitive advantage when it comes to vehicle sales in the area, Adrian Go quickly answered with these two points: 1) the very attractive pricing; and 2) their promise of a delightful service experience. And that they will get the job done.
Adrian also shared that he had personally experienced driving and riding in Foton vehicles prior to acquiring the business and that he was immediately impressed with the value for money proposition that Foton vehicles offered — alluding to the fact that he would not make such an investment into products that he did not strongly believe in.
AAI (Foton La Union) president Adrian Gabriel Go.
"Marami ang may pera... pero ang mahalaga ay yung may passion! (Many people have the money... but what's most important is the passion!)," said Sytin, while describing the youthful bunch at AAI who had just gone into their first automotive venture. "I'm sure this branch will be one of our future strongest dealers," he reassured the crowd.
Foton's vice general manager for Passenger Vehicles in Southeast Asia Eric Zhang was also present to witness the milestone event.
Foton has also launched its rendition of the modernized jeepney in the recent PIMS (Philippine International Motor Show). Within only a few weeks, models of these modernized Jeeps have already been showcased in many of their showrooms.
Now, there's even more action coming to La Union!