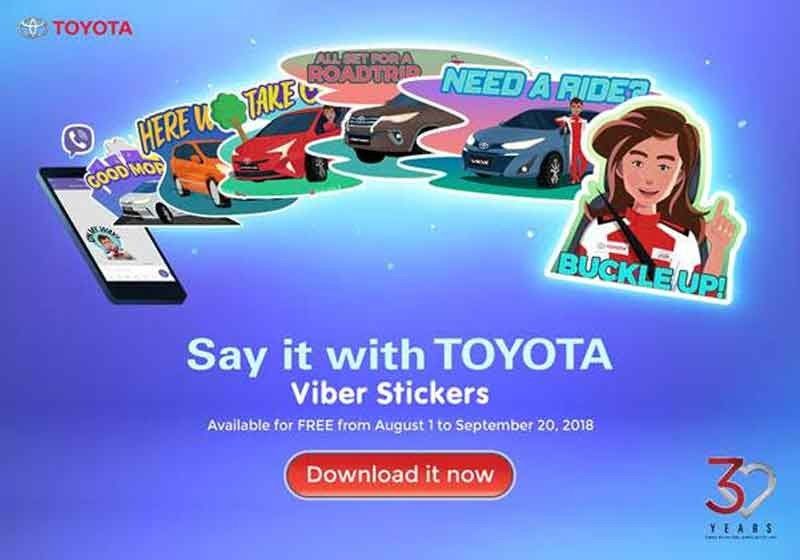 Me and My Toyota: TMP celebrates 30 years with memorable posts and Viber stickers
"I believe if it is not fun, then it is not a car. There are many different ways of travelling from A to B, but a car must have an emotional presence that inspires drivers to enjoy the feeling of driving," said Toyota president and CEO Akio Toyoda at the 42nd Tokyo Motor Show in 2011. This emotional connection with, and mission to bring joy to customers is something that Toyota has pursued throughout the years.
Toyota Motor Philippines (TMP) shares Toyoda-san's belief that, more than the vehicles, it is the precious moments we create along the way that would make every ride worthwhile. To celebrate its 30 years, TMP created "Me and My Toyota" — an online platform for people to share their timeless, unforgettable, and deeply personal Toyota stories.
People can upload a memorable photo or video of their Toyota vehicle at the Me and My Toyota site (meandmytoyota.com.ph) starting last Aug. 23 until Feb. 7, 2019. The site allows Toyota owners, Toyota club members or car enthusiasts to connect by reading the entries of other Toyota owners, being able to search by model name and year, and find fellow Toyota car club members. As a bonus, people who upload a photo or video will have a chance to win prizes from Toyota. Winners will be randomly selected at three different draw dates: Oct. 25 and Dec. 20, 2018, and the final draw on Feb. 14, 2019.
In addition to the site, TMP also launched a "Say it with Toyota" Viber stickers. Viber is a widely used digital messaging app which allows users to send "stickers" (think of it as more elaborate emoticons) as creative or fun forms of expression. TMP is the first local automotive brand to imprint its vehicle models on a messaging app.
TMP's Viber sticker pack highlights Toyota's current lineup. Users can choose a Viber sticker of their favorite Toyota vehicle, with each sticker accompanied by a unique caption. Toyota's Viber stickers are available for free starting last Aug. 1 until Sept. 20, 2018. Android and IOS users can download the stickers from vb.me/sayitwithtoyotastickers.
In this digital age where people emotionally connect through online platforms, emoticons and memes, TMP seems to have aligned its 30-year celebration with its goal of connecting with people — whether it's through their cars, or through online posts and Viber stickers.