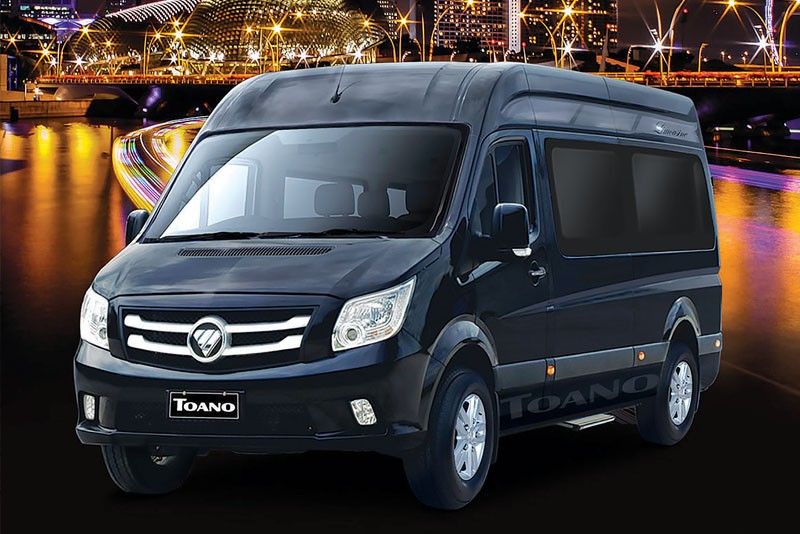 That's why when choosing a car (or a van if you're composed of big members, literally and figuratively), a major aspect to consider is the space and comfort riding in it.
A glimpse of FOTON's new Toano Limousine
Angel Rivero
(The Philippine Star) - August 1, 2018 - 12:00am
MANILA, Philippines — This generation is in love with the idea of traveling — going on adventures, whether out of town or just within the metro. But as much as you want to drive away from the noise of the busy city, the weather, the heavy traffic, or other thwarting elements force you to stay at home instead.
That's why when choosing a car (or a van if you're composed of big members, literally and figuratively), a major aspect to consider is the space and comfort riding in it. Vehicle interiors play a crucial role in defining the luxury of travel. While the exterior is for others to get envious about or appreciate, the interior is what matters to the owner, especially if comfort is a top priority.
A fresh and pimped out mover
FOTON's renowned Toano van has admirably served as hotel shuttles, airport transport services, and even Sunday cars for big families. But how about as a high-end executive limousine? That seems to have been the idea which prompted FOTON to equip the standard 15-seat Toano van with more features where you can luxuriate in extreme comfort and convenience.
Snazzy, stylish, and striking are words you usually associate with cars — but with the Toano Limousine, FOTON has baked a little of each that makes the ride suited for those who want to spend stress-free and relaxing hours on the road.
Height is might
Powered by FOTON Blue Energy, the Toano Limousine delivers impressive performance from its 160hp Euro 4-compliant 2.8-liter Cummins diesel engine paired to a six-speed manual transmission.
Being one of the tallest in its class, the Toano Limousine stands nearly six feet in interior height from floor to ceiling. It looks fundamentally the same as the standard Toano did when it first hit FOTON showrooms as a 2015 model. It showcases parallel dimensions as well, measuring 5990mm in length, 2000mm in width, and 2415mm in height — excellent dimensions for sports teams, top executives, VIPs, and even extended families.
Getting in — and feeling out (of this world)
The interior is where things get really cool. It has been updated with more tech, more convenience features, and a fresher look. The blue LED pinlights around the nautically themed interiors add plentiful lighting options depending on the mood of the passengers. Looking down and around, it boasts of laminated wood flooring, sunshade van curtains plus an automatic electronic footboard for easier ingress and egress. It is also equipped with a heater, a clock and comfort meter, additional accessory power outlets, cup holders and an electronic kettle.
Unlike the standard 15-seater Toano, the Toano Limousine's seating arrangements has a 10-passenger setup which makes the interior even more spacious. It seats three in front (including the driver), has two captain chairs each for both second and third rows, and a back row with a bench-type seat for three. These seats are covered in leather. These can be reclined, having power adjustment features for height, back, and seat angle for both driver and passengers.
Safe and secure travels
The Toano Limousine adds a litany of high-tech safety and security gear including head lamp levelizers, adjustable meter gauge backlight illumination, power sideview mirrors, remote control power windows, front and rear fog lamps, LED side mirror signal lights, dual front airbags, and ABS with Electronic Brakeforce Distribution. A four-probe reverse sensor and camera come standard for easier reversing.
And there's more.
Also a big refresh for the Toano Limousine is its innovative infotainment system. For those who enjoy movie marathons and jam sessions on the road, here comes the best part. Aside from the standard radio, CD player and audio inputs, the Toano Limousine is also pimped up with a sound system that features a surrounding amplifier along with a dedicated subwoofer enclosure, all of which is balanced out with specialized interior wall noise reduction insulation. Just imagine how thrilling your ride can be with your interiors vibrating in high-fidelity audio while watching your favorite flick on a premium 23" LED TV, right?
Depending on your mood and personality, you can choose from the Toano Limousine's variety of colors joining the palette: Phantom Black, Aurora White, Metallic Silver, and Amber Bronze.
Clearly, the Toano Limousine is designed to be comfortable and tech-infused that even driving it has become a luxurious experience. Compared to middling vans, the Toano Limousine delivers all the hallmarks of the modern pimped-up van great for your escape: a powerful drivetrain, spacious and luxurious interiors, advanced active safety features, full entertainment system and, of course, home-like comfort that's out of this world.
It's a van that you'd instantly fall in love with at first ride.
Something that would make you say that yes, it's good to live a #VanLife.