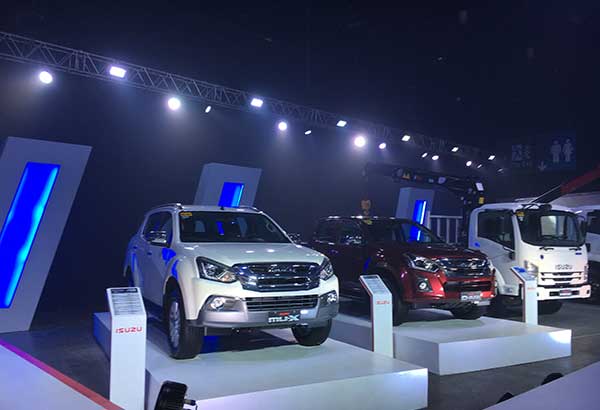 Isuzu celebrates 20th anniversary in Phl
Reveals Eco-Friendly Blue Power Technology
MANILA, Philippines — Isuzu Philippines Corporation (IPC), celebrated 20 strong years in the local automotive industry by unveiling their latest offering: "Blue Power Technology."
Last Sept. 27, IPC executives led by President Hajime Koso, together with Isuzu Motors Ltd. Japan, President and CEO Masanori Katayama; Mitsubishi Corporation Japan Executive Vice President and Group CEO, Machinery Kazushi Okawa, MMDA General Manager and concurrent Usec. of Dept. of Transportation Thomas Orbos, Minister, Deputy Chief of Mission, Embassy of Japan Manila Takehiro Kano, along with dignitaries and members of the Philippine motoring media, spearheaded the anniversary rites.
Koso expressed his heartfelt gratitude to the Philippines, where IPC broke ground some two decades ago. He also thanked their partners who helped them grow towards their current business standing.
"This country has become our second home and gave us the wings to soar higher than what we were 20 years back. We are looking forward to 20 years and more. To our loyal partners, may you continue to put your trust on us and we promise we will be finding more ways to meet your expectations," Koso said.
Shortly after the anniversary ceremonies, IPC executives proudly announced the launching of their new product: Isuzu's Blue Power Technology.
In an era where technology needs to benefit nature, Isuzu developed Blue Power: an eco-friendly diesel engine designed to promote green technology.
The Blue Technology on Isuzu engines — which will be present on all vehicles in the Isuzu lineup — is said to provide maximum engine output, cleaner emissions, superb fuel economy, as well as engine durability.
The Euro 4-compliant 4JJ1-TCX engine powering the D-MAX and mu-X delivers 177ps and 380Nm of torque.
The new facelifted mu-X model, is now mated to a six-speed transmission for both manual and automatic variants. Aside from that, the mu-X now comes with Auto-Headlight Leveling, Hill Descent Control and an 8eight-inch screen entertainment system with USB link and text-to-speech navigation.
The latest D-MAX offering comes with Hill Start Assist and Hill Descent Control. It is also fitted with multiple USB ports to suffice the passengers' need on the continuous use of their mobile gadgets.
Undergoing a full-model change is Isuzu's all-new N-Series light-duty trucks (which not only received a fresh face but the also Blue Power EURO 4 engines), namely: the 4JH1-TC (NLR77 model), 4JJ1-TC (NLR85, NMR85 and NPR85 models) and 4HK1-TCN (NQR75 model).
Further, Isuzu's medium-duty truck lineup, F-Series, also sports the new Blue Power Technology. The 4HK1-TC (FRR); 6HK1-TCN (FSR and FVR) and the 6HK1-TCS (FVM) engines give these trucks more power and efficiency while complying with stringent EURO IV standards making these trucks more effective workhorses.
Isuzu's C & E Series line-up has made the monumental leap towards cleaner emissions: the 6WG1-TGR is now EURO-compliant, meaning the engine has higher torque at low speed area due to the modified turbocharger and increasing engine displacement.
Koso said they are confident the new modifications to their full lineup will further affect sales positively across the board. "We are hoping yet we are confident the Philippines will continue to patronize the brand with these substantial changes we have introduced," Koso noted. "We believe these game changers will surely hit it big in the local automotive industry," he added.