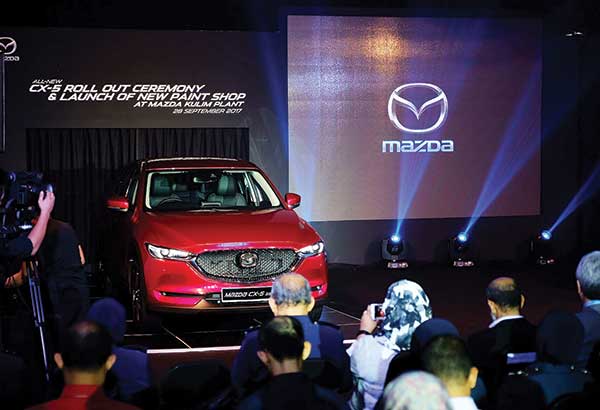 Mazda to export 2018 CX-5 units from state-of-the-art plant in Malaysia
Angel Rivero
(The Philippine Star) - October 3, 2017 - 4:00pm
KULIM, Malaysia — Malaysia seems to have more surprises than meets the eye. Aside from its bustling multicultural capital, its progressive government of Islamic city-states, its active participation in hosting global motoring events (such as the MotoGP, and their last stint with Formula 1 this year), its amazing buffet of Malay, Chinese, Indian and Muslim cuisines, it is also home to a revamped, major Mazda production plant that is now capable of producing the latest (2018) CX-5 units, and slated to export such units to its neighboring countries of Indonesia, the Philippines, Thailand, Cambodia and Myanmar.
Now referred to as the 'Mazda Kulim Plant', this Mazda-exclusive production facility has been upgraded to house a valuable, proprietary paint shop that is imperative to successfully produce the beautiful Mazda designer body colors, such as Soul Red Crystal, Machine Gray and Snow Flake White Pearl Mica. The upgraded plant now also utilizes robotic machines – purchased directly from Mazda Japan – to automate part of the vehicles' body-welding process, and therefore align the Kulim Plant's new technologies with those of the parent factories in Ujina and Hofu, Japan.
Approximately 87 million Malaysian Ringgit was invested by Mazda Malaysia Sdn. Bhd. – operated by Malaysian group Bermaz Motor – into the plant, in order to achieve such a feat.
"State-of-the-art production equipment and the passion of employees here will ensure that Mazda Kulim Plant delivers world-class 'made-by-Mazda' quality," remarked Mazda Motor Corporation managing executive officer Hiroshi Inoue at the new CX-5 rollout and new paint shop launch ceremony, held at the Mazda Kulim Plant within the large facility of INOKOM, last September 28.
The Mazda Kulim Plant is located within the grounds of INOKOM Corporation – a local automobile manufacturing company producing vehicles for Mazda Malaysia on consignment. And INOKOM is located in Kulim, Malaysia – an area which is only within the outskirts of the wealthy port city of Penang.
Also present during the launch ceremony was Mazda's managing executive officer in charge of Global Production and Business Logistics, Masatoshi Maruyama, who emphasized how they see Malaysia as a very important production base for Mazda in the ASEAN region. He also pointed out that with the newly revamped Mazda Kulim Plant, "These new measures strengthen a consistent production framework based on Mazda's manufacturing concepts and technologies." And promised that "We will continue efforts to raise quality levels even higher..." while emphasizing that he was "confident that cars manufactured here will satisfy customers in every market."
The Kulim plant first started operations in 2011. Back then, it was was only working on the local assembly of Mazda 3's, for sale within the country. In March 2013 it began the local assembly of CX-5 units for the Malaysian market; and in September of that same year, they began exporting these Malaysian-made CX-5's to Thailand as well. And last August 28, the first 2018-model CX-5 rolled out of the newly refurbished Kulim Plant. Its proximity to the shipping ports of Penang puts it in a very strategic position; most especially for its forthcoming exportation to its ASEAN neighbors.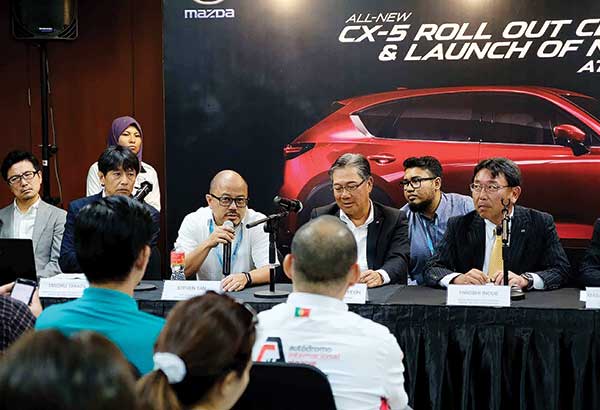 Mazda Philippines president Steven Tan speaks at the press conference for the CX-5 rollout and launch of the new Mazda paint shop at the Kulim Plant in Malaysia.