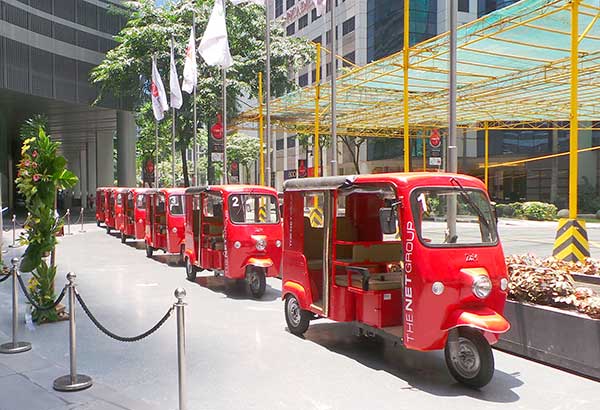 EMotors, Net Group partner for free EV transport service
Slowly but surely, alternatively powered vehicles are making more decisive forays into the public psyche — scoring victories here and there to reduce the carbon footprint of Filipinos and eventually wean us from fossil fuels. Electric vehicle (EV) maker EMotors made a practicable stride toward that reality by inking a deal with boutique office concept firm The Net Group (TNG) – itself the "country's largest green office building developer."
EMotors is the country's first, exclusively Filipino-owned manufacturer and assembler of three-wheeled zero-emission electric vehicles to be registered with the Department of Trade and Industry/Board of Investment's Motor Vehicle Development Program under Executive Order 156. The company is also the first to be registered under EO 226 (the Investment Priorities Plan) and is recognized by the Land Transportation Office (LTO).
At the heart of the deal are so-called Züm e-shuttles made by EMotors. In an email interview, EMotors president Elizabeth Lee said to STAR Motoring, "[The shuttles] are equipped with a high-powered 4KW electric motors. The vehicles can each seat up to six people, and have wide interiors where riders can sit comfortably. Each unit is also equipped with a dashcam and a smartphone app where riders can rate the 'pilots.'" Lee continued that the EVs can log up to 45 kilometers between charging cycles.
TNG staff, offers and tenants of Net Park and Net Lima in Bonifacio Global City get the benefit of free transportation via an initial seven Züm units that can take them to and from the Market! Market! area. Lee described the service as a "turnkey solution" which can serve some 500 to 600 people. She averred, "There are thousands of employees housed by each building with tenants from industries such as IT and BPOs needing a short, quick point-to-point ride to work. Expansion of the project will follow increased demand."
The EMotors head added that "BGC is a good place to showcase EVs being used as part of the city's sustainable transport system… The Ayala-led (development) is a prime location populated by global companies the likes of Google with its young, tech-savvy, globally connected and sustainably conscious citizens… Hence, the inclusion (albeit private from our end) of electric vehicles in the area fits the style and feel of the city."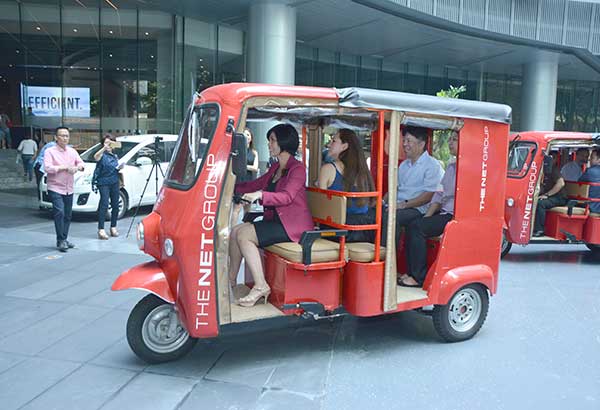 EMotors president Elizabeth Lee is at the wheel of a convoy of Züm shuttles during the launch of its electric vehicle transportation partnership with The Net Group at the Bonifacio Global City in Taguig.
The firm adds TNG to a growing list of what Lee described as "sustainability conscious companies" it has partnered with, which include PepsiCo (PCPPI), 2GO, Astoria Group, and others. "We chose to partner with TNG to promote the use and benefits of our zero-emission, zero-noise Züm e-shuttles. We are aligned in our objectives given that TNG is the country's largest green office building developer that understands the importance of integrating a clean, electric transport to serve their staff and tenants' daily mobility needs."
Lee lamented, "Only two million electric and hybrid cars were plying the roads worldwide in 2016, according to electric car statistics. That's about 0.2 percent of the global fleet of cars — small by comparison." Still, she takes heart in the growth rate, with the sector registering a 42-percent year-on-year growth in the same period. "This increase is 20 times higher than the overall market for light vehicles worldwide which grew by only two percent," she continued. "But in order for electrics to proliferate, sustained growth is needed, creative infrastructure must be put in place, policies must incentivize usage, costs must meet user needs across user segments, and technological advances be made to increase the utility of EVs."
EMotors, Inc. was the official APEC 2015 Green Mobility Partner representing the country on climate change mitigation efforts in the transport industry, and won the Asia CEO Awards and BizNewsAsia Green Company of the Year award.