Effortless car care with Toyota Express Maintenance
After finding the right car, the more difficult task is keeping it in shape.
There is no doubt that periodic vehicle maintenance has several benefits—it keeps your car in excellent condition, it enables better fuel economy, it ensures longer vehicle life, and it gives the car higher resale value.
So why would car-owners neglect to get periodic maintenance? For some, the process seems complicated, time-consuming or even costly. But one car company is making sure that its customers won't have to face these issues.
Toyota Express Maintenance is the first and only service to offer one-hour complete periodic maintenance service at all Toyota dealerships nationwide. Compared to regular periodic maintenance services which take two hours or more, Toyota Express Maintenance guarantees one-hour service from reception to vehicle release. That's about the same time most people take for their lunch break.
What makes Toyota Express Maintenance impressive is that it's not just the usual motor oil-and-filter change. It involves a complete periodic maintenance service adjusted to the needs of a Toyota vehicle. For instance, the Express Maintenance for a Toyota vehicle's first 5,000 kilometers involves inspecting or adjusting its spark plugs and brake linings. Its fuel filter will also be inspected and replaced, if necessary. A Toyota vehicle with 40,000 km will have several of its parts not only inspected, but also replaced or adjusted. These may include brake pads, radiator hoses, and valve clearance.
Toyota Express Maintenance guarantees speed and quality by having three Toyota-certified technicians work on a vehicle simultaneously, following a well-synchronized flow, with each, designated to perform on specific parts. This guarantee may seem ambitious, but I›ve personally seen it work. My driver took my Toyota Fortuner for Express Maintenance at Toyota BGC while I was at a meeting. The service was completed in one hour, and my Fortuner was back on the road even before my meeting ended.
Toyota recommends regular periodic maintenance every 5,000 kilometers or every three months, whichever comes first. The best thing about Toyota Express Maintenance is that Toyota vehicle owners get to enjoy this service at NO EXTRA COST.
Here's a helpful tip for getting Toyota's Express Maintenance service. Remember "CAR": Call, Arrive and Sit back.
Step 1. Call your nearest dealer and set your Express Maintenance Service appointment.
Step 2. Arrive on time.
Step 3. Sit back and relax in the customer lounge. After one hour, you will be back on the road with your car serviced, washed, and vacuumed.
Currently, only Toyota provides an Express Maintenance Service in the Philippines. With all the benefits from periodic vehicle maintenance, I hope that other car manufacturers will follow suit.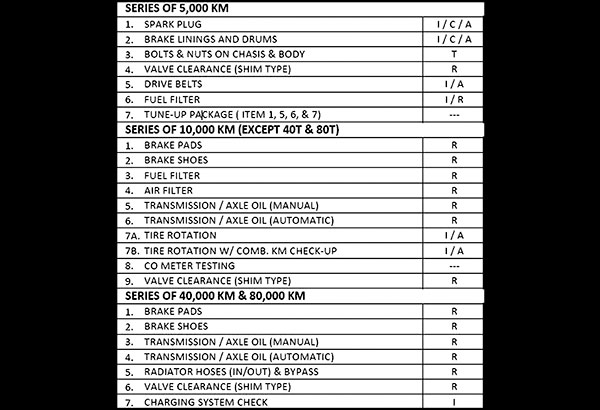 This table showsthe different job items of Toyota's Express MaintenanceService depending on a vehicle's mileage. Legend: I – Inspect R – Replace A – Adjust C – Check T – Tighten
* * *
Atty. Karen Jimeno is a lawyer licensed to practice in the Philippines and New York. She co-anchors for New Day on CNN Philippines Mondays to Fridays, 6-7:30AM. She is also an avid motorist who incorporates different cars and her driving experiences with her professional life.