Chevrolet unveils 2017 Trailblazer, Colorado show trucks
BANGKOK, Thailand — It takes a lot to impress the Thais when it comes to trucks. They are, after all, the world's largest consumers and manufacturers of the 1-ton pickup. Yet this is exactly where Chevrolet chose to pull the covers off their 2017 Trailblazer and Colorado show cars, in a world premiere that just brought the truck and SUV wars up to DEFCON 1.
Unveiled by Marcos Purty, managing director of GM Thailand and Chevrolet Sales Thailand, the show vehicles created quite a stir among the international press and fired a powerful warning shot across the halls––coincidentally (or aptly?) called the Impact Convention Center.
There were no dancing girls. No acrobats. No lip-sync pop numbers. Just two trucks staring down the competition. Put simply, it was an act of war.
Gone are the niceties like a 100-day honeymoon period. No, sir. The Fortuner has barely enjoyed a month in the sun before this looming shadow started creeping over. And we, as consumers, would have it no other way. Let the games begin.
The Trailblazer first burst on the scene in 2012 and enjoyed its time as the most modern, refined (only one on a second-generation platform), best-in-class in power, gearbox and water-wading, for almost four full years. The Colorado had its own struggles with the Ranger, who had a slight price advantage, better-equipped interior, and could match it for water-wading and power (just 30Nm down, but who's counting?), but as far as the seven-seater, pickup-based diesel SUV market, the Trail was sitting pretty.
It never topped the sales charts (locally, it would take a change in the constitution to topple a Toyota) but it did make a mark. And now it's here to stake its claim.
First up, the 2017 Trailblazer Premier. The brief was simple "Dial up the refinement to make sure the vehicle would be as luxurious as it would be capable."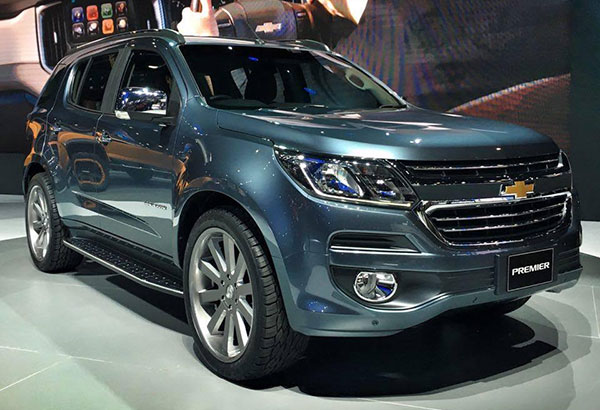 Trailblazer Premier
Aside from the bold new face, highlights include:
• Velocity custom exterior color
• 22-inch wheels and tires
• Rear spoiler
• Rear fascia protector
• Integrated side step with bright chrome moulding
• New interior theme
• 8-inch color touch screen (with Apply Play) with the latest MyLink system
• Premium leather seats with handmade netting
• Wooden door applique with steel inserts
• Two-tone instrument panel inserts with detailed stitching
• Chrome details
• Matching floor mats that complement the detailed stitching of the seats and instrument panel insert
Then there's the Colorado Xtreme, which was designed to look like it would fail a drug test. Highlights include:
• Furnace custom exterior color
• Front safari bar with an integrated LED bar and winch
• Rear step with an integrated corner step and tow bar
• Large fender flares to complement the off-road tire package
• 18-inch all-terrain tires with custom bead locks
• Integrated hood vent
• Uniquely designed snorkel
• Sports bar with a styled in-fill panel
• Integrated spoiler, CHMSL and whip antenna
• Roof basket with an integrated LED light bar
• Custom tub liner:
• Adjustable tie-down tracks, extended to the lift gate
• Integrated spare wheel mount and tool holders
• Custom spare wheel T-nut
• Integrated Newton cap
• New interior theme
• 8-inch color touch screen equipped with the latest MyLink system
• Integrated instrument panel handle bar
• Integrated pitch and roll meter
• Premium leather/fabric seats
• Floor mat that complements the seat trim
• High-lift suspension
• Roll bar
• Graphics pack
• Emergency retrieval kit
Engines and gearboxes are reported to remain the same, but massive strides are promised in terms of on-road refinement and creature comforts. This puts us consumers right smack, bang-in-the-middle of a real four-way fight between the Everest, Montero, Fortuner and Trailblazer in the SUV segment and an all-out brawl with the Ranger, Navara, Hilux, Strada and Colorado for the pickups. There's no word, of course, on production schedules; but then again, you rarely do send notice of an ambush.