PitBoard: Suzuki Swift hits 4M worldwide sales amid strong demand
MANILA, Philippines – One of Suzuki's most well-loved compact cars, the Suzuki Swift, recently achieved a worldwide sales milestone of four million units since sales started in 2004. Demand remains high for the Swift in various countries where Suzuki operates, including the Philippines.
Suzuki celebrates the milestone after only 18 months since the Swift breached three million sales. Over the years, the Swift continues to be a favorite among motorists because of its styling, fuel efficiency, and nimble performance.
Suzuki Philippines president Hiroshi Suzuki shares, "The Swift reflects our company's expertise in creating compact cars that are sporty, stylish, and fun to drive. We introduced new variants of the Swift including the recently launched Suzuki Swift 1.2 to bring our compact cars closer to more customers. Suzuki will continue to serve and match the dynamic and ever-evolving needs of motorists today and the years to come."
Kia Motors posts 7.7% global sales growth in October
SEOUL – Kia Motors Corporation announced its global sales figures (export sales, domestic sales and sales from overseas plants) for passenger cars, recreational vehicles (RVs) and commercial vehicles for October 2014, recording a total of 242,362 units sold--a 7.7-percent year-on-year increase.
In October, Kia posted year-on-year sales increases in China, North America, General Markets and Europe of 22.5 percent (58,960 units sold), 11.9 percent (50,704 units sold), 7.1 percent (44,438 units sold) and 0.1 percent (51,255 units sold), respectively.
Cumulatively, through the first 10 months of 2014, Kia's global sales have increased by 4.3 percent year-on-year, reaching 2,397,878 units. China, North America and General Markets have experienced cumulative gains to date in 2014 of 15.6 percent (544,170 units sold), 6.1 percent (551,906 units sold) and 0.7 percent (436,416 units sold), respectively.
Kia's bestselling model in overseas markets for the month of October was the B-segment Rio with 39,715 units sold. The Sportage came second with 37,079 units, while the compact Forte sedan, Optima midsize sedan and Soul crossover followed with 35,950, 25,632 and 15,185 units sold, respectively.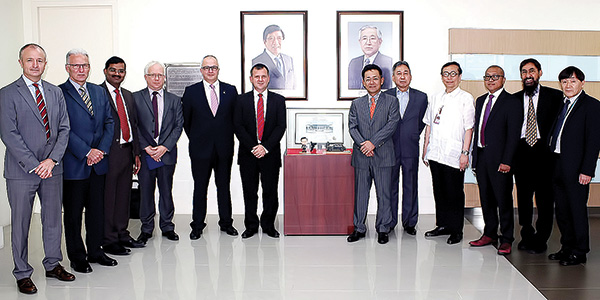 Mid-east Toyota distributors visit Toyota PHL school
Toyota distributors from the Middle East visited the Toyota Motor Philippines School of Technology (TMP Tech) to discuss the employment of graduates in Toyota service centers in prime Arab regions. TMP Tech presented its advanced Toyota curriculum, as well as its world-class facilities that help mold students to become top-caliber automotive professionals. TMP Tech also shared its best practices with ongoing partnership with Saudi Arabia's Abdul Latif Jameel Import & Distribution Co. Ltd. (ALJID). The attention that TMP Tech has been gaining from different organizations worldwide opens many prospects for Filipinos getting employed in both the local and global scenes, initiating the realization of the school's vision to make the Philippines a global human resource development hub. In photo are (from left) EKK service general manager Michael Sean Goode, ALJ managing director Matthias Wollenberg, ALJ director Raghavendra Aswathnarayana, AFM Auto Academy general manager Kevin Watkins, AFM after-sales general manager Ralf Zimmermann, AFM technical training manager Shane Elliott, TMP president Michinobu Sugata, TMP Tech chairman Santos Guerrero, TMP Tech president David Go, AAB deputy manager Raymond Cabauatan, MNSS business director Ebraheem MHE Alfozan, and TMC Jeddah liaison office general manager Shunji Yamauchi.