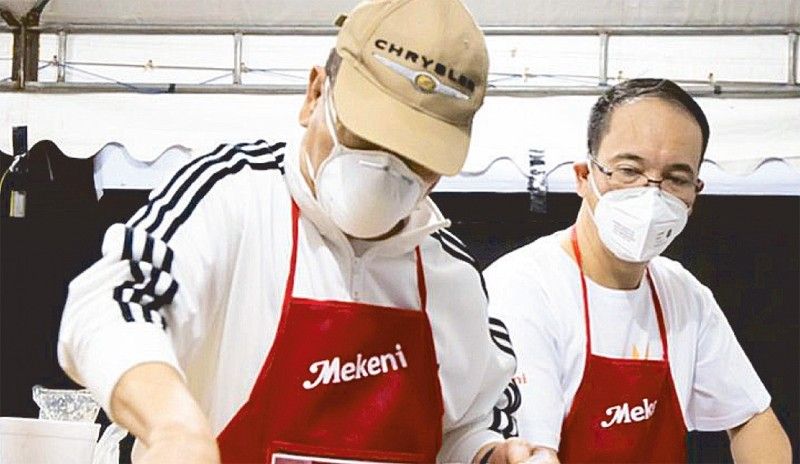 Mekeni's Adrian Garcia, vice president for Supply Chain Management and Nards Garcia, vice president for Sales and Marketing lend a hand in the meals preparation during the company's relief operations in Agoncillo town in Batangas.
Pay it forward: Mekeni finds joy in helping others
Iris Gonzales
(The Philippine Star) - February 17, 2020 - 12:00am
MANILA, Philippines — Philippine businesses constantly face challenges be it a natural calamity or an economic crisis.
The key is to be resilient to stay in the game.
This is perhaps one of the secrets to success of Pampanga-based Mekeni Foods Corp.
Mekeni, now three decades old, has experienced challenges that could have crippled the company, but like a bamboo tree, Mekeni always just sways with the wind.
It does not allow difficulties to break the company and such resilience has helped Mekeni through the years.
And because it has survived many challenges, the company also takes the opportunity to help those it can.
Knowing how a volcano eruption can disrupt lives – as what happened to the company during the Pinatubo eruption in 1991, Mekeni also extended help to the evacuees of Taal Volcano eruption through a recent outreach activity in Agoncillo, Batangas – one of the towns severely affected by the Taal Volcano eruption last Jan. 12.
Because Mekeni knows exactly what the evacuees are going through, together with Porac Municipality, it initiated a simple outreach program that benefitted close to 3,000 evacuees.
Thus, following the lead of Pampanga Gov. Dennis Pineda, Mekeni joined relief operations for the evacuees affected by Taal Volcano eruption. In partnership with local officials of Porac, Pampanga, led by Mayor Jing Capil; Red Cross Rizal Chapter, and Rotary Club of San Juan Del Monte, Mekeni geared up for a relief operations in Agoncillo, Batangas, one of the most affected towns.
Mekeni was able to pool resources to purchase sleeping materials and reusable water containers. Its employees prepared hot meals for the evacuees using their own products.
For its part, the Porac municipality brought canned goods and other basic supplies while Rotary Club and Red Cross donated hygiene kits and medical kits, respectively.
This is not the first time that Mekeni extended a helping hand to calamity victims. Even if they were victims themselves, Mekeni helped during the Mt. Pinatubo eruption in 1991 and Porac earthquake in April 2019 – a proof that the company believes that they are part of something bigger than themselves.
Mekeni has survived the two tragedies and it is also still recovering from the African swine flu, but of all the challenges, the Mt. Pinatubo eruption in 1991 was the most difficult for the company.
When lahar engulfed Pampanga after the Mt. Pinatubo eruption, several parts of the province became a ghost town – including Porac, Mekeni's homebase. It was the municipality's darkest days, and hope was scarce. But two public school teachers, Felix and Meding Garcia, decided to rise from the ashes and give their community hope.
Although life was hard and their small business was also severely affected by the calamity, the Garcia family strived hard to continue the business and provide livelihood.
From that day, uplifting other people's lives has become Mekeni's lifelong mission. Currently, Mekeni is providing employment opportunities to Filipinos within and beyond Pampanga.
"A person's measurement of success is not by how much money he has, but by how much the same success affects other people. You cannot only look at your own success but also see that others around you succeed too. Then you can say that you have succeeded in life," Mekeni founder Felix Garcia said.