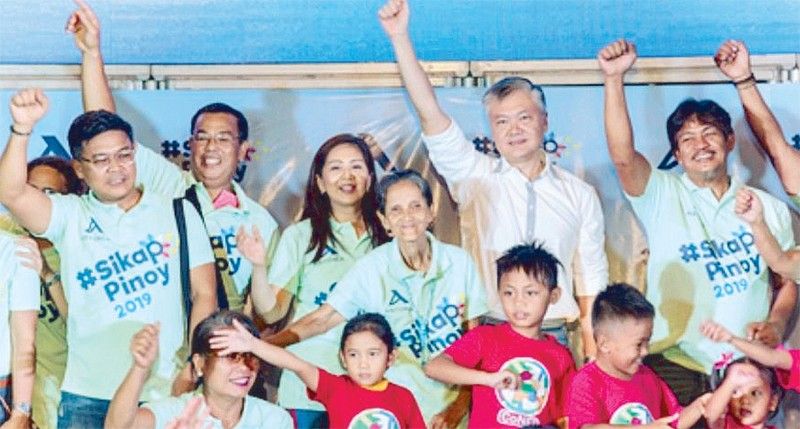 The Ng couple gamely dance to the #SikapPinoy theme onstage with the locals at the conclusion of the Boracay leg for #SikapPinoy. The event was hosted by Astoria Boracay and Astoria Current.
Couple behind homegrown hotel brand embarks on passion project
(The Philippine Star) - February 17, 2020 - 12:00am
MANILA, Philippines — This good-looking real estate power couple has built together from scratch one of the country's top homegrown hotel brands.
But for a few hundred and continuously growing number of Filipinos, they are so much more than that. They are highly esteemed and much-loved individuals.
Since opening in 2001 with Astoria Plaza, Jeffrey Ng, president of Astoria Hotels & Resorts (AHR), and his wife, Vivian Ng, chief operating officer, have grown the chain to six hotels and resorts around the archipelago. They specifically looked at developing properties in the country's most famous tourist beach destinations to aid in the economic growth of the countryside.
With their resorts having high occupancy rates and recognition from local and international tourists – Astoria Boracay and Astoria Current in Boracay Island and Astoria Palawan in Puerto Princesa City topped TripAdvisor Travelers' Choice rankings in 2019 – Jeffrey and Vivian could have easily rested on their laurels.
But they did not. They wanted to do more. After contributing to the growth of the countryside, what could be next? What could be an even greater endeavor?
For Jeffrey and Vivian, the obvious and only answer is to aid in the growth of those who live in the countryside: the fisherfolk, farmers, the indigenous tribespeople and the other marginalized members of the community.
The Ng couple wanted the communities where they operate to benefit from their hotel and resort operations through more effective corporate social responsibility activities such as supporting local entrepreneurship endeavors.
Enter #SikapPinoy
Lively singing. Joyful dancing. Delectable local dishes. Constant affirmation of love for God, country and family.
One may think this is a religious activity. Or a school gathering. But no. This is the Ng couple's pet passion project.
Since its introduction in Astoria Palawan in July 2018, the couple's #SikapPinoy initiative has happily inspired hundreds of Filipinos – most of them poor fisherfolk, farmers and locals.
For Jeffrey, hotel brand – is their "major initiative to develop the countryside and contribute to nation building."
But #SikapPinoy kicks that countryside development initiative even further, bringing it literally to the grassroots level.
AHR has conducted three rounds of #SikapPinoy this year: in Boracay on July 31, 2019 and Sept. 4, 2019 in Astoria Palawan, both attended by about 200 locals and indigenous peoples – the Ati tribe for Boracay and the Batak tribe of Palawan. #SikapPinoy was also staged in Manila in Oct. 5, 2019 at Astoria's Chardonnay with Astoria affiliate Cathay Land Inc.
This early, the Ngs' #SikapPinoy initiative is starting to bear fruit. At the Astoria Palawan event, the Astoria team proudly showcased videos of how some attendees from last year have started to turn their lives around.