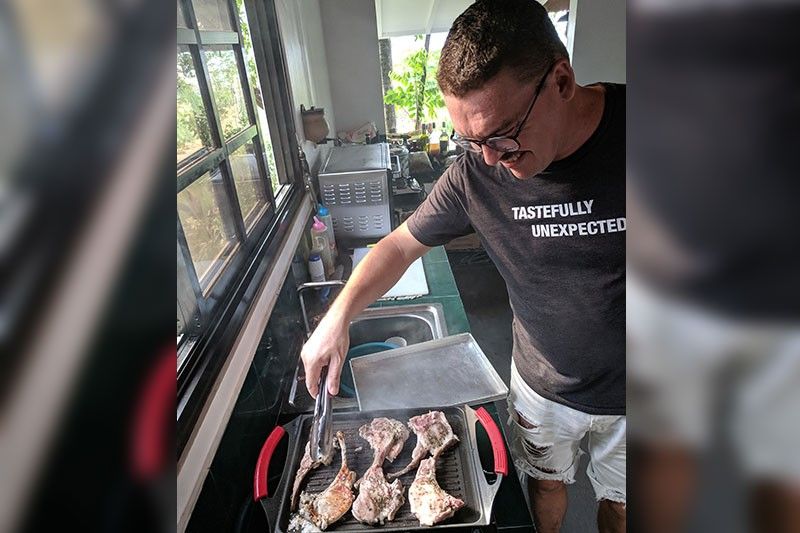 Joie de Vivre in Puerto Galera
MANILA, Philippines — Far from the maddening crowd of Puerto Galera is this quaint restaurant serving classic French fare. Diners keep coming back for coq au vin, gnocchi, fromage de tête, baked brie, whipped up no less by New York top chef Sebastien Chamaret.
Mr. C is Puerto Galera's hidden gem, ensconced in a more private Minolo Cove – minutes away from the island's main port. It is interesting that Chamaret handpicked this inconspicuous location. Quite a 360-degree turn for a top New York chef like himself, who spent his professional life manning the kitchens of famed French restaurants like Daniel by Daniel Boulud, legendary La Goulue on the Upper East Side and his own Le Comptoir on Williamsburg in Brooklyn.
His ladylove, Filipina lawyer chef Michelle Africa, introduced him to the charm of Puerto Galera. "I was captivated at first sight," Chamaret recalls. There were over 7,000 other islands to choose from. But he picked Puerto Galera in a heartbeat. He wasted no time to entice fellow French restaurateur Olivier Monteaux from Aspen, Colorado to hop on board.
Chamaret's Frenchipino team envisioned a restaurant in tune with the local community. The menu is unmistakably French. Yet in so doing, Mr. C takes pride of its affinity to local ingredients. They work with suppliers around Puerto Galera and Mindoro provinces. "We want to give the business to the locals by patronizing their products," he says.
Moving to Puerto Galera somehow brought Chamaret back to his childhood, in the countryside of Mayenne in Western France. "We are proud to say that the pigs and ducks we use for our cassoulet come from our affiliate farm in the island. The fruits and vegetables we use for our salads and desserts are grown within the province, and in our own garden. Our partner fishermen deliver our tuna straight off their boat and into our shores. We use aratilis for clafoutis, a French custard dessert; kamote tops for our gnocchi. We pick them from our own backyard," Chamaret says.
It is apparent Chamaret is a man on a mission. He has high hopes for the island he now calls home. "The goal for our kitchen is to be more self-reliant, and we have the same dream for Puerto Galera. The island's economy is powered by tourism, but the real livelihood of this nature-rich town is in food, in agriculture."
In an interview with The Star, Mr. C's Frenchipino philosophy is not just for show. It just makes business sense. "We don't just respect Mother Earth by reducing our carbon footprint. At the end of the day, it's a win-win for everyone. We generate more business for our neighbors. Our diners are happy. Their food is fresh and delicious." Chamaret says.
Chamaret stays true to his roots at Mr. C. The restaurant's philosophy gives its respect for the terroir, a term that literally translates to earth or soil. He knows all too well that food has specific qualities that are influenced by a sense of place.
But Chamaret is passionate about keeping the distinctive French touch. From the food to the wine, it is an introduction to everything French. Even Mr. C's aesthetic bears Chamaret's imprint – from the mounted deer head, a treasured family heirloom shipped all the way from his hometown to the meticulously curated French tunes. Mr. C's changing menu board of iconic French dishes is one that Chamaret personally writes himself. He handpicked the selection of French wines. "We are ambitious. We want to create the complete French bistro experience, in an island paradise setting. A piece of France in Puerto Galera, so to speak."
He is often asked, "why Puerto Galera?" It must be the proximity from Manila; there's no need to take a plane. "You can plan your beach trip at a moment's notice. All it takes is a two-hour road trip to Batangas and a ferry ride that gets you to the island in an hour or less. You just can't beat that," Chamaret says.
When asked about plans to open a branch in Manila, Chamaret says, "Olivier and I lived on the fast pace in New York, in Paris. It's exhilarating, we had the time of our lives." Living the island life soothes this long-time New Yorker. "Here in Puerto Galera, we stroll on the beach, go to the market and head to work. No traffic, no problem."
The joy of living is something that many people search far and wide for. The French call it joie de vivre. And from the looks of it, chef Sebastien Chamaret may have found it in Puerto Galera.