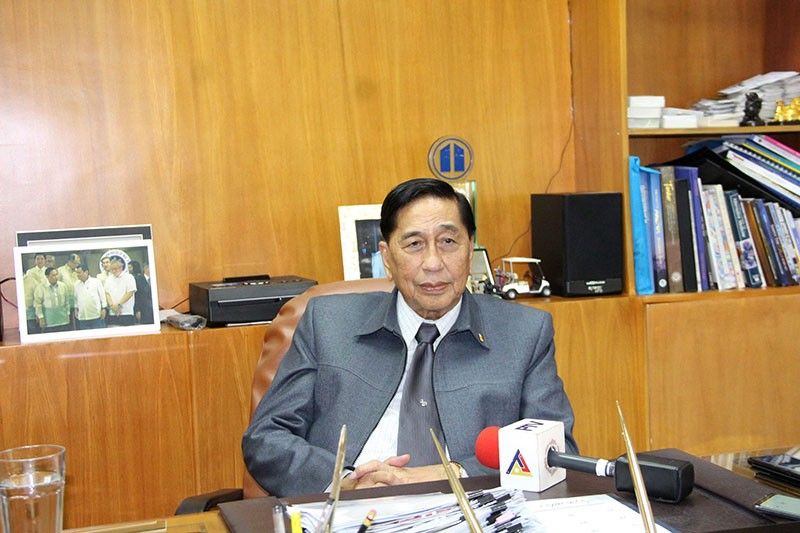 Ortiz-Luis shares secrets of staying power
MANILA, Philippines — The fiery leader of Filipino exporters and the steady guiding hand of the country's biggest trade association, the Philippine Chamber of Commerce and Industry (PCCI), Sergio Ortiz-Luis Jr. has witnessed first-hand and survived many battles, both in the business and health arena.
Sergio Ortiz-Luis Jr. or simply "SOL" to friends and peers, probably has one of the most recognizable faces and names in the Philippine business landscape for several decades now. He has outlived – literally and figuratively – many of his contemporaries.
One afternoon in his office at the PCCI national headquarters at the Commerce and Industry Plaza in McKinley Hill, Taguig City, Ortiz-Luis shared some secrets of his staying power, as follows:
Pick your fights
Although Ortiz-Luis has been a fixture in Philippine business up to today, he has decided several years back that he will no longer take on matters that are too taxing, especially after he almost succumbed to illnesses triggered by his smoking habit.
"I don't do anything I don't enjoy anymore; I will only have headaches," he said.
Ortiz-Luis is the honorary chair and treasurer of PCCI, and president of both the Philippine Exporters Confederation Inc. (Philexport) and Employers Confederation of the Philippines (ECOP). He also sits in the boards of 24 companies, but these are things he continues to enjoy because of the people he works with and the relations he has built with them.
For ECOP, Ortiz-Luis has been fighting these days for a win-win version of the Security of Tenure (SOT) bill. The SOT previously approved by Congress was vetoed by President Duterte. Now, Ortiz-Luis said they are working on a new version.
At Philexport, he is constantly on the lookout for wild fluctuations in the foreign exchange rates, and has been advocating trade liberalization. Ortiz-Luis was also instrumental in putting up the Philippine Franchise Association, earning for him the title "The Godfather of Philippine franchising."
At PCCI, Ortiz-Luis' main concern is continuously improving the country's business atmosphere to get more investments and create more meaningful jobs.
Clean living
Ortiz-Luis recalls that about 10 years ago, he was probably the heaviest smoker in the business sector. "My exercise was walking to my car. Then I had a ruptured appendix, so I was confined in a hospital. I was not able to smoke for about two weeks. When I went out, I continued to avoid smoking, although I started to gain weight because of increased appetite. I got worried. My friends convinced me to play golf and from then on, golf became a religion for me. I feel younger now than 10 years ago. My diabetes is under control. Ten years ago I was sickly, so I said another 10 years (of living) would be a bonus. Now, another 15 years seem easy."
He shares that he advised some of his close friends, who had since passed away, to imitate his clean-living tact. "They were younger than me, so I told them that if they would not stop, when I go to heaven, they'd already be there welcoming me."
Needless to state, no one has ever been happier than his wife Marge, when SOL decided to quit smoking and lead an active and healthy lifestyle.
'Golf is sacred.'
While picking the game late, Ortiz-Luis' love for golf has become so intense: "My golf days are sacred days," he declares. Now with a 23 handicap, Ortiz-Luis always try his best to play a round of golf every Wednesday and Sunday. His home courses are Wack Wack and Valley Golf. He also chairs Eastridge Golf and Country Club.
Ortiz-Luis' current drive averages only 160 yards, although his farthest reached 315 yards – aided by luck, however, – when the ball hit the car path three times and went farther onward to the green. Probably the most memorable noontime of his life was when he scored his first and only hole-in-one at Hole No. 12 of Valley Golf at 137 yards, which is guarded by water in front of the green.
He said he used an old 9-wood Callaway that he bought for P1,000 just a month earlier. "We were supposed to play just one more hole but decided to continue for three more, because it was still early. I remember I was talking to someone over the phone and then I was told that it was my turn. I thought of trying the old 9-wood for the first time, and it was 12 noon when I hit it. I thought at first it went over, until I saw a lady Korean golfer, who was ahead of us, jumping and clapping when she saw that I hit a hole-in-one," he recalled with glee.
Members of the diplomatic community and fellow businessmen are his usual golf buddies.
Ortiz-Luis was conferred four honorary degrees - Doctor of Humanities (honoris causa) by the Central Luzon State University in 2006, Eulogio "Amang" Rodriguez Institute of Science and Technology, Angeles University and Academy of Multi-skills UK. His other academic credentials include a Bachelor of Arts, a Bachelor of Science in Business Administration, and a Master of Business Administration degree from De La Salle University (formerly De La Salle College.)
Trust and confidence
To keep one's footing in the business world, Ortiz-Luis said, the most important is "you have to earn the trust and confidence of your colleagues."
"I've always thought that in work and in associations like this, it is important that you have a record that if you work, you work for the interest of everybody. The trust and confidence of people you work with are important, otherwise, you will not be happy with all the tensions that come with it," he noted.
These are just some of the reasons why Ortiz-Luis continues to be considered as the "heart and SOL" of the Philippine export industry and chamber movement.