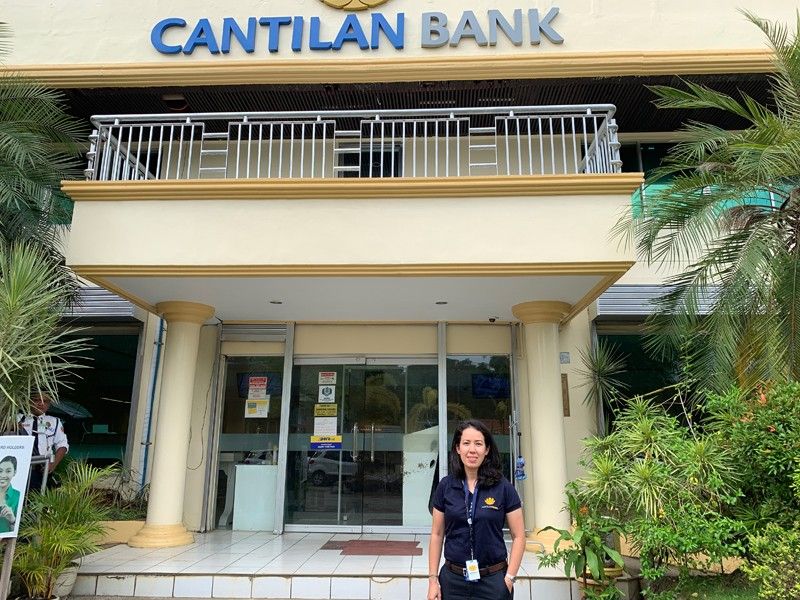 Cantilan Bank executive vice president Tanya Hotchkiss stands infront of the Cantilan Bank head office in Cantilan, Surigao del Sur.
Surigao bank pioneers cloud technology in the Philippines
Cantilan, Surigao del Sur ,Philippines — As more businesses worldwide are told to innovate or perish, a small rural bank in this remote municipality in Mindanao has embraced the use of cloud technology in its operations to address weaknesses and survive the stricter regulatory environment.
Early this year, Cantilan Bank Inc. fully migrated its core banking operations into the cloud service provided by Europe-based technology firm Oradian, therefore eliminating the need to maintain a physical data center in its head office.
At the same time, the migration is now enabling the bank to dispatch tablet-bearing account officers to the far reaches of the bank's service community to collect loan payments and maintain close relationships with existing and new clients.
Digitization is now touching more economic sectors worldwide, and firms are already realizing the need to take advantage of new technologies and processes to serve the changing needs of their clients and preserve the relevance of their products and services.
And today, Cantilan Bank will go down in Philippine banking history as the first to use cloud banking technology to cut operational costs and gain greater efficiency.
"Competition right now is still in the banking industry especially in the rural banking industry. The big boys are coming to our area," said Cantilan Bank president Charles Hotchkiss.
"So the only way for us to survive is to take on the most modern technologies in the market right now. And being on the cloud, it's easier to integrate with our financial technology providers," he said.
Hotchkiss is, of course, referring to major banks setting up shop in the remote areas of the province to service the growing need for remittance services as well as loans for agriculture and small and medium enterprises (SMEs).
Cantilan Bank's journey into the cloud began at a time when the Bangko Sentral ng Pilipinas (BSP) was stepping up its closure of weak rural banks and encouraging mergers to strengthen their positions against competition.
It was in 2016 when Hotchkiss' niece, Tanya Hotchkiss, who serves as the bank's executive vice president, was introduced to the possibility of using cloud banking technology during the first digital finance forum hosted by the Asian Development Bank (ADB).
"It really started when there was a push from the Bangko Sentral ng Pilipinas to make sure that there are rural banks that will survive and basically cohere into something that's more competitive against the incoming competition, the bigger banks," Tanya said, adding that "the BSP is looking at closing down a lot of rural banks who are not up to speed in terms of what they could do for communities, like the town of Cantilan. So, we knew that for the sustainability and continued competitiveness of Cantilan Bank, we needed digital transformation and there is no other way to do it but with partnerships."
This interest stemmed largely from the desire to eliminate the financial drain and operational risks that came with maintaining its own data center. At the same time, the use of a legacy system was causing administrative inefficiency that was taking away valuable time from client engagement and product development.
"So I pitched over a concept to ADB. I knew I needed institutional help through technical assistance, monitoring and evaluation, something that we can't do. We don't have the internal capacity to do this. Because we were the pioneer, there are a lot of risks and costs involved," Tanya said.
Lisette Cipriano, senior digital technology specialist at the ADB, said the multilateral bank "saw value in supporting Cantilan Bank" because its mission is aligned with the ADB's goal of promoting financial inclusion though the use of digital technology.
In late 2016, Cantilan Bank received a provisional approval for a $150,000 technical assistance grant covering the payment of subscription for Oradian's services, as well as other forms of assistance provided by ADB for the duration of the pilot project.
As the country's bank regulations still do not provide for the use of cloud banking, the pilot project had to be placed in a regulatory sandbox where it can be tested with relative ease in a safe environment.
Despite being placed in a sandbox, deposits remain covered by the Philippine Deposit Insurance Corp. (PDIC).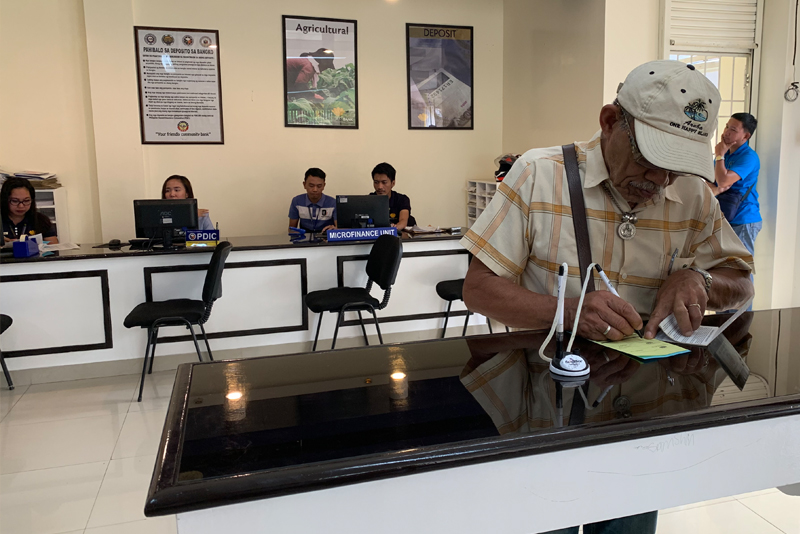 Luis Florentino, an 80-year-old pensioner, fills out a deposit form in the Alegria branch of Cantilan Bank.
The pilot commenced in the middle part of 2017 and is set to wrap up by the end of 2019.
As it has only been six months since migration into the cloud, Tanya said the first benefits were seen in the significant easing of administrative burden and minimization of geohazard risks to bank data.
More resources are also now available for the enhancement of the security of data in the cloud as these are no longer plowed into the maintenance and operation of the physical data centers.
Tanya explained that it is both costly to build and maintain physical ones because BSP's redundancy strategy requires banks to have back up IT infrastructure such as data centers, internet connections and others.
"It costs a lot to build a data center. And we are a rural bank. We are still just a small to medium size enterprise. The rate of obsolescence of technology is there and we have to keep up with that. That is something that is not sustainable for us," Tanya said adding that "we have limited resources to actually manage a lot of these risks and these risks will continue to grow as an organization grows."
After migration into the cloud, Tanya said the bank's IT resources were rechanneled into the procurement of security policies for data in the cloud. The skills of the IT personnel operating the data centers have also been refocused on cybersecurity efforts and the conduct of data security awareness programs across its branch network.
Today, only the bank's automated teller machine (ATM) operations remain in the data center in its headquarters but this, too, will be outsourced eventually.
Through the use of the cloud, Cantilan Bank was also able to eliminate time-consuming tasks that cause employees to frequently work overtime.
Reports from branches, for instance are immediately uploaded on the cloud and are accessible in the headquarters in real time. This now aids in better compliance to the reports required by the BSP.
"We are now able to monitor our branches in real time and are able to create the reports that we need to submit to the BSP much faster than we were able to do in the past," Tanya said.
Because of this, the bank believes the benefits still far outweigh the existent risk in migrating to the cloud.
"To us, measuring all of that, we decided that it's far less riskier for us to go toward cloud even though inherently a lot of people would think that cloud is riskier because you are not there to manage it," she said, noting that being based in Europe, Oradian also benefits from less geohazard, political and technology risk.
Oradian is a relatively young cloud service provider that started operations only in 2012 and has undertaken other financial inclusion projects in Africa.
Its participation in the pilot is in line with ADB's goal to support start-ups, according to Cipriano.
"We went through a very rigorous due diligence process in selecting our strategic partner," Tanya said.
Ears to the ground
In the extension of its services to remote areas using cloud, the bank employs specially-trained account officers (AOs) who periodically visit borrowers in their places of business to collect loan payments and update information .
This eliminates the additional expenses incurred by clients in visiting branches which can go as high as P200 per visit.
Account officer Dhenmarc Azarcon, for instance, accesses his assigned 173 accounts through the use of Oradian's Instafin application on a tablet. On a daily basis, he visits 10 clients to collect payments and check up on them.
One of his assigned clients, Tomasita Bendoy, 50, who has been long-time borrower of the bank for her sari-sari store, rice crop, and boarding house businesses, said she appreciates the ease of mobile transactions but also prefers to keep physical records of her loan documents.
Instafin is an application still meant to be used by a field officer instead of clients. After each transaction, customers receive sms notifications but all work is done by the account officers assigned to them. Physical receipts are still given to clients for filing.
Despite Cantilan Bank's optimism in the greater use of cloud banking technology in the future, it still sees the need to roll out more branches, at least five more in the near future, to bridge the technology disconnect with the unbanked population.
"It's very critical for us to still open new branches in places that are unbanked. There's still a big disconnect so we definitely need to expand in terms of our brick and mortar presence," Tanya said.
Since its establishment in 1980, Cantilan bank has grown to a network of 45 offices operating within 12 provinces in Mindanao and Visayas. It currently services 116,000 clients and has total resources of P2.4 billion as of Dec. 2018.
Fish vendor Margilyn Cosmiano, 37, who has been a client of Cantilan Bank since 2002, said she appreciates the convenience of the app but prefers not to use it herself as she prefers to use less sophisticated mobile phones.
Through her repeated engagement with the bank, she has been able to expand her businesses from a sari-sari store to rice farming, and now to her own market stall.
Because of Cosmiano's good relationship with the bank, she is now eligible for loans of as much as P90,000 and hopes to access more capital to have an additional business, a bulaluhan restaurant.
Tanya said the use of an app operated by a staff is more beneficial for maintaining good relationship with clients.
"We use technology with our ears to the ground, make sure we listen to our clients," she said.
Cantilan Bank Marketing head Emmary Duero said that while clients in rural areas are becoming more receptive to the use of financial technology, they still value social interaction with banks.
"For those in business, they still prefer to go to the bank and talk to the tellers they love. They value interpersonal relationship with the banks," Duero said.
An integral part of rural economy
Despite their small stature and limited resources, rural banks remain an integral part of countryside economy.
Other than serving the day-to-day banking needs of their clients, these banks are conduits of cash transfers and crop insurance assistance provided by the government.
Cantilan Bank, for instance, processes crop insurance claims by farmers and receives credit guarantees offered by the Agricultural Guarantee Fund Pool (AGFP) program of the Philippine Crop Insurance Corp. (PCIC) for its agriculture-related loans.
For farmers who are not eligible to receive crop insurance from the government, the bank offers insurance from its partner firms.
Small businesses in Cantilan also rely on a steady stream of credit from rural banks to sustain their operations.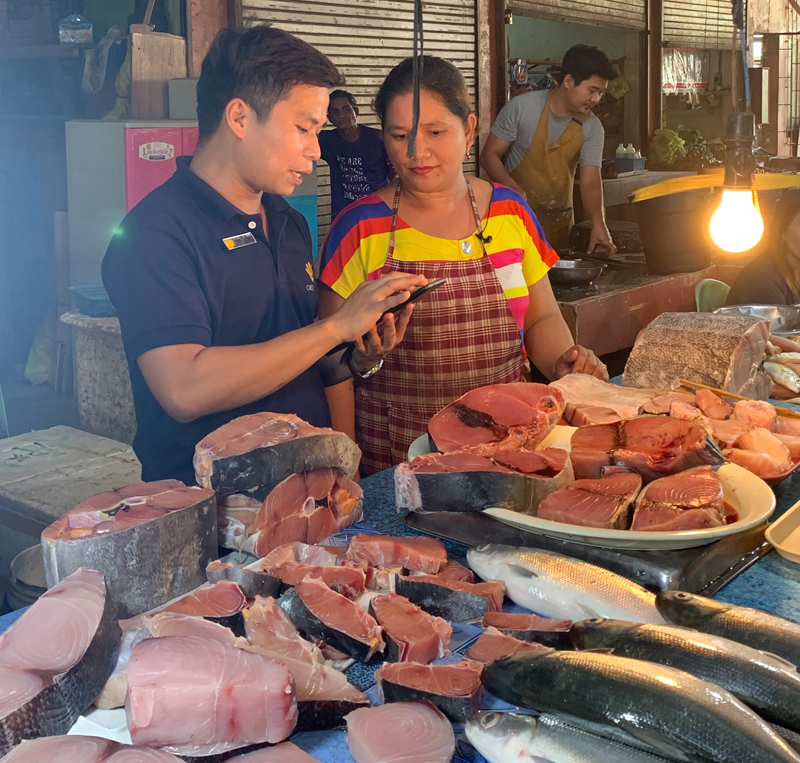 Account officer John Gallego updates the account information of borrower Margilyn Cosmiano in her fish stall.
Cloud technology is revolutionary for small banks
Tanya said the use of cloud banking technology is "revolutionary" for rural banks. "In the past it was very inaccessible for other institutions of our size. And now with cloud, it turns the business model upside down," she said.
Hotchkiss believes that with the right technology and education, rural banks will continue to have a special place in the economies of rural areas.
"We are the biggest conduits of cash transfers and we have to do it in very remote areas. It's very risky for us but we have a mandate to distributes the cash," he said.
While Cantilan Bank is still far from being the largest rural bank in the province, Tanya said its target in the near future is to "become the most dynamic and competitive."
She believes that despite the initial challenges in getting the cloud system going, the bank is making the right decision in investing in cloud subscription as the Philippine market is now becoming more receptive to the use of fintech.
"If we will be investing in this technology two to three years down the road, it will be too late for us when the Philippine market will be ready to use their phones for 100 percent of their banking," she said.
Ripe for adoption
Cipriano said that despite the large financial inclusion gap in the country, the level of smart phone and internet usage in the Philippines makes the country a fertile ground for fintech use.
Smartphone usage in the country is now at 59 percent of the population, almost the same rate as internet usage at 50 percent and social media penetration at 58 percent.
"The financial inclusion gap is so big so there is still a lot to do but the Philippine market is ripe for digitization," she said.
The Mindanao region is key to bridging the gap in financial inclusion as 41 percent of the unbanked live in the region.
Cipriano said that for Cantilan Bank, letting go of its burdensome legacy system will enable it to attain greater efficiency and scalability.
Nigel Phair, ADB consultant on cybersecurity, said that with the right regulations in place, cloud technology has the potential to transform the way banking is done in the Philippines particularly for small institutions.
"Part of the education campaign of this project is that you can put greater security control around data that is the cloud environment and delivering it as a service offering as opposed to having it stored in an office," Phair said, adding that "what we see is Cantilan Bank is the first mover. If we can get the BSP to acknowledge that this is a great thing, then other banks will leverage the success this organization has had."