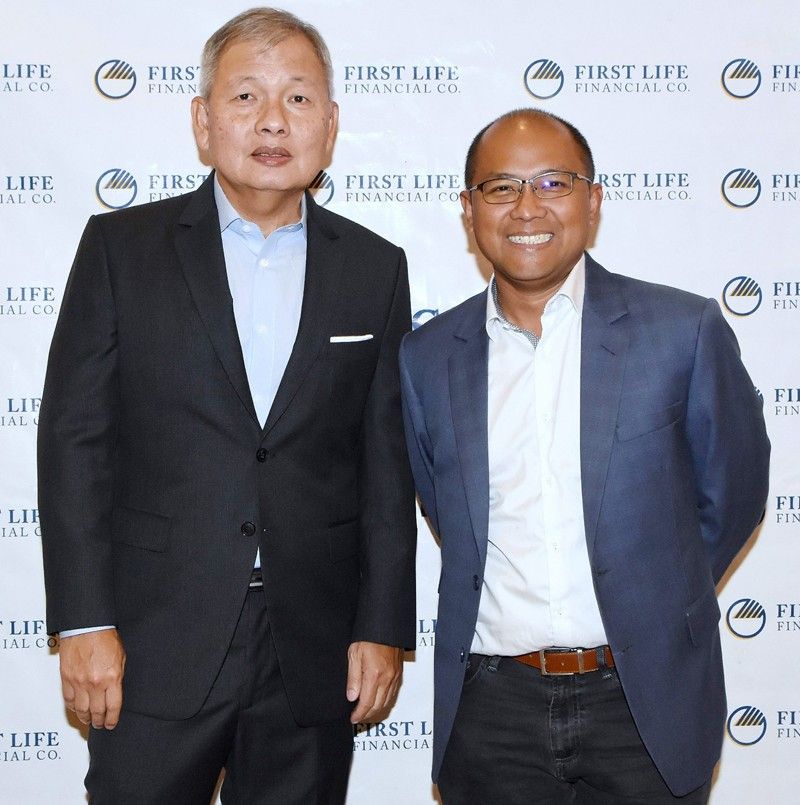 First Life Financial Co. Inc. president and CEO Peter Coyiuto and Google Philippines country head Kenneth Lingan
First Life puts life first
First Life Financial Co. Inc., headed by its brilliant presi- dent and CEO Peter Coyiuto, held its first business forum for 2019 at the Manila Polo Club in Makati City. Riding on the crest of digital disruption, the forum featured Google Philippines country head Kenneth Lingan and BPI Asset Management Corp. chief investment officer Smith Chua, who shared nug- gets of wisdom on all things business. Coyiuto himself con- cluded the forum by reminding the guests to appreci- ate the beauty and economic value of a life insurance policy especially when the need for it comes at the most unexpected moment. Congratulations to First Life Financial Co. Inc. for a successful business forum!
FINEX hosts 50th conference
(From left) Financial Executives Institute of the Philippines (FINEX) past president Judith Lopez and executive vice president Grace Palma-Tiongco, member Isay Arcilla, Women in Finance Committee chairman Terrie Magleo, members Bing Pasco, Gema Cheng, Marybeth Ty, Malou Cristobal and Vic Sarza
The Financial Executives Institute of the Philippines (FINEX) held its 50th Annual Conference at the Grand Ballroom of Shangri-La at the Fort, Manila in Bonifacio Global City, Taguig, with the theme Future-Proofing Through Innovation. Led by the FINEX Week Organizing Committee together with FINEX president lawyer Eusebio Tan and executive vice presi- dent Grace Palma-Tiongco, the event welcomed 400 guests and featured three keynote speakers, sixteen session speakers and moderators who are all experts in their fields. Congratulations to the Financial Executives Institute of the Philippines for another successful conference!