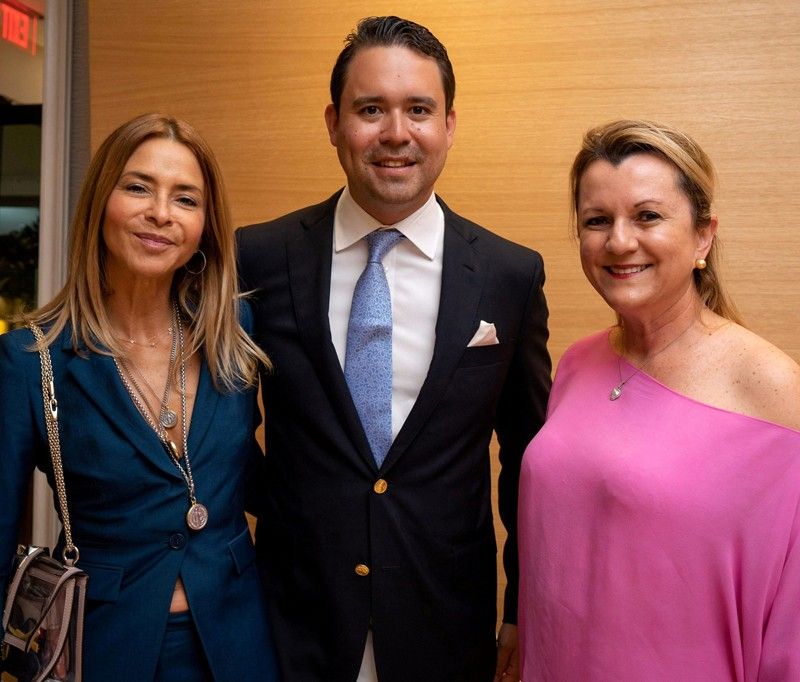 Irma Martínez, Jewelmer EVP and deputy CEO Jacques Christophe Branellec and Margarita Khan
The iconic South Sea pearl invades Palm Beach
It was a momentous evening as international luxury brand Jewelmer celebrated the official launch of its first US boutique at Palm Beach in Florida. Under the outstanding leadership of Jewelmer group chairman Manuel Cojuangco, group president and CEO Jacques Branellec and EVP and deputy CEO Jacques Christophe Branellec, the jewelry powerhouse showcased a dazzling array of fine collections, bursting with dynamic color and romantic power with the iconic golden South Sea pearl as the attraction of every stunning piece. It was a first for the brand to unveil some pieces globally, with pearl lovers having had the exclusive chance to witness each iconic and exceptional South Sea pearl creation up close. Congratulations to the Jewelmer family for a successful launch in Palm Beach! Jewelmer is located along Worth Avenue, Palm Beach in Florida, United States.
A new generation of leaders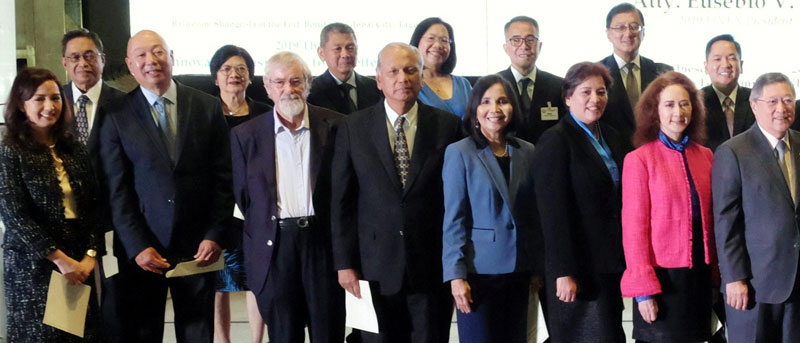 The 2019 Financial Executives Institute of the Philippines offi cers and directors (front row, from left) FINEX director PDS Group of Companies fi nance head Stephanie Zulueta, VP-internal affairs Powernet Systems CEO Antonio Ramon Ongsiako, VP-external affairs The Wallace Business Forum president Peter Wallace, VP-capital markets development Viscal Investment Inc. president Senen Matoto, VP-corporate governance ALFM Mutual Funds Group president Sherisa Nuesa, director and FINEX Foundation chair Punongbayan and Araullo CEO Ma. Victoria Españo, FINEX EVP First Credit Consultants Corp. president Grace Palma-Tiongco and Finance Secretary Carlos Dominguez with (back row, from left) Ligaya Management Corp. president Alfredo Parungao, Philippine National Bank chairman of the board Florencia Tarriela, Iconic Dealership Inc. president Ronald Luis Goseco, Philippine Veterans Bank independent director Judith Lopez, FINEX past president Ramon Opulencia, BDO Unibank Inc. EVP Edmundo Soriano, Sterling Bank of Asia CEO Paul San Pedro
The Financial Executives Institute of the Philippines held its 2019 inaugural meeting and induction ceremonies at Shangri- La at the Fort, Manila in Bonifacio Global City, Taguig. Angara Abello Concepcion Regala & Cruz Law Offices (ACCRALAW) senior partner lawyer Eusebio Tan and First Credit Consultants Corp. president Grace Palma-Tiongco were sworn into office as president and executive vice president, respectively, by in- ducting officer Finance Secretary Carlos Dominguez. Inducted alongside lawyer Eusebio Tan were this year's new set of of- ficers. The momentous event was attended by FINEX members including a number of embassy delegates and representatives from partner organizations. Congratulations to the Financial Executives Institute of the Philippines for a successful inaugural meet- ing and induction!