FINEX holds year-end economic briefing
December 31, 2018 | 12:00am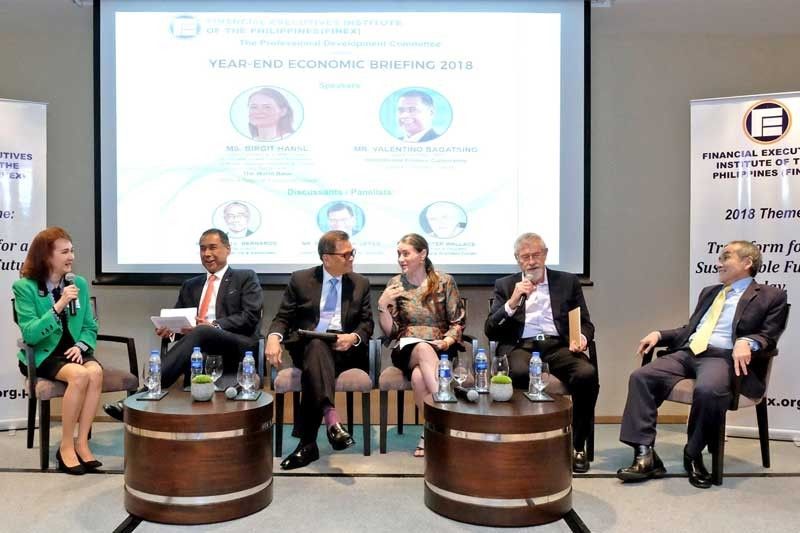 Happy new year to my dear readers and friends, both old and new! May 2019 bring even more blessings, love, connection, delight, persistence, success, and unmitigated joy.
The Professional?Development Committee of?the Financial Executives of CHIC?the Philippines (FINEX) held?its Year-End Economic Briefing?2018 at Shangri-La The Fort in?Bonifacio Global City, Taguig.?Led by FINEX-PDC chairman?lawyer Michael Guarin and?VP for professional development Grace Palma-Tiongco,?the forum invited renowned?economic and financial experts?as guest speakers to present?their views on the economy from a global, regional and local perspective.
From left) Valentino Bagatsing, Emmanuel Leyco, Birgit Hansl, FINEX president and Punongbayan and Araullo CEO Ma. Victoria Espan?o and House of Investments Inc. EVP-COO/CFO Gema Cheng.
Congratulations to the Professional Development Committee of the Financial Executives of the Philippines for a successful year-end economic briefing!
A prestigious award
Jose Alejandro and wife Knight of the Order of the Star of Italy awardee Maria Lourdes "Marilou" Fer- nandez Alejandro with Ambassador of Italy Giorgio Guglielmino.
Ambassador of Italy Giorgio Guglielmino recently hosted an elegant cocktail reception in honor of Maria Lourdes Fernandez Alejandro who was bestowed the prestigious Cavaliere dell'Ordine della Stella d'Italia or Knight of the Order of the Star of Italy, an award given by the President of the Republic of Italy Sergio Mattarella. The Order of the Star of Italy honors those who promote national prestige abroad and friendly relations and co-operation with other countries and ties with Italy. Witnessing this momentous occasion was Marilou's husband, Jose Alejandro, with the Alejandro family members and relatives as well as the directors and officers of the Philippine-Italian Association led by president Nedy Tantoco. Congratulations for this notable citation!
The South Sea pearl in the Sunshine State
Jewelmer, an international luxury brand founded by group chairman Manuel Cojuangco and group president and CEO Jacques Branellec, is now officially in the United States. Finding a home in the upscale shopping and dining district Worth Avenue, Palm Beach in Florida, the South Sea pearl will now charm Floridians and travelers in search of the finest luxuries. Congratulations for this incredible feat! Jewelmer's first boutique in the United States is located at 235 Worth Avenue A, Palm Beach, Florida.