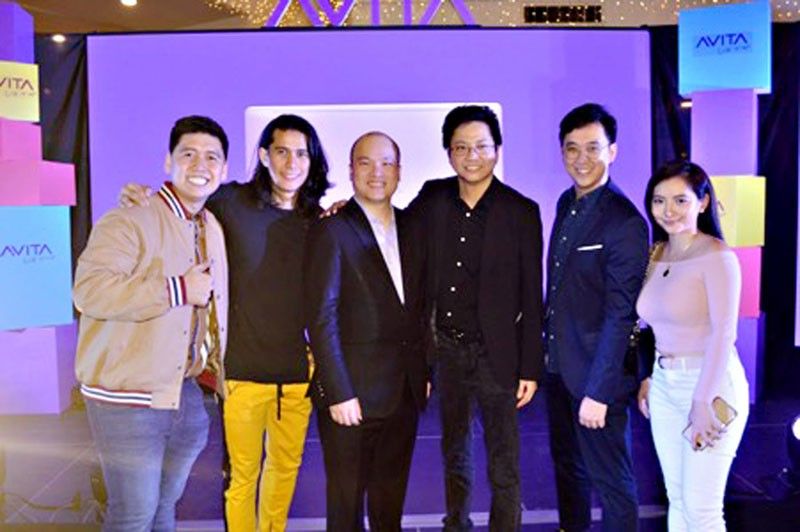 Asia Pacific push: Nextsgo Company Limited CEO Alex Chung (third from left) with (from left) InfinitUs Marketing Solutions Inc. managing director Bryan Lato, digital personality Cris Lomoton, Nexstgo associate director for product planning and development Kenny Cheung, Nextsgo marketing head Ben Chan, and InfinitUs Marketing Solutions Inc. marketing director Myka Basco at the launch of Avita.
Avita bullish on Philippines business
MANILA, Philippines — Due to a glut of brands in an ever-growing affordable device market, it's becoming an increasingly challenging proposition to get a slice of the pie – notwithstanding the growing base.
The consumer lifestyle brand Avita, established by a former R&D and branding team of Radio Corp. of America (RCA) in the US in 2016 and since owned and operated by Hong Kong-headquartered Nexstgo, formalized its arrival into the country with a launch event last week in Makati.
While the company also boasts smart home and IoT devices, Avita is initially releasing its Liber model laptop models here – a 13.3-incher and a 14-incher. "We're (initially) offering products from the entry to the middle range," said Nexstgo Co. Ltd. CEO Alex Chung, who was in town for the introduction. It continues to be a busy stretch for Avita with consecutive launches in Hong Kong, Indonesia, Malaysia, Singapore, Thailand and Taiwan. Nexstgo has braced for growth in the Asia Pacific region through the establishment of its Hong Kong headquarters and Taiwan design center.
The idea is to grow a "regional footprint in the lifestyle gadget brand scene," according to a release. Added Chung in an interview with The STAR, "We're targeting younger customers (through) an energetic, creative product that is customizable. We are aware that the (demographic) is into customization; they want their own identity."
Along with an attractive price point (the most inexpensive Liber 14 inches retails for P19,990), the laptops come in over 40 colors. Plans are afoot to collaborate with local artists to further widen the design palette. The company fancies this as combining performance with fashion.
Chung is very optimistic about growth prospects in Asia. "The region definitely has a younger customer base – and this base is still growing," he declared. "The Philippines also has a lot of younger customers. That's why I believe we will do well here."
Avita is initially available in Metro Manila, but Chung intimated that in three months the brand will start a push into other regions. For the meantime, the push is toward heightened awareness of its products value propositions. They are also looking to partner with more like-minded companies who will take the cudgels up for the relatively new marque that nonetheless is pushing aggressively into the realm of more established competition. That is also the reason why Avita has assured the availability and quality of after-sales service.