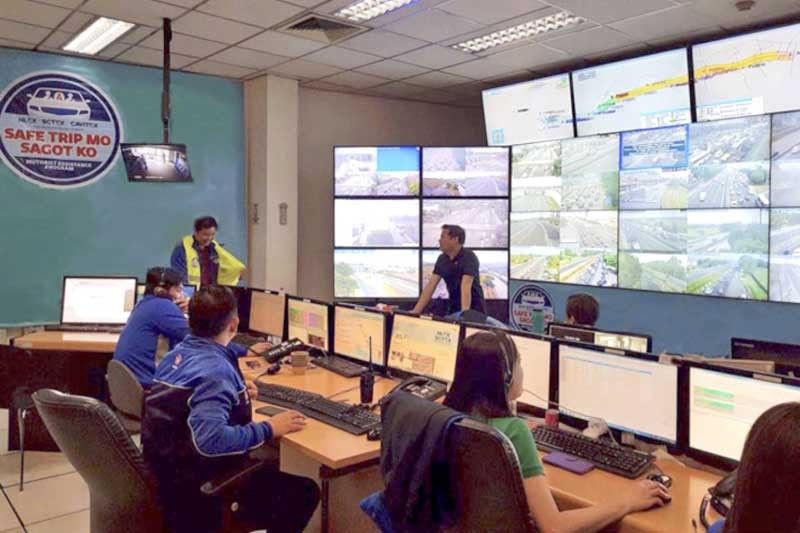 The NLEX-SCTEX Traffic Control Room is fully equipped to ensure road safety 24/7 and provide quick response through patrol officers who are ready to assist motorists during roadside incidents.
A culture of safety and discipline
Madz Garcia
(The Philippine Star) - April 9, 2018 - 12:00am
MANILA, Philippines — Recently, I had a chance to attend a briefing on roadside assistance at the North Luzon Expressway (NLEX) Corp. office in Balintawak. Strangely enough, we got a real taste of NLEX's culture of safety and discipline when on our way home, a few meters past the compound exits, a traffic crew approached us. Incidentally, our driver was caught without wearing his seatbelt.
Beyond the sheer moment of a traffic offense, what transpired was a seamless traffic management system performing at its best, right before my eyes.
From the time the camera spotted our car running with a forgetful driver, to that scene where the men in uniform signaled us toward the roadside to calmly and courteously summon us, it notably took only a few minutes. And anyone else would wonder why it all happened way sooner than we ever thought.
In an earlier meeting with Romulo Quimbo Jr., NLEX Corp. senior vice president for Communication and Stakeholder Management, he affirmed that the safety features of roadside assistance are in place to deliver ultimate safety and convenience to the motorists.
In the name of road safety, the NLEX Corp. is going an extra mile by upgrading its state-of-the-art Central Traffic Management System (CTMS) that's taking full charge of NLEX and the Subic-Clark-Tarlac Expressway (SCTEX).
Behind the system that integrates multiple technologies to improve traffic monitoring and control, there are these people who are equally competent to carry out the work 24/7.
Fully-equipped
The CTMS, run by well-trained traffic control specialists and crew, is responsible for the fast relay of information from roadside incidents up to their corresponding actions. Inside the Traffic Control Room (TCR) is where the real-time action happens as seen right through a wall of hi-definition LCD monitors. The TCR is also home to the NLEX-SCTEX's premier communication networks, such as the Private Radio Communication System, Automated Vehicle Locator System, and NLigtas Travel Time Advisory.
With advanced technology as its best bet, the entire stretch of NLEX-SCTEX is now installed with a total of 99 closed-circuit television (CCTV) cameras, and a pool of new cutting-edge equipment, such as Speed System CCTV, Phantom 4 Drone Camera licensed by the Civil Aviation Authority of the Philippines, and sensor counting stations, among others.
Roadside assistance, NLEX-SCTEX style, has set a high standard in bringing about motorists' convenience. This end-to-end traffic management solution is furnished with patrol vehicles complete with high-powered radio transmitters, on-board dashboard cam, signal light bars, as well as traffic road safety cones and water supply all on standby to ensure quick response to motorists.
During an incident such as mechanical breakdown and overheating, a patrol vehicle roving in the area proceeds to the stalled vehicle to assess the situation and check for any casualty. An incident report is then relayed immediately to the TCR to decide on which particular response to take.
To be able to quickly respond to road incidents of varying types, the system is connected with NLEX Corp.'s external partners, such as the Automobile Association of the Philippines for towing services and mechanical support; the Aeromed for medical assistance and ambulance emergency response; the Bureau of Fire Protection for fire-related concerns; and the Philippine National Police for reinforcing peace and order.
Traffic discipline zone
The patrol crews, with 80 of them being deployed on an eight-hour shift basis, are expertly trained to perform the nuts and bolts of roadside assistance. They are also deputized by the Land Transportation Office to strictly enforce traffic rules and regulations.
With the help of hi-tech devices, the body camera-wearing patrol crews can better spot and apprehend traffic violators, thus further enhancing road safety. Several crews who roam around strategic locations at any time of the day carry laser video LIDAR (Light Detection and Ranging) guns, an innovative technology that matches the need to detect cars with daylight speed.
In reinforcing the anti-overloading law (Republic Act 8794), patrol crews operate weighing scales located near select toll plazas in order to detect and penalize overloading trucks in expressways.
Carrying the badge of discipline and safety, the NLEX Corp.'s traffic control and management specialists and crews have continuously exemplified a high standard for roadside assistance and traffic management. So much for complete elements of a seamless traffic control system that operates beyond what we see.Indeed, advanced technology and high-skilled personnel complement one another to create a world-class roadway system in this dynamic and fast-paced era.