Filipina leaders breaking glass ceilings in business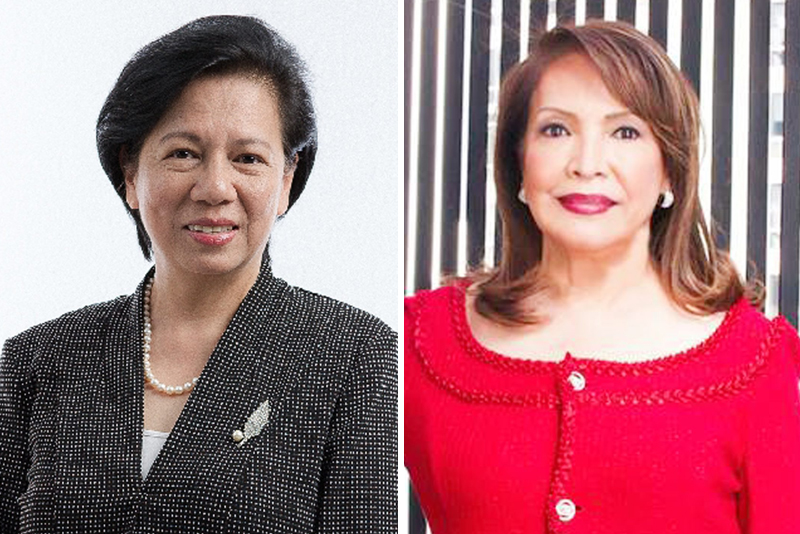 MANILA, Philippines — Sound monetary policy and employment opportunities are two key drivers of sustained economic growth. In this second installment showcasing women leaders who drive economic performance for the Philippines, meet the deputy governor responsible for resource management of the lead regulator for the financial industry – the Bangko Sentral ng Pilipinas (BSP) – and the chairperson of the largest private employer in the country.
Between these two seasoned executives, women and men will find plenty of inspiration in time for the celebration of Women's Month.
BSP Deputy Governor Ma. Cyd Tuaño-Amador
Only two years after opting for early retirement, Ma. Cyd Tuaño-Amador returned to BSP in January 2017, making history as the first female to be named Deputy Governor after 30 years.
Before her appointment as Deputy Governor for Resource Management, this University of the Philippines alumnae headed the Monetary Policy sub-sector and was largely involved in economic research overseeing various units including the Department of Economic Statistics, the Center for Monetary and Financial Policy, and the Economic and Financial Learning Center.
Cyd also holds a Doctorate in Economics from the Australian National University and a master's degree from the Graduate Institute of Policy Science in Tokyo, Japan. In her first tenure with BSP which covered 32 years, she also served a stint with the International Monetary Fund in Washington.
What made you decide to come out of your early retirement?
My three children started to live on their own, preferring to set up residences near their places of work. Gil, my husband, and I became empty nesters in Australia. My husband's decision to go back to the Philippines with me was one of the key considerations in my own decision to come out of early retirement.
I was also quite excited by the challenge of being re-employed by the BSP in a new capacity, and making more of the life that I've been given. The pull of the Philippines is very strong and I am – and will always be – emotionally invested in the BSP.
If you look back on your first day on the job and the BSP as it is today, what are the changes since then that you are happy to see? What are the things that stayed the same that you are grateful for?
I was quite glad to see that the BSP has continued to be a thought leader in monetary policy, financial inclusion and learning, and innovative payments mechanisms, among other matters, and that it has taken great strides in promoting an open learning culture and fostering wellness in the workplace.
On the things that stayed the same, the one thing that I was most grateful to see are the familiar and kind faces of highly valued and respected colleagues. I see the same dedicated, competent and conscientious public servants that I've served alongside with, all living and breathing the mission of the BSP, and I am beyond proud of these women and men.
As a public servant, you've had the opportunity to represent the Philippines in different venues and to different audiences. I assume the reception is not always the same. How do you rise to the occasion?
I had quite a bit of interactions with observers and analysts of the Philippine economy when I was a member of various Philippine delegations in both domestic and international roadshows and meetings, and the reception was invariably quite favorable. This is because the Philippine story has been – and continues to be – one of an economy on solid footing, with sound macroeconomic fundamentals and a coherent package of structural reforms. I can recall a highly stimulating conversation with a very bright female managing director of a big global investment fund, and it was quite an experience verbally sparring with her, knowing that the field of finance is well served with women like her in its midst.
What advice can you share with young women who aim to pursue careers in finance?
Leonardo Da Vinci has these words that I think are so thoughtful and powerful: "He who truly knows has no occasion to yell."
I am sure that Da Vinci would not mind if I change the "he" to "she". I've always believed in having that quiet confidence that if you do your work well, you can have the satisfaction that you are doing it for your family and your Maker, and that you do not need external affirmation. But to truly know, one must study, study and study; read anything and everything; and learn to listen because then we learn and educate ourselves.
Convergys chair Marife Zamora
Before she became the chairperson of Convergys Philippines in 2014, Marife Zamora was its first country manager, setting up the first contact center of this global customer management company here in 2003. She went on to lead its growth into being the country's largest private employer with 60,000 employees.
In 2011, she became managing director for Convergys Asia Pacific and EMEA, with oversight for contact centers in the Philippines, India, United Kingdom, and Malaysia.
On top of these, Marife found time to establish the Filipina CEO Circle, an organization of Filipina CEOs who rose through the ranks to lead large corporations in the country's private sector. This multi-awarded executive also sits on the board of several organizations and interests, and most recently served as the 3rd woman president of the Management Association of the Philippines (MAP) since its inception in 1950.
You have just completed a year of leading the MAP. Looking back, can you share one thing that stood out for you in that year?
What stood out for me when I was president in 2017 is the limitless zeal of the people involved in MAP for all things they choose to endeavor. This starts with the staff headed by Arnold Salvador who has been with MAP for 30 years and his team who have been there for two to three decades. Then, we have the 998 members representing a cross-section of CEOs, COOs and other top management practitioners from the largest local and multinational companies operating in the Philippines. That passion has made MAP the premier business organization that promotes management excellence for nation building.
Last year also marked having women empowerment as a focus area of MAP. A MAP Women Empowerment Committee (WEC) was formed which harnessed the economic power of women to foster a more equitable workforce and provide more opportunity for advancement for this critical population. From your stint as country manager for Convergys, what were the things you were most proud of?
I am most proud of the management team that we have built and our people. They form the foundation of a solid corporate culture. It's quite a feat to build an organization of 60,000 employees in a 15-year corporate lifetime. We are also proud of the high standards that we have set in the industry. No doubt the Philippines is the leader in the global customer management services space.
As a result of these jobs and careers, we have been able to help Filipino talent remain in the country, empower them to have better lives for themselves and their family and contribute to the Philippine economy.
With diversity and inclusion now at the forefront of most companies' HR priorities, can you share career advice for young women and men too?
Do not be afraid to pursue top leadership posts in any field. Gender should never be a hindrance in nor reason for being selected to the top post. Men and women should help each other care for the household and the children. These tasks shouldn't be relegated to the women only. Women shouldn't be guilty in pursuing careers just as men shouldn't be embarrassed about doing household chores. More women will be empowered; more glass ceilings will be broken.
Hands down the most important lesson you will learn is love what you do. As the cliché goes, love what you do and you will never work a single day in your life. If you do not enjoy going to work, now is the time to make a change.
(If you missed part one of the series last March 5 featuring BSP Deputy Governor Chuchi Fonacier and Sun Life Philippines CEO Riza Mantaring, click here to view.)