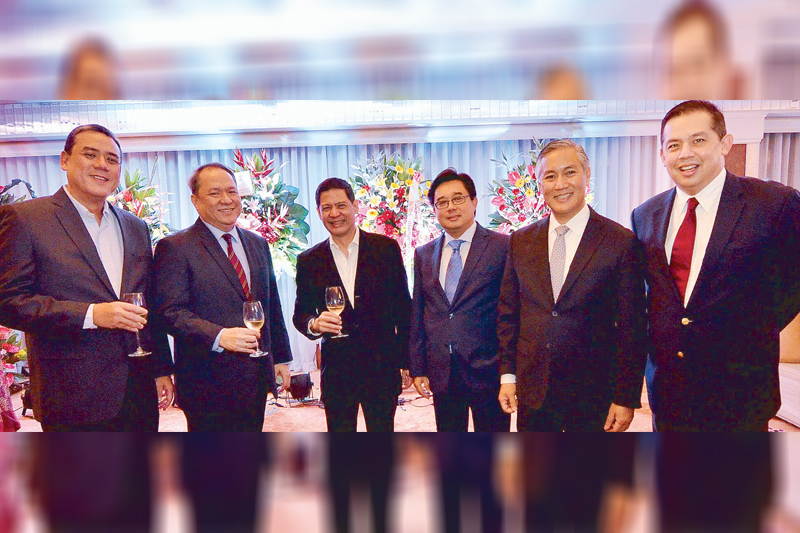 San Miguel Holdings chief finance officer Raoul Romulo, Ocampo and Manalo Law Firm's managing senior partner lawyer Mannix Manalo, private equity guru Gil Camacho, Asian Appraisal company president Anthony Te, Ocampo and Manalo Law Firm's founding senior partner lawyer Carlos Ocampo and former Leyte representative Martin Romualdez
Ocampo Manalo celebrates 20 years
The Ocampo?Manalo Law?Firm held a formal dinner in?celebration of its ?20th anniversary.?Led by founder?and senior part-?ner lawyer Car-?los Ocampo and?managing partner?lawyer Manolito?Manalo, the event?was held at the?Rizal Ballroom of the Makati Shangri-La Hotel in Makati City. "We feel blessed to have been able to survive and thrive in our very unpredictable economic environment dating back to when we started in 1997, and we continue to be very ex- cited about our future," lawyer Carlos Ocampo said. "We have stuck to our formula of being focused on solutions and properly assessing our clients' respective situations and circumstances." Congratulations to the Ocampo Manalo Law Firm for 20 years of excellence in the field of law!
A port call to Manila
The Russian Pacific Fleet Detachment, comprised of two large anti-submarine ships named Admiral Pan- teleyev and Admiral Vinogra- dov, along with the medium tanker Boris Butoma, made a visit to the port of Ma- nila in an effort to enhance naval cooperation between Russia and the Philippines. President Duterte and Rus- sian Federation minister of defense Sergey Shoygu wit- nessed the ceremony, which saw the donation of military equipment from the Russian government to the Philip- pines. At the press confer- ence onboard Admiral Pan- teleyev, Russian ambassador Igor Khovaev congratulat- ed the Philippines for the Jewelmer launches Pearl of Hope bracelet
liberation of Marawi and expressed Russia's contin- ued support in our nation's counter-terrorism drive. The port call also included a wreath-laying ceremony to the monument of nation- al hero Jose Rizal. Here's to even stronger diplomatic ties between our two countries!
Jewelmer, the purveyor of the Philip- pine national gem, recently introduced the Pearl of Hope bracelet, an encouragement for everyone to partake in sustaining a pure and perfect environment. Led by Jewel- mer executive vice president and deputy chief executive officer Jacques Christophe Branellec, the bracelet was created to raise funds for the Save Palawan Seas Founda- tion (SPSF), a non-profit organization com- mitted to maintaining Palawan's purity and rich marine life and to provide sustainable livelihood for the island's communities. Ku- dos to Jewelmer for this worthwhile endeavor!