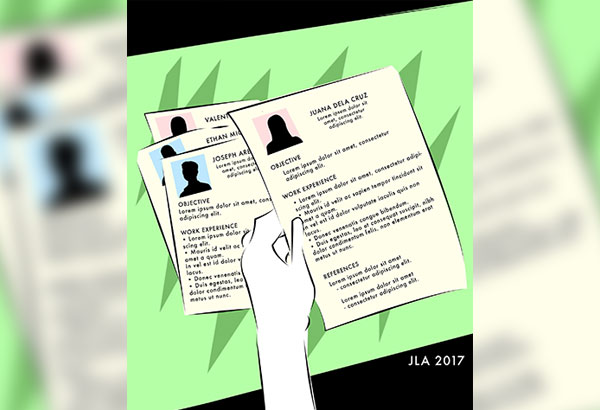 Businesses likely to hire more IT, e-commerce experts
MANILA, Philippines — Local businesses are expected to hire more experts in information technology and e-commerce next year, highlighting the economy's shift to digital, according to a study conducted by Robert Walters, a London-based recruitment company.
In a report titled Salary Survey for Greater China and Southeast Asia 2018, Robert Walters said the continued disruption of IT innovations in Southeast Asia, including the Philippines, would create a need for more professionals who are skilled in mobility, cloud computing, platform-based solutions and social data-intensive business models.
"Candidates with strong technical skills and international experience will be highly sought after," the report said. "Companies looking to optimize their structures will make room for new roles, while new and expanding businesses will make a positive contribution to the recruitment market," it said.
Interest in customer data would also drive demand for big data engineers and data scientists, the report said.
In a media roundtable, Robert Walters Philippines country manager Eric Mary said the Philippines, with its young population, is ready to face the challenges brought about by the rapid rise in technological advancements, particularly artificial intelligence. "I think the Philippines is ready to face artificial intelligence because of its very young population," Mary said.
He added that one of the strengths of Filipinos is that they show fast learning skills and adapt easily to new technologies.
From an industry perspective, the recruitment firm said the growing number of multinational companies setting up operations in the Philippines has generated high demand for professionals in the finance sector.
The report said strong demand was recorded for top talent agencies across various sectors such as accounting, banking, financial services, human resources and information technology this year.
Jobseekers who are changing companies in the HR industry, IT and accounting are likely to receive an average increase in salaries of 15 to 30 percent while middle-management candidates with niche profiles are likely to get a salary increase of up to 40 percent, according to the report.
"Salaries will continue to grow at a similar rate of 20 to 40 percent in 2018. However, we expect that more companies will be looking to control costs amid business growth," it said.
Moreover, Mary said to be able attract and retain in this candidate-driven market, the hiring of managers would have to look beyond competitive salary packages and should be more creative in their offers to potential candidates.
"Companies should not overlook the importance of a strong employer brand, which is increasingly sought by top candidates," Mary said.
"Employee training and learning opportunities, together with clear career progression plans and communication, will help companies retain their best people," he said.
Robert Walters is a specialist recruitment agency operating in 28 countries and recruiting across the accounting, banking, engineering, HR, IT, legal, sales and marketing, supply chain and support sectors.