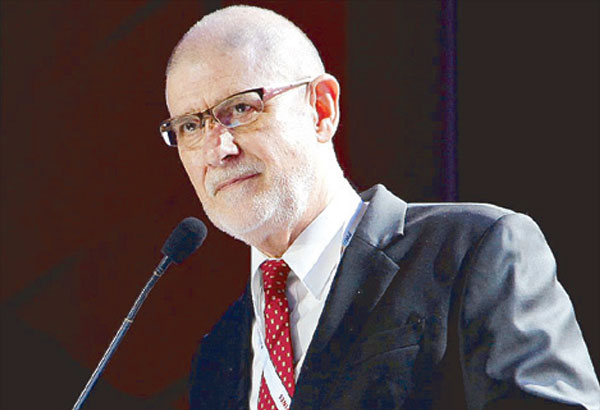 Arangkada Philippines Project chief-of-party and American Chamber of Commerce of the Philippines (AmCham) senior adviser John Forbes discusses the forum program and presents the latest Arangkada
publication
The Joint Foreign Chambers of the?Philippines recently celebrated the?sixth anniversary of its Arangkada Philippines Forum at the Grand Ballroom?of the Marriott Hotel Manila in Pasay?City. With the theme Implementing the?Ten-Point Agenda, the forum discussed?key programs and policies that support?the achievement of President Duterte's ?ten-point socioeconomic agenda for the?years ahead. Led by Arangkada Philippines Project chief-of-party and American Chamber of Commerce of the Phil?ippines (AmCham) senior adviser John?Forbes, the forum was attended by distinguished industry leaders from both the public and private sectors, including National Economic Development Authority (NEDA) secretary and director general Ernesto Pernia and Budget Secretary Benjamin Diokno. A prestigious roster of speakers, panelists, and moderators came together to discuss the many advocacies of the private sector that will surely lead to higher and more inclusive growth. Congratulations to the Joint Foreign Chambers of the Philippines for a successful Arangkada Philippines Forum!
A new milestone for Robinsons Land Corp
Robinsons Land Corp., led by president Frederick Go, celebrated another milestone with the topping off ceremony for one of its prime projects, Chimes Greenhills. Located along Annapolis Street in San Juan City, the 40-storey mixed-use residential development under RLC's Robinsons Communities brand also has a hotel component managed by Robinsons Hotels and Resorts. Seen in the photo during the noteworthy event are Robinsons Hotels and Resorts project director Bernardo Mariano, RLC project office head Rodanil De Silva, Robinsons Communities head of business development Edgardo Samson and head of sales Ferdinand Adriano, Robinsons Luxuria, Residences and Communities business unit general manager Henry Yap, Robinsons Infrastructure and Integrated Developments associate project director Glenn Encarnacion, Robinsons Hotels and Resorts director of sales Monica Casperino and RLC Allied Services and Support Departments assistant vice president lawyer John Evangelista. Congratulations to Robinsons Land Corporation for this award- winning development!