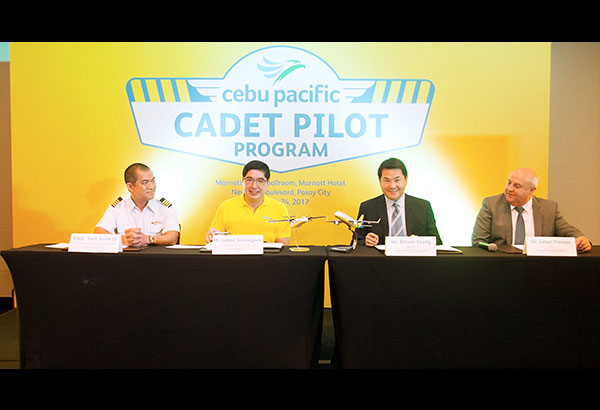 (From left) Cebu Pacific vice president for flight operations Capt. Samuel Avila II, Cebu Pacific chief executive officer Lance Gokongwei, Flight Training Adelaide owner Steven Young and FTA chief executive officer Johan Pienaar

Cebu Pacific launches program to train aspiring Pinoy pilots
(The Philippine Star) - November 5, 2017 - 4:00pm
MANILA, Philippines — To boost its expansion over the next five years as well as to ensure it addresses the growing need for pilots, Cebu Pacific (CEB) will be investing $25 million for its Cadet Pilot Program. This will support 240 aspiring Filipino pilots to study and train with Flight Training Adelaide (FTA) in Australia, and be given the chance to fly CEB's domestic and international routes as First Officers after the completion of the program.
"In keeping with our commitment to make everyJuan fly – by making air travel more available and more accessible to a greater number of Filipinos through our low fares and direct flights, we want to give everyJuan the opportunity to achieve their dream to fly – as commercial pilots on Cebu Pacific," said Lance Gokongwei, president and chief executive officer of Cebu Pacific, during the launch of the Cadet Pilot Program at Marriott Hotel Manila.
According to Samuel Avila II, vice president for Flight Operations, there is an urgent need for pilots globally and that 50 percent of these pilots flying by 2027 have not started to train yet. Training fees are a huge factor, as they range from P2 million to P3.8 million for a 12-month program – hence, only those who can afford these high fees can train to become a pilot.
Through the Cadet Pilot Program, however, CEB is paving the way for Filipinos who cannot afford to study and train as pilots to have a chance to pursue their dreams. Over a five-year period, the airline will send three batches of 16 cadet-pilots every year to train in the FTA campus in Adelaide, Australia. Successful candidates – to be jointly selected by CEB and FTA after a screening process that begins with an online screening followed by an on-site screening for core skills and pilot aptitude tests – can amortize the payment for the course through salary deduction over a maximum of 10 years while they are employed at CEB.
"We have always believed that education is one of the keys to a better future for the country. The program will allow us to train homegrown Filipino pilots with best-in-class international standards," Gokongwei says.
"The candidates need not worry about shelling out money for tuition to flying school to achieve their dream. Cebu Pacific will shoulder the cost first and expose candidates to one of the best pilot training facilities in the world. Through this program, we aim to have continued access to a pool of highly skilled aviators that would support our growth," he adds.
A soaring partnership
Cebu Pacific signed a partnership with Flight Training Adelaide, a top-notch aviation school in Adelaide, Australia that boasts of world-class, customized aviation training solutions for the fixed wing and rotary wing industry.
Founded in 1982, FTA is focused on producing future airline and helicopter captains, rather than simply training cadets to obtain a license.
FTA executives present during the contract signing and Cadet Pilot Program launch were owner Steven Young and chief executive officer Johan Pienaar.
According to Avila, CEB reviewed more than 20 flight schools and made a shortlist of possible partners for the Cadet Pilot Program.
"In the end, given our requirements for this program, it was FTA. I was there last July, it's really a campus, they have dorms, a gym. I even went to the canteen, (I saw) arroz caldo…(and told them) you wanna cook adobo for our pilots?" he says.
The 56-week program will include a 52-week training in the Adelaide campus to undergo learning modules and training, earn diplomas in Aviation, train on a flight simulator, and have flight time on an actual aircraft to complete the licensing requirements to become a commercial pilot. The last four weeks will be spent in Manila for cadet-pilots to obtain a pilot's license under the Civil Aviation Authority of the Philippines.
"We are proud to support the expansion of Cebu Pacific, and be part of its thrust to connect more of the Philippine islands and enable economic development. Our partnership with Cebu Pacific will create future competent pilots, uplift their lives and that of their families'," Pienaar says. "We look forward to offering high-quality, fit-for-purpose training program for future Filipino pilots, and facilitate the employment of First Officers with Cebu Pacific."
The search begins
The first batch of 16 cadet-pilots, who will train under CEB's Cadet Pilot Program, will fly to Adelaide in the first quarter of 2018, Avila says. The application for the first batch is now open, with the final list of candidates to be completed by December.
The program is open to all Filipinos who are college graduates (fresh graduates are encouraged to apply, and no maximum age limit as long as you are physically fit), proficient in English, passionate and service-oriented, and hold passports valid for at least two years prior to the start of the program. The application form is now available online at http://bit.ly/CebCadetPilots.
"We look forward to receiving the applications and deploying cadet pilots, and hope that we can make a difference in their lives through our Cadet Pilot Program," Gokongwei concludes.