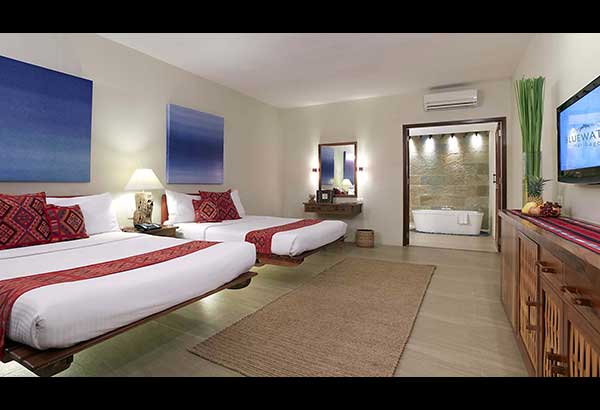 Bluewater Maribago Premier Deluxe

Bluewater Maribago expands to accommodate more tourists
(The Philippine Star) - October 15, 2017 - 4:00pm
MANILA, Philippines — Boasting an average occupancy rate of 87 percent all year round, it doesn't come as a surprise that Bluewater Maribago Beach Resort had to build more rooms to accommodate the increasing arrival of guests. To keep up with the growing demand, this picturesque resort located in Mactan Island in Cebu recently opened 16 new premier deluxe rooms in its beach wing.
"Bluewater Maribago has always been proud of our distinctly Filipino concept," according to its general manager Rhyz Buac. "Our concept is what differentiates us from the many resorts in Mactan Island. We don't build a high-rise because our core competency lies in our concept of offering an experience as that of a Filipino home. For the past 28 years, we've been known to provide that distinct feeling of warmth that radiates from the comforts of a timeless Filipino home."
As general manager of the resort since 2005, Buac sure knows what he's talking about, and walks the talk. Buac, a Cornell University alumnus and a certified public accountant before he found his calling in the hospitality industry, has witnessed many changes in the resort—each one ensuring that guests would feel more relaxed and at home in this seven-hectare tropical paradise.
"It's experience that we offer here in Bluewater Maribago. Our clients are mostly Japanese and Koreans, and we always strive to let them experience the Filipino culture—from the room they stay in, the overall look and feel of the resort, the food, and most especially, the Filipino hospitality that is known the world over," he said.
The 16 new premier deluxe rooms feature the same contemporary Filipino style Bluewater Maribago's well-appointed rooms are known for. With focus on space and comfort, the rooms' design complements the expanse of its beach environment. Guests will undoubtedly have a grand time without even stepping out of their rooms, thanks to the signature floating beds (designed by world-renowned wood artist Benji Reyes of Antipolo) and the expansive skylit bathroom with a free-standing bathtub.
"Our market is usually people who are looking for that authentic Filipino experience in an island resort. Our guests have been to a lot of places in the world, so why would they want to experience those same things when they visit here? They appreciate the very Filipino experience we offer to them. In fact, our guests are 40 percent repeat customers," Buac said.
Buac said the accommodating staff at Bluewater Maribago are the best salespeople of the resort. "People won't care how much you know until they know how much you care. If my staff are happy, they will love their job and they will share that happiness to our guests. Happy staff, happy guests," he said.
Buac said additional updates would start at the resort soon. They're building more rooms on the adjacent side of the newly-opened premier deluxe rooms in the beach wing, and building fountains on the swimming pools. "We'll see to it we have updates at least every year," Buac said. The resort was also awarded the Green Hotel Award by the Association of Southeast Asian Nations as recognition for its environmental plan that benefits its environment and communities.
Only 15 minutes away from the Mactan Cebu International Airport, Bluewater Maribago Beach Resort offers Royal Bungalow, Premier Deluxe, Amuma Spa Suite, and Deluxe Room accommodations—all ideal for a relaxing island getaway. The resort also provides island hopping tours (to nearby equally breathtaking islands) and city tours for those who want to check out must-visit sites in Cebu City and old churches in nearby provinces.
Whether you bask in the sun all day long or go on an island or city adventure, you'll be excited to come back to your home in Mactan. "Home is not a place, it's a feeling. And it's our pleasure here at Bluewater Maribago Beach Resort to be your home on this island. As we always say, there is nothing like a Filipino welcome—and it's the only way we know how to welcome you," Buac said.