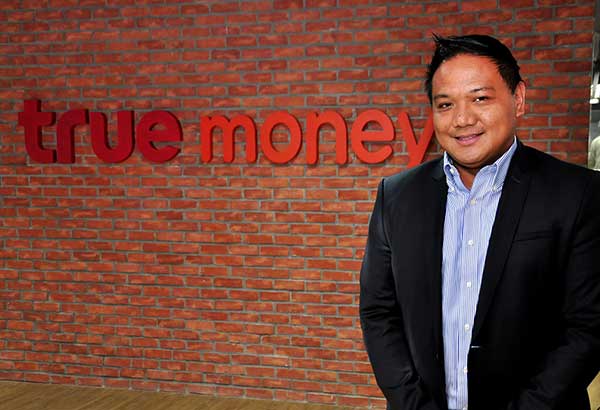 TrueMoney breaks mold of typical fintech company
MANILA, Philippines — In a country where majority or about 70 percent of working adults are unbanked, financial technology (fintech) firms are scrambling to gain a foothold in the Philippine market to serve Filipinos who have never dealt with banks or have no access to banking services.
The long-established traditional finance companies like banks have created a formidable presence in the local financial sector, serving the affluent and mostly educated Filipinos.
But what about the unbanked, especially those in the provinces or rural areas who have no access to efficient payments and banking services.
Realizing the huge opportunity in the Philippines, Thailand-based financial services provider TrueMoney has established its footprint in the country, aiming to capture the huge unbanked segment of the population.
TrueMoney is owned by Thailand-based digital services and e-commerce company Ascend Group and Alibaba's Alipay. In Thailand, the business has been one of the leaders in financial technology sector since its creation in 2003. And now, it is rapidly expanding in other parts of the region, including Vietnam, Cambodia, Myanmar, Indonesia and the newest addition, the Philippines.
"Why are we here? Our mission is to provide affordable and innovative financial services to those who are underbanked and underserved. Our ultimate goal is to help Filipinos live better lives," TrueMoney Philippines chief executive officer Xavier Marzan said.
"What we want is to be available everywhere. Be pervasive, because we want to tap and target the underbanked segment which is the majority of people here in the Philippines. And we want to become the largest financial services provider in the country," he said.
According to the latest Consumer Finance Survey released by the Bangko Sentral ng Pilipinas early this year, only two out of every 10 households in the country have bank accounts, leaving at least 86 percent without access to financial services.
"A lot of this is because they don't have access to payments and financial services. No access to bank-like services today. And we're here for that," Marzan said.
The large, untapped segment, Marzan believes, provides financial service providers like TrueMoney immense growth opportunities in the country.
The strategy seems to be working. The company has only been in operation in the Philippines for less than a year and yet has achieved a level of size and scale that some of these fintech start-ups are still aspiring for.
In a matter of months, the company has grown from nothing into an organization with hundreds of employees across the country and with a distribution network comprised of 5,000 TrueMoney centers. These centers are capable of performing remittance transactions, bills payments, gaming credits, and even payments for e-commerce purchases.
"We're building up to thousands of TrueMoney senders nationwide. We are only in operations for about a year, we already have 5,000 retail-partners," Marzan said.
Marzan said about half a million Filipino customers have already been served by the company in the first five months alone.
"We need to bring underseved customers who don't even use banking sevices today along a customer journey. This requires us be pervasive across the country and be able to serve customers even in far-flung areas," Marzan said.
"Getting to this point, however, has not been easy, Marzan said."We had to contend with all kinds of challenges that are inherent in a last mile business.''
But what makes TrueMoney different from the other players in the market?
According to Marzan, the company's business model and low transaction fees make their services more accessible to Filipinos.
"We partner with existing retailers in barangays. For example, we partner with a retailer that has been in that area for quite sometime and has the trust of the neighborhood," Marzan said.
For as low as P7,500, a small retail shop like a sari-sari store or neighborhood bakery can start its own TrueMoney business.
The P7,500 seed capital includes the P2,500 security deposit for the point-of-sale (POS) terminal and a minimum pre-funding load of P5,000, which can be used up for transactions.
According to Marzan, TrueMoney senders go through a rigorous accreditation process and their performance is constantly reviewed by the company.
Another aspect highlighted by Marzan is the low transaction fee they charged customers.
While the average rates for domestic remittances today range from three percent to more than 10 percent for some providers, TrueMoney rates go as low as only two percent of the transaction amount without any additional charges to the recipient.
"This country is actually overpriced. If you look at a market like Cambodia, one of the highest priced players there charges only 1.5 percent of the sending amount," he said.
End-to-end
Going forward, Marzan said TrueMoney is looking to offer more financial services to Filipino consumers.
"The goal is to offer more end-to-end financial services. We aim to offer international money remittance, payroll disbursements, loans among others. Those services are on the roadmap," Marzan said.
Marzan said TrueMoney is also eyeing to tap the small and medium enterprises.
"For the most part, banks primarily target the top corporations. But a lot of these small businesses and microentrepreneurs have similar needs, in terms of having more efficient payments and cash handling. They handle a lot of cash which causes a lot of headaches and challenges. We're helping them go cashless in various facets of their operations," he said.